The triple top is one of the strongest probability chart formations. This is when a stock or commodity tries three times to set a new high, but fails each time. The long term weekly chart of gold shows just such a formation (see below).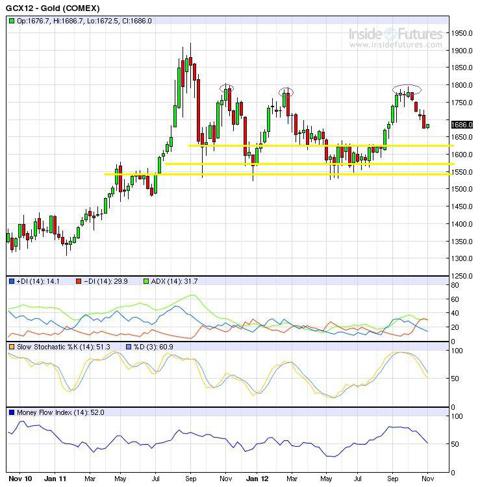 Gold has put in three distinctive peaks of approximately the same height on the chart. A triple top seldom looks more perfect on a chart. When a triple top occurs below an old high (the first big peak in the chart), it is an even stronger indication that the price will continue to move downward. From gold's current price there are three near term levels that gold could easily sink to. The first is at about $1625 per ounce. The second (and stronger area of support) is at about $1570 per ounce. Gold can easily go to this area or anywhere between this area and the next area of support at about $1540 per ounce. To go beyond this gold would probably need a significant push more downward. I will list some fundamental issues below. Depending on the seriousness, one or more of these could mediate a bigger downward movement in gold.
The high value of the -DI in the first sub chart indicates that gold prices are trending downward. The +DI line indicates that there is little current pressure upward. The ADX line at 31.7 indicates that there is a medium strong trend in place (a down trend). If the ADX line continues relatively horizontally across, the downtrend should be maintained.
The slow stochastic (second sub chart) shows that gold is neither oversold nor overbought. The trend is clearly downward.
The Money Flow Index is at a pivot point, but the trend of the Money Flow Index is clearly down. This indicates that the amount of money flowing into gold is decreasing. If the index continues downward, as seems likely, it will mean that investors are definitively moving their money out of gold.
Technically gold should sell off to one of the levels mentioned above. This almost perfect chart is really enough reason to sell gold. However, this is not the only reason. Several fundamental reasons also exist.
Gold is essentially a cyclical commodity as most commodities are. When economies go into recession gold tends to go down. Europe already qualifies for this status, although its recession is not yet official. If you do not believe this, consider that Greece is already threatening to collapse. If it does, this could cause a Lehman style banking event (or worse) in Europe. Such an event could exacerbate the situation in the EU quickly.
Any of the other PIIGS could become a problem quickly too. I am very worried by Spain's housing industry problems and consequent debt problems. These have in many cases been hidden for years. The EU banks' stress tests tested only their trading books. This is only about 10% of their holdings. This did not include sovereign debt held for investment. It did not include approximately 90% of real estate loans. In the EU only the highest quality real estate loans are allowed to be used for MBS. These are the ones that are traded (in the trading books). These are the only ones that were stress tested. There has been no adequate test of Spain's banks of late. With an economy in recession and a bad real estate market, they are in a precarious state. Despite any assurances Spain has given, they could quickly take Spain to the brink of disaster. Recent data show a drop of 14.4% in residential real estate prices year over year. This is sure to have had a tremendously negative effect on mark to market loan values.
In the US, Q3 2012 earnings have been atrocious. Hurricane Sandy has made many forecast a disappointing fourth quarter. After that the fiscal cliff, tax-maggedon, and the necessity to again raise the US debt limit loom over the US Congress and the US economy. The CBO, a conservative estimator, has already said it expects a recession if the US goes over the fiscal cliff. As January 1, 2013, approaches without any substantive action by Congress, the likelihood of going over the fiscal cliff increases. The Congress spent several months just raising the debt limit a year or more ago. The chances that an interim Congress will agree on a compromise in time to avoid the fiscal cliff are virtually nil. Negotiations are only likely to begin in earnest when the new Congress people (Senators especially) take office in January 2013.
Some postulate that the Bush tax cuts pertaining to stocks will be extended another year. Perhaps, but this will not prevent the fiscal cliff. According to one study the US has already lost one million jobs due to the specter of the fiscal cliff. A National Association of Manufacturers report also predicts that 6 million jobs would be lost through 2014 if the US actually goes over the fiscal cliff. It estimates that unemployment would skyrocket to 12%. One might ask how Congress could have let the fiscal cliff problem get this far? There is no answer other than callousness and stupidity. Thank your Congressman and Senators if you lose your job.
If I am correct that the US economy will experience bad problems or terrible problems due to the above, the Chinese economy will also worsen. At that point both of its biggest markets the EU and the US will be in recession. This will bring a "hard landing" into play for China. On top of this, China is changing leadership. It will have a harder time adjusting to new problems. It takes a while for any new person to learn his/her new job well. This should ensure severe problems in China. It should ensure there are people in China who will be selling gold to raise money.
India and China are the two biggest buyers (importers) of gold. India should be in much the same boat as China with respect to its economy. In fact India is in worse shape than China because it has a large trade deficit as opposed to China's large trade surplus. India's trade deficit was -$18.1B in the latest month's data. This is a lot for an economy of India's size (about $1.84T). It is also a reason that the Indian government has been trying to discourage the importation of gold.
In India's last fiscal year, gold importation amounted to more than 25% of India's total trade deficit. Since this importation does India's economy little discernible good, the government is trying to find a way to cut back on gold imports. In March 2012 it raised the import duty on gold bars and gold coins to 4%. Apparently this still has not succeeded in dampening gold demand enough to please the government. The President of the Bombay Bullion Association, Prithviraj Kothari, recently speculated that the government might raise this tax to 7.5%, although imports have already plunged to 340 tons in 1H 2012.
The above tax together with the fall in the rupee against the USD of 17% in the last 12 months, is already expected to cut Indian gold imports by 250 to 350 tons this year. A further tax would increase the size of this cut. Still India really has little choice. As the rupee goes down, energy and food -- both major imports -- become more expensive. A higher trade deficit just leads to more depreciation of the rupee against the USD. This is why India's economy is not the most stable.
The EU and likely the US recessions will mean these countries will import fewer Indian goods. This should increase the Indian trade deficit more. This should devalue the rupee more. It is easy to see why the government might act to cut gold imports further.
India and China are easily the world's two largest gold importers. India imported 969 tonnes of gold in 2011. Experts expect that figure to drop by 250 to 350 tons this year. China had imported 458.6 tonnes through July of 2012. If you prorate this figure, you get about 786.2 tonnes of gold for the full year. This will be slightly higher than India's projected total gold imports.
How does gold production compare to 2011? In 2011 world production was about 2700 tons of gold. In 1H 2012 world gold production increased by 140 tonnes, or 5.47%, over the year ago period. If you take into account the strike on South Africa, gold production capacity was probably a lot higher. Gold production has been growing to meet the needs of the higher prices of gold. This has set the stage for gold price to fall. One would then expect that gold production would follow gold prices downward. This should lead to a bottom. This should mean that the technical chart indicators are giving an accurate picture of the likely near term direction of gold.
If the US and Chinese economic pictures turn out to be substantially better than I have painted them, one might expect gold to perform better. Still the chart is convincing for the near term, although you may wish to factor in a short term bounce on almost any election result. Averaging into a short position on gold and/or gold mining stocks would appear to be a good idea.
I will leave the choice of how to short gold itself to the reader. It can be done through the use of futures, futures options, options on ETFs, which buy gold, etc. A few of the gold mining stocks with charts that look appropriate for shorting are: AngloGold Ashanti Ltd. (NYSE:AU), Harmony Gold Mining Co. Ltd. (NYSE:HMY), Newmont Mining Corp.(NYSE:NEM), IAMGOLD Corp. (NYSE:IAG), and Barrick Gold Corp. (NYSE:ABX). You will want to do more research on any or all of these stocks before shorting them. However, some have definitely suffered this year due to mine worker strikes. This should make them a bit weaker. This may make them better shorts. If you own them, you may want to sell them for the near term (or average out of them). Gold prices and stock prices usually fall in a recession. Current facts argue that we will see a recession in both the EU and the US soon. China should be in for a hard landing.
The two year chart of Harmony Gold Mining Corp. below is an example of a chart that may indicate a good short opportunity.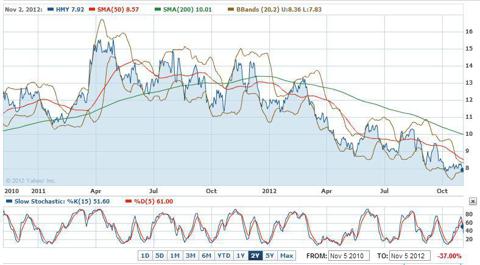 HMY's 50-day SMA is significantly below its 200-day SMA, which is down trending. The price line is below the 50-day SMA. The downtrend is a strong one. The average analysts' predicted EPS growth for 2013 is a meager 2.50%. This is below the industry average of 9.20%. Yes, HMY is predicted to do better farther into the future, but those predictions probably don't include a significant near term fall in gold prices (of uncertain duration). This is what my world and India specific production and demand figures indicate. Hence I see these stocks as sells or shorts for the near term. However, don't make more of this than a near term prediction. This is not meant to predict the long term success or failure of any of the above listed stocks.
If you are too worried about the vagaries of the stocks, you can always stick to selling or shorting gold (or just taking some profits for the near term). However, the chart at the top of the page is very convincing, and the fundamentals tend to reinforce the indications of the chart.
Note: Some of the fundamental fiscal data above is from Yahoo Finance.
Good Luck Trading.
Disclosure: I have no positions in any stocks mentioned, but may initiate a short position in HMY, ABX, IAG, AU, NEM over the next 72 hours. I wrote this article myself, and it expresses my own opinions. I am not receiving compensation for it (other than from Seeking Alpha). I have no business relationship with any company whose stock is mentioned in this article.