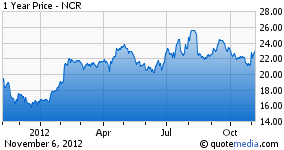 There's a huge difference between what the stock market says NCR (NYSE:NCR) is worth and what I think it's worth. In fact, the difference is so substantial that I'm doubling up on NCR for my Top Ten list of stock ideas for 2013. I'm quite serious about the move - NCR is my 3rd and 4th pick for 2013. I'm posting one new pick per week (except for this week), and here's what we have so far: Amazon (AMZN), Hovnanian (HOV) and NCR (twice).
If you'd like to review how my previous Top Ten lists have performed, here is the record.
Needless to say, to give NCR two slots in my Top Ten list is testament to how powerful I think the idea will prove to be. NCR is the #1 player in ATM's, but that, by itself, is not what should pique your interest. What's really interesting is how it's getting involved in multiple layers of transaction processing, especially mobile processing, and how it's getting paid for it - setting up quasi-annuity, sticky, high-margin streams of recurring revenue. Oh, and by the way, it's in the early stages of radically transforming the way business is transacted in three different verticals: Retail, Banking and Restaurants.
I'll discuss how NCR is accomplishing all of that in a bit, but first, to the stock, which is materially mispriced at $22.80. It should be trading in the low $40's, with growth to the $60's by the end of 2014.
Let me put it in market cap terms, because that's how I think. The market says NCR is worth $3.55 billion. I say the business is worth at least $6-7 billion, and it's on its way to being a $10 billion business. If my assessment of NCR's growth prospects is correct, you'll want to own this stock for a few years, as this company has the potential to grow into a $15-20 billion market cap.
Now I'll put it in PE terms, because that's how most investors think. Given NCR's leading position in rapidly growing areas of technology, the stock shouldn't trade at 9 times this year's earnings of $2.45 per share. I estimate growth to $2.90 next year; a 15 multiple is reasonable for a company with this growth profile, for a stock quote of $43.
There are a couple of reasons why NCR is so cheap. First, the earnings I mention are non-GAAP earnings. To get GAAP earnings, you have to factor in pension expense, and when you do, you get GAAP earnings of $1.45 this year. So NCR trades at 15 times current GAAP earnings. Only thing is, GAAP earnings are about to change in a major way.
NCR's GAAP earnings have suffered for years from a bloated pension expense line. The company is in the process of completing the second phase of a three-phase plan that will ultimately put an end to the issue once and for all. Just recently, NCR has offered lump-sum payouts to early retirees, while borrowing $500 million to pay down their liability, which is down to $480 million from $1.3 billion. The company is almost out from under the pension, with the final phase of the plan to be revealed in a few months. The bottom line for investors is this: The pension headache will soon disappear and non-GAAP earnings will suddenly become GAAP earnings.
A second reason NCR is so cheap: The operating model has morphed into something quite different from the NCR of a few years ago, and the stock price has yet to adjust. It's readily apparent in the financials. The company is amassing a recurring base of high-margin revenue from software. (The acronym to know in this regard is SaaS, or software as a service, accessed via the Cloud). This is what you see from a company selling more high-margin software as a percentage of revenue: The gross margin has increased from 22.0% in 2009, to 23.4% in 2010, to 24.9% in 2011, to 27% currently. Software sales grew 35% last quarter, with annual revenue from software this year reaching $550 million, out of a total revenue base of $5.5 billion, and software is expected to reach $1 billion in annual sales in three years.
The company thinks it can reach $7 billion in sales with about $4 per share in earnings in 2015. With a reasonable PE, that'll put NCR in the neighborhood of a $10 billion market cap. My analytical work suggests NCR is being conservative, and there's a good chance these levels will be reached in 2014.
Here's one reason why: Over the last few quarters, NCR's technological superiority is winning it a lot more business. In banking, no competitor can match NCR's scalable deposit module, which can handle ATM deposits of up to 50 checks in any configuration plus cash. NCR just introduced interactive teller technology - a real person via a video link - and the early response from this software-rich offering has been quite strong; it enables banks to efficiently service customers on a 24/7 basis.
In restaurants, NCR is making restaurants more efficient with a linked point of sale terminal and mobile capability (Arby's just rolled out the technology in over 1,000 stores). It not only results in higher restaurant profit because of efficiency and productivity gains, it's pay-as-you-go, so it doesn't require major capital outlays.
Thousands of small retailers are already using NCR Silver (introduced this year) to transact business, anywhere and anytime on a smart phone or tablet - in the store, outside the store, in another state, it doesn't matter. For larger retailers, it's NCR market-leading self-checkout technology that's winning market share. Wal-Mart (WMT) announced last week that it would roll out 10,000 NCR self-checkouts in its stores.
So, that's a few of the reasons why NCR is my one and only double-slotter for my Top Ten list for 2013. Clearly, my view of NCR differs markedly from the stock market's view. One of us is wrong. And, by about this time next year, it'll be quite clear who it is.
Disclosure: I am long NCR, AMZN, HOV. I wrote this article myself, and it expresses my own opinions. I am not receiving compensation for it (other than from Seeking Alpha). I have no business relationship with any company whose stock is mentioned in this article.