Don't worry, the credit rating of the City of New York has not fallen to one rung above junk. Hopefully Bloomy III can save the city from such an ignominious plight. No, I'm writing about another triple B: Bank Branch Blight. According to a recent Real Deal article, if Chase (NYSE:JPM) lives up to its stated consolidation plans regarding the recent Washington Mutual (NYSE:WM) purchase, 40 branches in New York City could be closed by the end of 2010.
Of course, residents of the city, and those who work here, have known for a few years that the city was becoming over-banked. It started with the deposit-grabbing moves of North Fork and Commerce Bank early in the decade. Commerce in particular pioneered a brand of banking that saw the branch as a retail outlet and crown jewel of a bank (former chairman Vernon Hill had owned fast food franchises and knew the value of letting customers "have it their way"). The genius of this model was that people were so sick of the bad service at their traditional banks, that when Commerce opened up their seven-day-a-week gleaming new branches with efficient service personnel, people threw money at them and required very little interest on their deposits in return. These very low-cost funds could be re-deployed into government bonds with a decent return earned and very little risk taken. No wonder everyone wants to be a bank now.
Competitors like WaMu, who needed to feed their mortgage machines, followed and they liked the low cost deposits too. Capital One (NYSE:COF), the credit card company, figured out deposit gathering was a good low cost source of funds for its credit card lending and snapped up North Fork. The sleepy older banks like Chase, who were losing share, reacted by building some new branches themselves.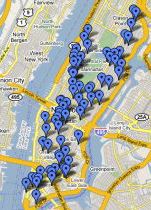 I decided to take a look at the new retail footprints of the combined ChaMu (Chase / Washington Mutual) and Citi-Overya (Citi (NYSE:C) / Wachovia (NASDAQ:WB)), just in Manhattan south of 125th street. I chose this area because I'm lazy and arguably the bank density in this area is the greatest in the city, due to the very high population and business density. The top Google map is the new ChaMu network and the lower Google map is the new Citi-Overya network. As one can readily tell, these institutions have branch redundancies as well as people redundancies.

By my reckoning (using the bank branch locators for each institution), Chase has 31 branches in Manhattan south of 125th street, while WaMu has 39, for a total of 70. Of the 39 WaMu branches, only 16 are located further than 5 blocks away from an existing Chase branch. There are 11 WaMu branches that are within 2 blocks of an existing Chase branch. So I would definitely concur with the Real Deal folks that the ChaMu network is likely to close many branches in Manhattan.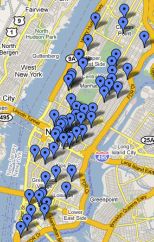 The combined Citi-Overya network contains 54 branches. Wachovia brings an additional 22 to Citi's existing network of 32 branches. Of the 22 additional branches, only 7 are more than 5 blocks away from an existing Citi branch, and 8 are within two blocks of an existing Citi location.
Those commercial real estate people in the know will tell you that banks were considered to be chumps when it came to leasing space for new branches. Although they tied up fantastic street corner locations for their branches, by and large they paid 15 to 25% more to rent space than other retailers. So on top of all those empty storefronts that are likely to result from the consolidation starting to sweep banking, there is likely to be severe downward pressure on store-level retail rents as these premium properties come back into inventory and only get removed at much lower lease rates if at all.
A new bank run by ex-North Fork and Signature (NASDAQ:SBNY) execs called Heritage Bank has just taken office space in the city, according to Crain's. If not, there's always Goldman Sachs (NYSE:GS) and Morgan Stanley (NYSE:MS).
Equities that may be impacted by the information in thus article include C, JPM, Acadia Realty Trust (NYSE:AKR) (a REIT with significant New York City retail exposure), COF (a leading NYC deposit gatherer). 
This article appeared on 10/1/08 on Urban Digs.com
Disclosure: Jeff Bernstein has no positions in these stocks.