With so much uncertainty in the stock market today, dividends play a vital role in the investor's portfolio. I feel that everyone should own at least some stable dividend stocks in their portfolio for a number of reasons- the quality of the company is almost always good, it can provide one with extra income on top of one's returns, and can cushion one's portfolio when there are recessions or downturns. Today's screen, therefore, looks for the champions of the dividend payers, those that had paid dividends for more than 100 years in a row. They had survived the Great Depression of 1929, the Black Monday of 1987, and many such severe downturns, therefore proving their reliability over the long term. Even so, these stocks were screened for a number of criteria, as listed below.
1. Payout Ratio < 60%
This criterion (payout ratio < 60%) was included in the screen to further confirm that a company's dividends are sustainable. The definition of payout ratio is the amount of revenue given out as dividends. A company with too high a payout ratio indicates that it may not be able to support the dividend in the future, especially during recessions or downturns, which are inevitable. Many companies will have to depend on their cash reserves to further expand in those times.
2. EPS Growth Past 5 years > 3% year-over-year
The criterion that a company's EPS should have gone up at least 3% year-over-year for the past 5 years was set to confirm that a company's business is still strong and not starting to decline. A declining EPS may mean that a company's products or service is starting to decline in popularity. This may lead to an unsustainable dividend over the long term. 3% may seem like too low a number for some, but one has to keep in mind that these companies have a long history and most likely have matured businesses.
All these measures were actually taken to ensure that a company's dividend is and will be sustainable, as firstly, an announcement of a decrease in dividend would most likely impact the price of the stock, in both the near term and the long term, mainly because investors' confidence will have been lost. Secondly, a stock with declining dividends after it had been increased for so many years or more would not be attractive to me anymore, as it would be evident that there are problems with the company or its business model.
Although this stop in dividend increase may just be temporary, as in most cases, it will greatly affect investors' confidence and eliminate one of the reasons why investors invest in the company.
Without further ado, here are the results of today's screen.
Company
Sector
Yield
Payout Ratio
First Dividend
EPS Past 5 Years
Colgate-Palmolive (NYSE:CL)
Consumer Goods
2.36%
46.35%

1895
(117Yrs)

14.98%
Chevron Co. (NYSE:CVX)
Basic Materials
3.30%
25.00%
1912 (100Yrs)
11.50%
Coca-Cola Co. (NYSE:KO)
Consumer Goods
2.77%
51.17%
1893 (119Yrs)
11.29%
PPG Industries (NYSE:PPG)
Basic Materials
1.94%
38.06%
1899 (113Yrs)
10.11%
Stanley Black & Decker, Inc. (NYSE:SWK)
Industrial Goods
2.78%
49.38%
1877 (135Yrs)
4.07%
Exxon Mobil Corp. (NYSE:XOM)
Basic Materials
2.52%
21.99%
1882 (130Yrs)
4.95%
1. Colgate-Palmolive Co.
Colgate-Palmolive Company manufactures and markets consumer products worldwide. It offers oral care products, including toothpaste, toothbrushes, dental floss and pharmaceutical products; personal care products like liquid hand soaps and shower gels; and home care products, such as laundry and dishwashing detergents and household cleaners.
The company provides its oral, personal, and home care products under names like Colgate Total, Colgate Sensitive Pro-Relief, Colgate 360, Colgate Plax, Palmolive and Mennen brand names to wholesale and retail distributors. It also offers pet nutrition products for dogs and cats.
Colgate-Palmolive Company was founded in 1806 and its headquarters is in New York City.
Pros:
High ROE: 95.25%
Days' Inventory Decreasing: 45 in 2002, 36.5 now
Buying Back Shares: Shares Outstanding 536M in 2002, 480M now
Increasing Dividends Yearly Since 1964
Cons:
High Debt/Equity Ratio: 2.20
High Valuation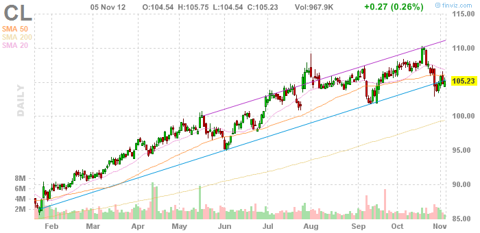 2. Chevron Corp.
Chevron Corporation engages in petroleum, chemicals, mining, power generation, and energy operations worldwide. It operates in two segments, Upstream and Downstream. The Upstream segment is involved in the exploration, development, and production of crude oil and natural gas, while the Downstream segment engages in refining crude oil into petroleum products and marketing crude oil and refined products primarily under the Chevron, Texaco, and Caltex names.
Pros:
Cheap Valuation
P/E: 8.96
P/B: 1.65
P/S: 0.89
High ROE: 21.68%
Increasing Dividends Yearly Since 1988
Buying Back Shares: 2.09B in 2007, 1.98B now
Cons:
Days' Inventory Increasing: 10-Year average- 13.9, 16.4 today
Insiders own only 0.01% of Shares Outstanding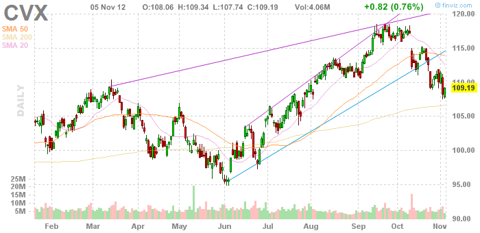 3. Coca-Cola Co.
The Coca-Cola company, a beverage company, engages in the manufacture, marketing, and sale of nonalcoholic beverages worldwide. The company primarily offers sparkling beverages and still beverages. Its sparkling beverages include carbonated energy drinks, carbonated waters and flavored waters. The company's still beverages include noncarbonated waters, flavored waters and juices and juice drinks, ready-to-drink teas and coffees, and sports drinks.
The Coca-Cola Company sells its products under names such as Diet Coke, Fanta, Sprite, Coca-Cola Zero and Minute Maid. The company offers its beverage products through distribution operators and independently owned bottling partners. The Coca-Cola Company was founded in 1886 and its headquarters is in Atlanta, Georgia.
Pros:
Increasing Dividends Yearly Since 1963
High ROE: 26.52%
Buying Back Shares: Shares Outstanding 4.94B in 2002, 4.53B now
Cons:
High Debt/Equity Ratio: 0.99
Increasing Long-Term Debt: 2.70B in 2002, 13.66B today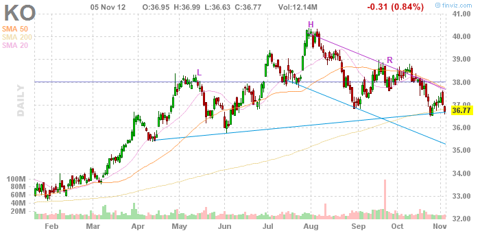 4. PPG Industries Inc.
PPG Industries, Inc. manufactures and supplies protective and decorative coatings. The company offers coating products like specialty coatings for signs, light industrial coatings, sealants, and many others. It also provides finishes for the protection of metals and structures to metal fabricators.
In addition, the company sells industrial and automotive coatings to manufacturing companies. Additionally, the company offers many chlor-alkalis like hydrochloric acid, and phosgene derivatives to manufacturing companies. It also produces flat and continuous-strand fiber glasses for commercial and residential construction. PPG Industries sells its products through secondary dealers or to consumers directly. The company was founded in 1883 and is headquartered in Pittsburgh, Pennsylvania.
Pros:
High ROE: 24.72%
Increasing Dividends Yearly Since 1973
Buying Back Shares: Shares Outstanding 169.44M in 2002, 151.89M now
Cons:
High Debt/Equity Ratio: 1.04
High Valuation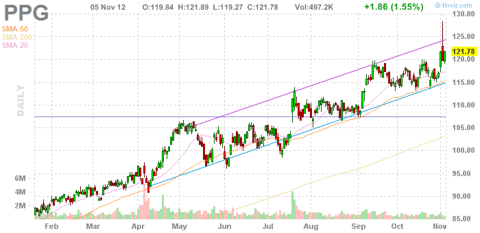 5. Stanley Black & Decker Inc.
Stanley Black & Decker, Inc. provides power and hand tools, mechanical access solutions and electronic security and monitoring systems. The company's DIY segment offers professional corded and cordless electric power tools and equipment, consumer corded and cordless power tools, lawn and garden products, and home products. Its Security segment provides electronic security systems, electronic security services, healthcare solutions and residential and commercial hardware. The company's Industrial segment offers hand tools, power tools, and engineered storage solution products. Stanley Black & Decker, Inc. was founded in 1843 and its headquarters is in New Britain, Connecticut.
Pros:
Increasing Dividends Yearly Since 1968
Declining Days Inventory: 86.10 in 2002, 79.80 now
Expected To Grow At A Fast Rate
Trailing EPS: $3.42
Forward EPS: $6.01
Cons:
Diluting Shares: 86.8M in 2002, 169.05M now
High Debt/Equity Ratio: 0.59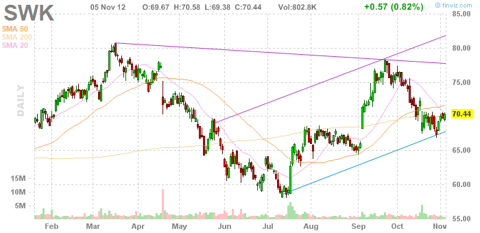 6. Exxon Mobil Corp.
Exxon Mobil Corporation engages in the exploration and production of crude oil and natural gas, and manufacture of petroleum products, as well as the sale of crude oil, natural gas, and other petroleum products. The company also manufactures and markets commodity petrochemicals and other specialty products. It also has interests in electric power generation facilities.
Exxon Mobil Corporation has a strategic agreement with the Rosneft Oil Company for investment into oil and gas fields in the Russia Federation. The company has operations in USA and internationally. Exxon Mobil Corporation was incorporated in 1882 and is based in Irving, Texas
Pros:
High ROE: 27.60%
Buying Shares Back: 6.70B in 2002, 4.73B now
Increasing Dividends Yearly Since 1983

Cheap Valuation
P/E: 9.57
P/S: 0.86
P/B: 2.57
Cons:
Insiders own only 0.01% of its Shares Outstanding
Quarterly EPS Growth: -2.48%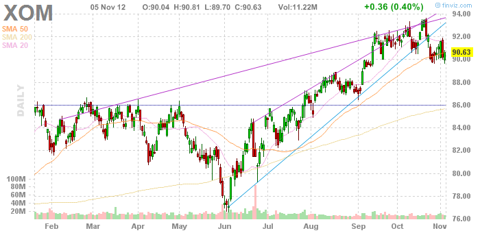 The Takeaway
I expect the stocks mentioned in this article to appreciate at a slow but steady pace over the long term. Although their returns will be little, the dividends, I feel, are enough to supplement this return. I would prefer to use these stocks as anchors for a portfolio, which is a few stocks that can sustain an amount of capital in a portfolio among all the other more volatile securities. Therefore, do not expect these stocks to double or triple in the near term but only expect that it provides one with a slow and steady return over the long term. But even so, please do your due diligence before investing in these stocks.
Explanations For Terms Used
ROE (Return On Equity): The definition for ROE is the amount of net income returned as a percentage of shareholders' investments. The return on equity measures a company's profitability by revealing how much profit a company generates with the money shareholders have invested. A rising or high ROE indicates that a company's management are using its shareholders' money more effectively, which is good both for the company and its shareholders. A low or negative ROE, on the other hand, means that management is not effective in making use of shareholders' investments, which is not good for both the company and its shareholders
Days' Inventory: Days' Inventory is a financial measure of a company's performance that gives investors an idea of how long it takes a company to turn its inventory into sales. A high or increasing days inventory number means that a company's product or service is losing its popularity and this may lead to slowing sales into the future. On the other hand, a steadily decreasing or low days inventory figure means that a company's product or service is popular or getting more popular, as goods stay in the inventory stay there for a shorter amount of time.
Shares Outstanding: How many shares of a particular stock in the market. A company buying back shares reduces this number, and a company releasing more shares increases this number. Share buybacks usually is better for shareholders as they do not own the whole company, sand they will be able to own a bigger part of the company without increasing the number of shares they own. Share dilutions mean the opposite- that a shareholder owns less of the company with the same amount of shares, which is bad for the shareholder
Debt/Equity: This ratio shows the proportion of equity and debt the company is using to finance its assets, and the higher the ratio, the more debt, rather than equity is financing the company. A high level of debt compared to equity can result in volatile earnings and large interest expenses. I usually prefer companies with a debt/equity ratio of below 0.5, which is, to me, a sustainable amount of debt.
Disclosure: I am long CVX, XOM. I wrote this article myself, and it expresses my own opinions. I am not receiving compensation for it (other than from Seeking Alpha). I have no business relationship with any company whose stock is mentioned in this article.