Here's our plan for Wednesday...
While an initial rally might be dashed by the enormity of what must be done or the realization of how far behind we have placed ourselves, I believe if Mr. Obama wins there will be an end to the uncertainty, and if Mr. Romney wins there will be an end to the uncertainty.
Given that investors stand to be harmed the most by the Obama tax edicts on capital gains and dividend income, it would be likely that a Romney victory would add to any rally. We'll still hold our inverse ETF stock options -- they represent a small hedge, at an even smaller price -- but we will be placing trailing stops under most or all of our bond ETFs.
I've been reading for 6 months that bonds must plummet "today" and have yet to see it. Of course, we are not long US Treasuries but emerging market quality corporates, Asian sovereign nations, etc.
We will lighten up a bit on our long/short funds, though not completely.
We will close out or tightly stop our remaining short-side (inverse) ETFs.
We will begin moving into sector ETFs, primarily for their liquidity and response to any rally. We may buy some outright and place buy stops on the rest. We will increase our precious metals and special situations in key sectors.
Our Specific Ideas
The foundation for our ETF portfolio will consist of Vanguard Total Stock Market (NYSEARCA:VTI) for US markets, Powershares DB Commodity Index (NYSEARCA:DBC) for oil, metals, and agriculture, Vanguard FTSE All-World ex US (NYSEARCA:VEU) for international exposure, and the (already in our portfolio) SPLV for blue chips and (closed-end) PEO for energy. We'll also buy or buy-stop the 2x S&P 500 bull ETF (NYSEARCA:SSO).
In energy stocks: We'll be sticking pretty much with the fossil fuels. The extraordinary costs of subsidizing renewables may not be realistic in a belt-tightening economy.The chart below, from the estimable Council
on Foreign Relations, was sent to me by my colleague, the prolific and insightful Ty Cobb.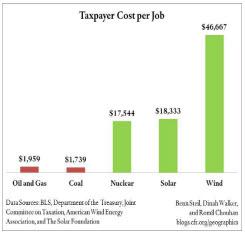 Taxpayer Cost Per Job
It shows the cost in taxpayer subsidies that generate one new job in each of the 5 categories. In addition, of the $6.7 billion in grants the fiscal stimulus package engendered, $4 billion goes to renewables and $2.7 billion to the (15 times larger) oil, gas and coal industry.
Personally, I'd like to see all subsidies tossed out, saving billions every year, and let the marketplace invest in those ideas and companies they believe have a worthwhile product and financial viability. Better Exxon (NYSE:XOM) loses $500 million in a Solyndra type debacle than the American taxpayer via some government leader who is too easily wowed by a snake-oil salesman or too inexperienced in business to know what
constitutes value and what doesn't.
We favor top-shelf companies in energy such as Statoil (NYSE:STO), Total (NYSE:TOT), ExxonMobil , Oceaneering International (NYSE:OII), Cenovus Energy (NYSE:CVE), Boardwalk Pipeline Partners (NYSE:BWP), Imperial Oil (NYSEMKT:IMO), Schlumberger (NYSE:SLB), et al. We'll buy when short-term news
drives down companies like these.
Financials: We typically favor regional and community banks over TBTF banks, which will always find a way to lose money and always come running to Uncle to turn taxpayers upside down for the last of our spare change. But in the high-beta rally I am expecting, I also like -- for a trade, not a core holding -- the warrants issued by AIG (NYSE:AIG), JPMorgan Chase (NYSE:JPM) and Wells Fargo (NYSE:WFC).
These warrants were issued by a number of TBTF banks when they accepted taxpayer bailout money. These are the three I like. I also like some insurers for leverage and one exchange: CME Group (NASDAQ:CME).
Tech has been weak and I don't see a sustained rally without it. Still, I am looking at a number of other possible movers, while nibbling at Intel (NASDAQ:INTC).
Healthcare is a tough nut to crack given that we don't know if Obamacare is going to be imposed, fade away, or be re-jiggered into something more approachable. I'm looking at Humana (NYSE:HUM) for hospitals, DaVita (NYSE:DVA) for managed care, Senior Housing (NYSE:SNH) for skilled care, and H&Q Healthcare Investors (NYSE:HQH) for biotech and pharma.
In companies in or essential to basic materials, resources and machinery, so many great names come to the fore. I'll just list some currently on our short list: Joy Global (NYSE:JOY), Deere & Co. (NYSE:DE), Resolute Forest Products (NYSE:RFP), Natural Resource Partners (NYSE:NRP), CSX Corp. (NYSE:CSX), Norfolk Southern (NYSE:NSC), Keppel Corporation (OTCPK:KPELY), Plum Creek Timber (NYSE:PCL) and our existing gold and silver firms Iamgold (NYSE:IAG), Sandstorm Gold (NYSEMKT:SAND), Kinross Gold (NYSE:KGC) and Silver Wheaton (SLW).
As confirmation, here's why I like at least one of these companies. A year ago, Statoil sold for $25.54. Friday, it closed at $24.38. But STO is not half the company it was then -- it's twice the company! The company has made a huge number of new discoveries and new acquisitions and has more production than ever coming from existing properties as well as these new ones.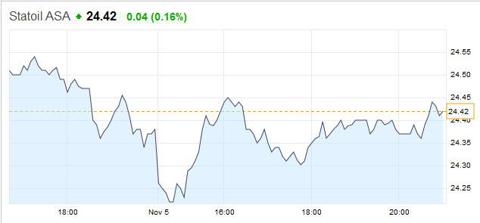 Statoil ASA
Already the worldleader in harsh and deep environments, STO has diversified by entering into jv's or making direct purchases in Alberta and the Bakken fields in the US.
The company has very little debt and is headquartered in Norway, one of the best-regulated, most transparent and financially strongest countries in the world. I believe STO is sitting in the catbird seat and ready to take advantage of their enviable position.
Finally, we bought the following common stocks at market as of the close yesterday, 5 November: Aflac (NYSE:AFL) an insurer that fits nicely with my belief that financials will start doing much better, and two closed-end funds: 500 Aberdeen Emerging Mkts Telecom (ETF) and 600 Aberdeen Indonesia Fund (IF.)
We are cautiously optimistic for the next few months and look forward to the end of the current market uncertainty.
The Fine Print: As Registered Investment Advisors, we see it as our responsibility to advise the following: we do not know your personal financial situation, so the information contained in this communiqué represents the opinions of the staff of Stanford Wealth Management, and should not be construed as personalized investment advice.
Past performance is no guarantee of future results, rather an obvious statement but clearly too often unheeded judging by the number of investors who buy the current #1 mutual fund only to watch it plummet next month.
We encourage you to do your own research on individual issues we recommend for your analysis to see if they might be of value in your own investing. We take our responsibility to proffer intelligent commentary seriously, but it should not be assumed that investing in any securities we are investing in will always be profitable. We do our best to get it right, and we "eat our own cooking," but we could be wrong, hence our full disclosure as to whether we own or are buying the investments we write about.
Disclosure: I am long STO, JPM, WFC, AIG, BWP, DBC, INTC, NRP, PCL, SAND, VTI, VEU, SNH, TOT. I wrote this article myself, and it expresses my own opinions. I am not receiving compensation for it. I have no business relationship with any company whose stock is mentioned in this article.