Fiat's tag line is "Driven By Passion." Sure enough, the CEO of Fiat Sergio Marchionne seems to be driven by passion when it comes to Philip Morris (NYSE:PM). In addition to being a part of the board at Philip Morris since 2008, he has also continuously endorsed the stock by putting his money where his passion is. Let us get into the details.
This article was written back in May of this year and it covered Mr. Marchionne's buys till April 2012. We followed that up with a few more articles

with

the latest numbers.
He has since gone on to purchase one more block of 1,000 shares on October 31st.
Even though he is a multi-millionaire his continuous purchases should not be taken lightly as it shows his growing confidence about Philip Morris' future.
This recent purchase is especially encouraging with all the questions about the company's ability to grow in Europe and Asia given the shaky macro economic conditions.
While there have been some insider selling, this buy marks Mr. Marchionne's 19th consecutive buy transaction without a single sell block.
It is heartening to see a higher-up insider buying when all you hear everyday is how insiders dump their own shares and let a stock plunge to new lows. (Hello, Facebook (NASDAQ:FB) insiders.)
The table below shows the 3 month return on the stock after each of his purchases.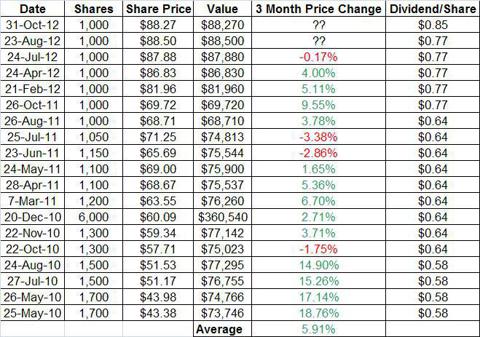 (Source: Table created by the author with data from Finance.yahoo.com)
The earlier articles did not include information on the dividends. But the table above now includes dividend information as well just to show the impact of growing dividends for the long term investor.
Mr. Marchionne's first 1,000 shares at $43.38, for example, now yield an astounding 7.83%. And not to forget, those capital gains.
Philip Morris might not see the same capital appreciation anymore but any common investor with the capital and patience can still reap the rewards of these growing dividends.
Conclusion: Mr. Market has now offered us a lower entry point (between $85 and $87 the past few days) than the past 4 transactions of this bullish insider. Perhaps, placing a limit order at $85 is a good choice for investors for the various reasons mentioned in this article.
Disclosure: I am long PM. I wrote this article myself, and it expresses my own opinions. I am not receiving compensation for it (other than from Seeking Alpha). I have no business relationship with any company whose stock is mentioned in this article.