In the first part of "The Best Return-of-Capital Funds" which you can read here, here, I discussed the reasons why high Return-of-Capital (ROC) in the distributions of many option-income Closed-End funds (CEFs) should not be considered a red flag to investors but actually an opportunity to invest in high yielding Closed-End funds (CEFs) that can offer tax-advantaged distributions similar to that of municipal bond funds but at an even higher tax-equivalent yield.
I know investors are skeptical of the Return-of-Capital concept, but if they would take a minute and read Eaton Vance's white paper which tries to "demystify" the concept of ROC, then I believe they would come away with at least an open mind. To read the white paper, click on this link, here, and then click on any one of the funds shown and then go to Related Content and click on "Return of Capital Distributions Demystified." In the report, you'll read how ROC is NOT an economic concept but rather a tax-concept. In other words, fund sponsors are not necessarily forced to classify distributions as ROC...they choose to classify it, and even try to maximize it as ROC by the way they manage their portfolios of stocks and options. Read the Examples of how a fund can classify its distributions as mostly ROC even if the fund appreciated greater than the distribution amount.
I hope investors can grasp this concept because you won't buy into anything else I say until you do. Perhaps I can help sway some investors by showing you some of the performances of the best high Return-of-Capital funds I follow since at the end of the day, that's what really counts.
The Best Return-of-Capital Funds For A Defensive Market
All of the funds I will be recommending use an option-income strategy to generate income that they pass on to investors in the form of high distributions and yields. Option-income funds are defensive by nature because of their sell call option strategy though some are more defensive than others. The first funds are the most defensive and investors should expect these funds' Net Asset Values to hold up better during down market periods but will also underperform during strong market periods. This is not to say that the fund's market prices can do better or worse than their NAVs or benchmark indexes, since investor sentiment can push the market prices higher or lower than their NAVs. But generally speaking, these option income funds will have lower NAV volatility and are more appropriate for investors who are looking for tax-advantaged income as a primary objective and fund appreciation as a secondary objective.
1. The first fund is the Eaton Vance Tax-Managed Buy/Write Opportunities fund (NYSE:ETV).
$901 million Market Cap
$12.68 Market Price
$14.17 Net Asset Value
-10.5% Discount/Premium
10.5% Market Yield
9.4% NAV Yield
1.07% Expense Ratio
91% Average ROC in Distributions
ETV, along with another Eaton Vance option-income fund (NYSE:ETB), are two must own option-income CEFs I have been recommending to investors since I started writing articles on Seeking Alpha. A big part of the reason is that both sell about 94% index options (100% S&P 500 for ETB and 60% S&P 500/40% NASDAQ 100 for ETV) against their large cap US stock based portfolios. This makes them very defensive in a down market environment because even though their portfolios may depreciate along with any downward move in the markets, that is offset to a degree by their high sell call option strategy which makes these funds more defensive than most.
ETV's stock portfolio is a who's who of large cap S&P 500 and NASDAQ-100 stocks. In fact, its largest position as of September 30, 2012 is Apple Computer (NASDAQ:AAPL), representing 11.1% of ETV's portfolio. 37.5% of its overall portfolio is in information technology with Microsoft (NASDAQ:MSFT), Google (NASDAQ:GOOG), Oracle (NYSE:ORCL), Intel (NASDAQ:INTC), Qualcomm (NASDAQ:QCOM), Amazon (NASDAQ:AMZN), Exxon Mobil (NYSE:XOM), Comcast (NASDAQ:CMCSA) and Cisco Systems (NASDAQ:CSCO) rounding out the Top 10.
Taking a look at ETV's total return performance shows that YTD, it's market price is up a solid 16.7% and its NAV is up 11.3% compared to the S&P 500 up 14.7% and the NASDAQ up 15.2% (dividends included). As I mentioned before, ETV's NAV (not necessarily market price) will lag a bit during up markets and outperform during negative cycles. For example, in 2011, ETV's NAV was up 5.6% on a total return basis compared to the S&P 500 essentially flat and the NASDAQ down about -1.8% for the year.
But its on a longer term basis over varying market cycles that ETV's NAV and market price really shine. Here is ETV's 5-year total return market price chart compared to the S&P 500 and NASDAQ-100, represented by two of the most popular Exchange Traded funds (ETFs), the SPDR S&P 500 Trust (NYSEARCA:SPY) and the PowerShares NASDAQ-100 Trust (NASDAQ:QQQ). In this chart, all three funds assume reinvestment of all distributions. NOTE: Strictly speaking, the S&P 500 index and the NASDAQ-100 do not include dividends but in this example, I include them for true comparison.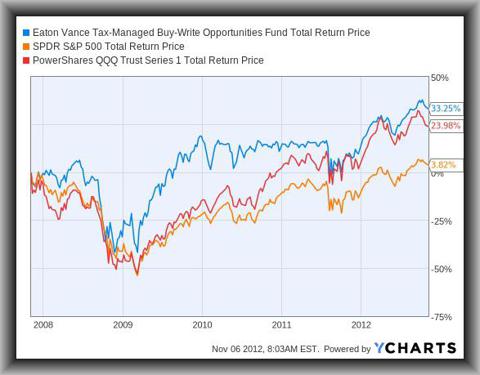 Surprised that a high Return-of-Capital fund could perform so well against its benchmarks? Then consider that each quarterly distribution (reinvested in this chart) was made up of about 80%-90% Return-of-Capital and you begin to realize what the tax-equivalent total return of ETV has been over the last 5-years.
And finally, ETV still trades at a wide -10.5% discount from its NAV, one of several Eaton Vance option-income funds that trade at some of the widest discounts of all equity CEFs. When I look at some of the awful equity CEFs that trade at close to par to even premiums with such horrible total return performances and then I look at many tax-advantaged high ROC funds that have performed so much better and yet trade at wide discounts, I shake my head and wonder how other investors (particularly institutional investors) don't see this.
2. OK...moving on. The second high ROC equity based fund that is also very defensive is the Nuveen Equity Advantage Premium fund (JLA).
$350 million Market Cap
$12.25 Market Price
$13.61 Net Asset Value
-10.0% Discount/Premium
9.3% Market Yield
8.4% NAV Yield
0.98% Expense Ratio
90% Average ROC in Distributions
JLA is one of three very defensive, high ROC option-income funds from Nuveen, the others being the Nuveen Equity Premium Opportunity fund (JSN) and the Nuveen Equity Premium Income fund (JPZ). All three of these funds are similar in that they sell index options on 100% of the notional value of their large cap US stock based portfolios. Not only does this make these three funds some of the most defensive funds you can buy, but the funds also sell options between 1.5% in-the-money to 1.5% out-of-the money, making them even more defensive than funds that sell strictly out-of-the-money options.
All three of these funds are excellent choices for investors looking for low volatility funds at the NAV level (not necessarily at the market price level) with high return-of-capital in their distributions. I just happen to like JLA because, like ETV, it is heavier technology and NASDAQ-100 weighted than the others and it trades at a wider discount and a higher yield than JSN and JPZ. Apple Computer is also JLA's largest holding at 12.7% and almost mirrors ETV's Top 10 holdings above.
The Best Return-of-Capital Funds For A Strong Market
Though option-income funds generally perform best in flat market environments when their short options are more likely to expire worthless, some high ROC option-income funds are geared for up markets either because of the use of leverage or because they have low option coverage on their portfolios. These are funds that can offer strong appreciation over and above their benchmark indices all the while offering tax-advantaged income.
1. The first fund is the Cohen & Steers Global Income Builder (NYSE:INB)
$334 million Market Cap
$10.80 Market Price
$11.47 Net Asset Value
-5.8% Discount/Premium
10.4% Market Yield
9.8% NAV Yield
1.90% Expense Ratio
76% Average ROC in Distributions
INB is rare among option-income funds in that it uses about 21% leverage to own a larger portfolio of global stocks (51% US based stocks, 49% Europe/Asia/other) than its common assets. This gives the fund greater appreciation potential to go along with its high ROC in its distributions. This is a fund you're going to want to own in a strong global market as evidenced by this 1-year total return market price performance against the S&P 500 ETF and two of the most popular international ETFs.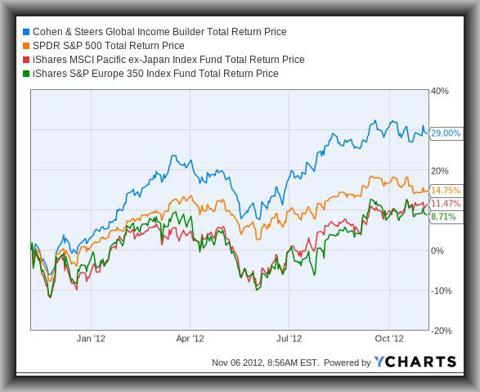 Even over 5 years when you would think a leveraged fund would be at a disadvantage since it includes the bear market of 2008, INB still compares very well. This is where being short options and having superior management can help ride out the poor market periods while outperforming during up market periods. All total returns assume re-investment of distributions both in the 1-year chart above and the 5-year chart below.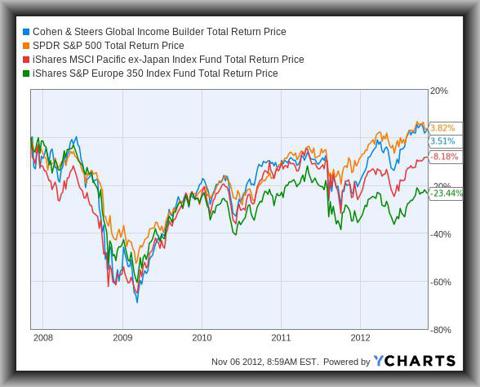 INB is a must own option-income CEF in a strong global stock market environment, in my opinion, and with a 10.4% market yield of mostly return-of-capital in its distributions, the total return tax-equivalent potential is one of the highest of all the equity CEFs I follow.
2. The second fund is the Nuveen Dow 30 Enhanced Premium and Income fund (DPO)
$320 million Market Cap
$10.72 Market Price
$11.48 Net Asset Value
-6.6% Discount/Premium
8.1% Market Yield
7.6% NAV Yield
1.01% Expense Ratio
84% Average ROC in Distributions
How would you like the Dow Jones Industrial Average 30 stocks with a little more umph and quite a bit more yield? Then DPO is for you. I've owned DPO off and on for years and watched in amazement as it climbed to a 30% market price premium in 2009. Currently, DPO is at the low end of its discount range at -6.6% and offers more upside than the Dow Jones index due to its use of leverage and an 8.1% market yield of mostly ROC in its distributions. DPO offers an excellent alternative to just owning the Dow Jones Industrial index and as you can see in this 5-year total return chart, DPO easily outperformed this benchmark as represented by the SPDR Dow Jones Industrial Average ETF (NYSEARCA:DIA). Again, the chart assumes all distributions for both funds are reinvested.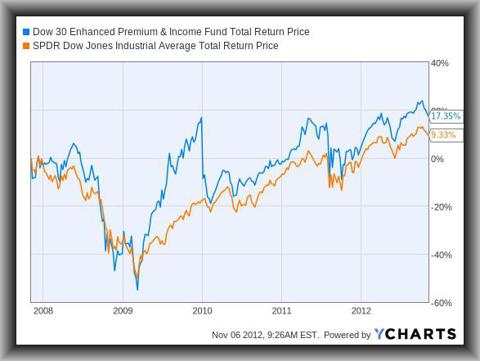 3. And finally, a fund that I have been bullish on this year and has really been turning the corner is the Eaton Vance Tax-Managed Global Diversified Equity Income fund (NYSE:EXG).
$3.1 billion Market Cap
$8.93 Market Price
$10.25 Net Asset Value
-12.9% Discount/Premium
10.9% Market Yield
9.5% NAV Yield
1.05% Expense Ratio
85% Average ROC in Distributions
EXG is one of the largest CEFs at $3.1 billion in assets so it is extremely liquid averaging over a million shares traded daily. With a low 49% option coverage on its global portfolio of large cap stocks (43% US based, 54% Europe) and a high 2.75% out-of-the-money average weighting on its options, EXG has strong NAV upside in a global market recovery to go along with its high ROC in its distributions.
You take on more risk with a fund like EXG, particularly European stock risk, but at one of the widest discounts of all CEFs at a ridiculous -12.9% and a very generous 10.9% market yield, most of which is tax-advantaged ROC, I believe EXG offers an excellent risk/reward.
Here is EXG's 1-year total return market price chart compared to the S&P 500 and the iShares Europe 350 index ETF (NYSEARCA:IEV). Then remember that most of that large yield and distribution paid over the past year was classified as ROC, meaning you would not be responsible for taxes on those distributions in 2012 as long as you held onto your shares.*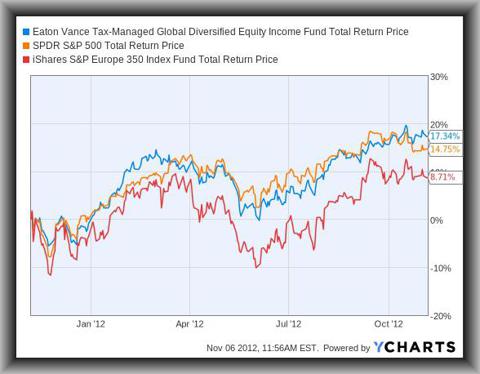 I would also like to add that EXG's sister fund, the Eaton Vance Tax-Managed Diversified Equity Income fund (NYSE:ETY) is another option-income fund with very similar characteristics as EXG including high ROC in its distributions. ETY just happens to be more US stock based at 78% with lesser European stock exposure at 20%.
Conclusion
I hope this exercise proves to investors that funds than include high Return-of-Capital in their distributions does not necessarily mean the fund is simply giving back your initial investment at the expense of total return performance.
If investors would take a closer look at some of these funds that specialize in ROC in their distributions, they may realize what an excellent tax planning tool they may have been missing all along.
* I am not an accountant and investors should discuss with a tax-professional their tax situation before making any investment decisions based on this article.
Disclosure: I am long ETV, JLA, INB, DPO, ETB. I wrote this article myself, and it expresses my own opinions. I am not receiving compensation for it (other than from Seeking Alpha). I have no business relationship with any company whose stock is mentioned in this article.