Telecom equipment makers reported a very weak quarter, hurt by a lack of growth catalysts in the large countries. ZTE (OTCPK:ZTCOF), the second-largest telecom maker in China, said that it would lose US $319.1 million in the quarter due to contract delays and weak profits in Europe. Ciena (NASDAQ:CIEN) declined after investors tempered down their enthusiasm for its growth-driver product, 100G. Ciena also reported quarterly results that missed estimates by $0.02 per share. Ciena generated $474.1 million, and lost $0.04 per share. JDS Uniphase (JDSU) also missed expectations. JDS earned $0.15 per share, but generated revenue of $420.9 million, $7 million below consensus. Finally, Alcatel-Lucent (ALU) reported weak third quarter earnings, causing shares to fall 10% that day. For the last few quarters, the company told investors that weakness in China was temporary and that project delays in that region would start.
For the year-to-date, Alcatel-Lucent shares fared the worst, only performing relatively better than ZTE Corp: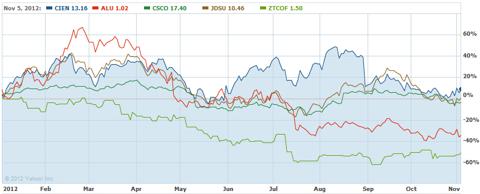 (Chart Source: Yahoo Finance)
Alcatel-Lucent reported a substantial decline in free cash flow ("FCF"). FCF was negative $360 million, compared to negative $511 million in the previous quarter. The company has EUR 4.7 billion in cash and marketable securities. Revenue declined 2.8% year-over-year to EUR 3.599 million. Gross margins declined to 27.9%, compared to 35.3% in the previous year. Lower sales volumes, unfavorable product mix, and high reserve levels hurt margins.
Alcatel-Lucent is close to trading below $1.00, after closing at $1.03 on November 5 2012. There are 8 possible catalysts that could help Alcatel-Lucent trade above the $1-level:
The weight of the decline in legacy equipment and enterprise for wireline is apparent. Without legacy product lines, sales would have grown 63% year-on-year, compared to 16%.
Alcatel-Lucent continues to

struggle

with declines in

optics

(by 21% year-over-year). Last quarter, the submarine optics business was weak. Management described the quarter as a low point of the cycle. If this is true, sales of the Seabras-1 system between New York and Sao Paulo should be a starting point for additional projects.
There are areas of growth in the emerging markets. The company experienced double-digit growth in Central and Latin America, helped by Brazil. This contrasts with the declines in North America (a decline of 10%), Asia Pacific (-10%), Europe (down 15.4%) and in China.
The WDM portfolio could be another growth driver. The 1830 Photonic Service Switch ("PSS"), which was selected by China Telecom (NYSE:CHA), could be beneficial in the future. Metro and core network upgrades could also be positive. Last quarter, Alcatel-Lucent supplied South Korea with 100G upgrades.
IP is an area for further strength. During the third quarter, the IP division grew 30.3% to EUR 490 million.
Seasonal strength in the next quarter may be in play, as the fourth quarter is a stronger period for Alcatel-Lucent.
Customer wins: The company won a TD-LTE trial network rollout with China Mobile (NYSE:CHL) and was chosen by Sprint (NYSE:S) to provide broadband coverage in high-traffic areas. Sales for the lightRadio Metro Cells product could increase in the quarters ahead. Network transformation projects helped the company grow Services revenue by 6.2% to EUR 1.058 million. A partnership with Telefonica (NYSE:TEF) will help both companies benefit from 3G mobile services and the initiation of 4G LTE projects.
The trend for faster growth for fiber-based access over copper-based access sales is another positive for Alcatel-Lucent.
Conclusion
Alcatel-Lucent closed at $1.00. If shares trade below that level for 30 consecutive days, the company will need to reverse-split, which will further weakening its share price. Even after Alcatel-Lucent announced a 5,500 reduction in headcount, 60% of it will be in Europe. This could mean cost cut delays, since regulatory, legal processes and negotiations take time. $1.00 could very well be a bottom for the company. The 100G is a strong product offering that could grow in sales. The shift from 2G to 4G will continue, but Alcatel-Lucent must ensure that it can benefit from this transition. Demand from China continues to be a wait-and-see scenario, as significant erosion in CDMA and GSM continues to hurt results.
Disclosure: I am long ALU. I wrote this article myself, and it expresses my own opinions. I am not receiving compensation for it (other than from Seeking Alpha). I have no business relationship with any company whose stock is mentioned in this article.