The discourse on Wendy's (NYSE:WEN) has devolved into an echo chamber of stale facts and circular logic. Warped by multiple consecutive years of bitter disappointment, many have lost their minds in a quagmire of recency bias. Consequently, a rare opportunity has emerged with Wendy's. In the following article, I will continue my valuation discussion, and begin to outline a framework for understanding the slew of growth catalysts discussed in Part II and III of "A Long-Term Value Case for Wendy's." Potential for triple-digit returns await the disciplined investor with a multi-year outlook.
Paralysis By Under-Analysis
After tuning in for the June 2012 Analyst Day, I detected something unusual for Wendy's. Though difficult to pinpoint, the tone and tempo of this presentation differed markedly from the past shareholder events. Something had shifted. Perhaps it was the CEO, unveiling of new data points or the long-term guidance for Image Activation. New questions emerged.
How might Wendy's look in 2015? What could happen with sales comps and restaurant margins if management hit their new projections? What about international growth? What if the new CEO was capable of delivering on these goals? Why reinvest in the brand when others were pursuing a short-term high from financial engineering?
To my frustration, there were no off-the-shelf answers. The market it seemed had either fallen asleep during the presentation or lost their calculators. Prevailing sell-side models, though detailed on EPS forecasts, barely mentioned the new data points from June--most half-heartedly tweaked a few CAPEX estimates. All the usual value investor hangouts went silent. Nobody it seemed was running the fundamental analysis.
Connecting The Dots
Following the Marty Whitman doctrine of "thinking like Main Street rather than Wall Street." I began to conceptualize a potential financial structure from a long-term owner perspective. My intention was to understand the major variables from a high level perspective and try to connect the dots that others have given up trying to connect. As I will share, the results were shocking.
Step 1: Identify Key Variables to Long-Term Growth
With the wide array of initiatives described in Part II, analyzing the various permutations from re-imaging is a challenge. However, we can begin to understand the possibilities by identifying a few key variables for growth. Some factors include but are not limited to:
Franchise store mix
Net new franchised store growth
International unit growth
Company-owned stores
Image Activated store mix
Tier remodel mix
Average guest check and sales comps
Restaurant margin
Day-part expansion
Step 2: Formulate Assumptions for Several Growth Scenarios
With a reasonable approximation for several key growth variables, we can formulate some long-term assumptions.
What Can Go Wrong? Articulating the Realistic Downside Scenario
Echoing the sentiment of Mark Sellers, let's focus on downside first. As a thought exercise, we'll assume the most unpleasant scenario within reason. Image Activation and re-imaging fail, franchisees rebel, hundreds of stores close, comps fall into negative territory, and pricing remains weak while food costs continue to rise. What happens to shareholder value and what is Wendy's worth in 2015 under this gloomy, albeit unlikely scenario?
To run this analysis I have assumed the following pessimistic scenario for 2015:
Image Activation dies on the vine. Corporate upgrades 300 stores vs. 700+ guidance.
Management burns $200 million on antique map collections and hockey rinks.
Competition intensifies and same-store-sales fall 3% per year for three consecutive years.
300 North American company-owned units are

shut down

permanently.
Commodity pressures remain and restaurant margins fall 200bps from the 2011 average to 12% in 2015.
Franchisees resist and a mere 450 stores upgrade.
800 North American franchise restaurants shut down permanently.
International growth initiatives fail and 150 units open by 2015 (vs. 700+ corporate guidance).
Valuation multiples on the remaining corporate restaurants fall into deeper distress.
Valuation multiples on their franchise annuity crown jewel fall deeper into distress territory (8.5x EBITDA).
Commercial real estate values are stuck in neutral for three more years.
Canadians stop eating bacon and TimWen + Arby's see modest SSS declines.
Under this gloomy scenario, the total NAV is nearly $1.8 billion vs. a current market cap of roughly $1.6. However, the $60 million annual dividend may boost total shareholder returns (TSR) to $323 million or 20% in the 2015 scenario. Interestingly, even with this unlikely outcome, 2015 nominal returns remain positive.

It is also worth noting this scenario represents significant deterioration in restaurant operations beyond the 2009 financial crisis (perhaps approaching the Arby's slump).
What Can Go Right? Articulating the Cautiously Optimistic Scenario
Amidst the paradox of passionate apathy, it's easy to forget what could go right for Wendy's over the next three years. Understanding this upside scenario is critical to assessing the risk/reward.
What If…
What if management delivers on the June 2012 "Recipe to Win"? What happens with TSR? Under a cautiously optimistic scenario we might assume the following:
Image Activation lives up to management expectations and the rollout is accelerated slightly ahead of 6/28/12 plans (300 Tier 1, 250 Tier 2, and 250 Tier 3 in 2015).
Marketing and menu development initiatives pay off with 3% SSS comps by 2015.
After re-hiring GMs and DMs, modest average check increases. Restaurant margins improve 200bps to 16%.
Store valuation multiples see a marginal increase as operating profit dollars increase on higher sales volume (0.8x P/S, 5x CF).
1,000 franchise stores initiate IA upgrades by 2015 (350 Tier 1, 325 Tier 2, 325 Tier 3).
500 new international franchised stores open by the end of 2015 plus 10 net new units in North America.
EV/EBITDA multiples on the franchise annuity business begin to match the industry peer-group.
Capital expenditures are in the high-end of guidance ($265 million per year).
Under this realistically optimistic scenario, 2015 NAV should exceed $4 billion for a TSR of 159% including dividends. Though optimistic, this estimate seems plausible given peer-group multiples and reasonable management execution. Please note I have omitted the breakfast catalyst to remain on the conservative side. This will show up later in the discussion.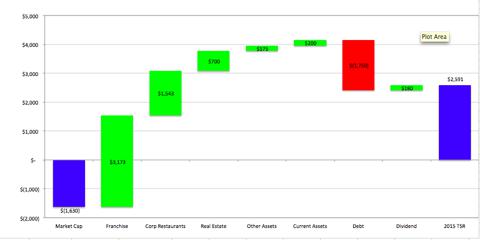 Baseline Expectation
After examining two diverging scenarios for Wendy's, we can approximate a conservative middle ground. Assuming management begins to deliver on the 6/28 plan, and sentiment remains flat, what is the likely outcome? Let's make the following assumptions:
Image Activation on 750 company-owned stores (250 per Tier).
Franchisees are slow to embrace IA and upgrade 400 stores by 2015.
Crosscurrents of inflation and competition offset pricing increases and a gradual rise in average guest check. Restaurant margins are stuck at 14%.
Decent SSS up 2% (slightly below expectations of 2% to 3%).
No valuation expansion off depressed multiples for restaurants.
Slight EV/EBITDA multiple improvement of the franchise annuity to a conservative 9.9x.
170 net new franchised units per year (largely from international markets).
Flat real estate values over the next few years.
Other assets show modest appreciation as Japan JV takes root and Arby's rebuilds.
Capital expenditures remain elevated at the high-end of $265 annual range.
Assuming the new leadership team at Wendy's begins to deliver on the "Recipe to Win," and market sentiment remains muted, we could expect 2015 NAV of $3 billion. TSR including dividends could exceed $1.5 billion for a return of 93%.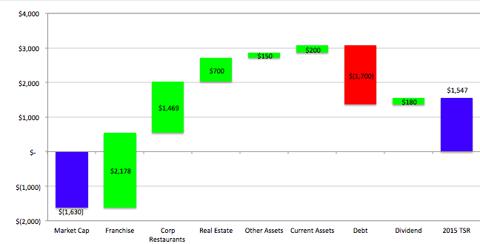 These estimates remain highly conservative and assume continued reinvestment in company restaurants as discussed in the June analyst day. Real estate remains flat, company-owned stores remain at depressed multiples and the franchise annuity EV/EBITDA multiple increases half a turn.
Step 3: Compare Results
To paraphrase the late Peter Cundhill, the future scenarios described above are merely a "device to put both problems and opportunities into perspective." This is not a prediction of what will happen. Rather, my intention is to illuminate a reasonable array of possibilities for the patient investor.
The following table offers a cross-comparison for the scenarios described above. The first column on the left "2012 NAV" is the current value of Wendy's today and assumes zero benefit from the catalyst discussed in Part II. The failure case, though unlikely, is the most plausible downside scenario. The base case in green shows progress with re-imaging in the face of continued market apathy. The 2015 Growth scenario represents reasonably strong execution, acceleration in international growth and meaningful Image Activation from franchisees.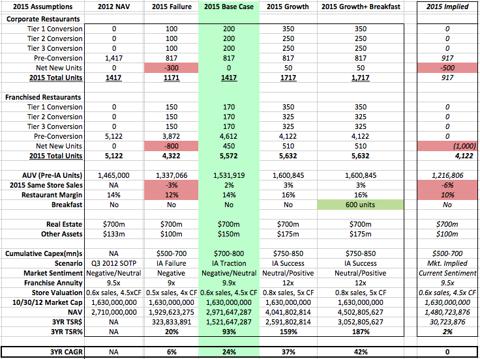 Although breakfast boosts the long-term growth prospects, this day-part is not material to the achievement of triple-digit gains in 2015.
The last column to the right shows the market-implied scenario as of late October 2012. As highlighted in the red boxes, the market is pricing for disaster - perhaps approaching the fate of Arbys, which, in some twisted logic, sold for a higher EV/EBITDA than WEN commands today.
In order to justify the current price, we need to see 500 corporate stores and 1,000 franchised locations go out of business by 2015. Additionally, SSS comps must fall 6% per year for three consecutive years and restaurant margins must decline another 400bps from the already weak 2011 base. Clearly the market expects re-imaging failure and a total collapse in operations beyond the threshold of well-reasoned judgment.
So What's Holding The Stock Down?
The "knocks" on the stock could be distilled into three major buckets:
Capital Investments and balance sheet concerns
Management execution in a competitive world
Nelson Petlz is up to something nefarious
Capital Investments and Balance Sheet Concerns
Despite the strong recurring cash flows and recent debt refinancing, balance sheet concerns persist - especially given the re-imaging capital investments. A recent interview with Emil Brolick in the The Columbus Dispatch offers some insight. here.
Q. Some securities analysts are concerned about the financial strain the remodeling program and a headquarters-building project are having on Wendy's. Are you concerned?
A. We're doing this building out of cash flow we're generating from the business. We're not adding debt to do the rebuilding. And as we remodel more restaurants, sales grow, and our capacity to produce more cash grows.
Though Brolick suggests minimal balance sheet strain, let's assume he's wrong. What happens if EBITDA remains at $320 million while CAPEX hits the high range of guidance? We might have the following back-of-the envelope scenario:
| | |
| --- | --- |
| EBITDA | $320 |
| CAPEX | ($265) |
| Debt Service | ($85) |
| Dividend | ($60) |
| Cash Burn | ($90) |
At worst, we might expect a $100 million annual cash burn for the duration of IA. Though meaningful, $100 million is hardly a catastrophe given the $400 million cash balance, access to capital and ample resource conversion opportunities.
Competition Concerns
As discussed in Part I, Wendy's is well positioned from a brand equity perspective. However, a long-overdue investment in front-end infrastructure is required. This is why WEN has chosen to re-image. Please see Part I for the full discussion.
Though competition at the store level is relevant, many tend to overweight factors that can be counted, ignoring other critical intangibles. For example, as discussed in Part III, WEN is essentially a franchise toll-road mislabeled as a distressed restaurant operator. There is virtually no competition for the 450 franchisees that pay monthly royalty fees. This branded asset supports the bulk of current NAV and accounts for much of the long-term growth opportunity. Though SSS and restaurant margin impact company operated stores, we're already getting these 1,400 units for free as shown in Part III.
From a NAV standpoint, and assuming we avoid finger flavored chili and other black swan events, there's significant asymmetric reward from new franchise unit growth with minimal downside from a normalized "tough" competitive environment. The odds are in favor of WEN because the asset mix and structure relative to the market perception of these assets.
Management Concerns
Due to the managerial meanderings in recent years, investor emotions are raw. In spite of the re-imaging initiative and the new management roster, there is a sense that "we've heard this story before." The existing shareholder base is fatigued. Consequently, many have permanently tuned out of Wendy's.
We can look at Wendy's past to gain perspective on the present management/competitive issue. Way back in the annals of ancient history, (approximately 3 Wall Street lifetimes ago), Wendy's was in a bind. After years of poor execution, culminating in a failed breakfast initiative, business teetered on the brink of disaster.
Jim Near, a personal friend of Dave Thomas, swept in and saved the day. This management team kick started one of the most impressive QSR turnarounds in history. Please see this article for details, here.
It was in this energetic turnaround culture that Emil Brolick, now CEO, cut his teeth as a QSR executive. Brolick's rise in the industry was impressive. After 12 years at Wendy's working side-by-side with Jim Near and Dave Thomas, Brolick joined YUM as a key architect in the Taco Bell turnaround, eventually becoming COO of YUM Brands.
After rejoining Wendy's in late 2011, Brolick hired a slew of new managers as seen in the table below.

We can draw several conclusions from this history lesson:
The Jim Near turnaround is indicative of a larger dynamic within the mega-QSRs. Time-tested QSR franchise systems such

as

McDonald's (NYSE:MCD), Burger King (BKW)

and Jack In The Box

(NASDAQ:JACK) have tremendous staying power, periodically fall from grace, only to regain industry accolades years later. History is littered with "miraculous" turnarounds in the sector. The top trophy from Wall Street is constantly changing hands.
If Wendy's is headed for disaster as the market currently implies, it seems unlikely under the watch of this new, management team. Even average execution may result positively on a depressed shareholder base.
We have an entirely new management roster, greater focus and more discipline in the Wendy's eco-system.Yet something else must be holding investor sentiment in check.
Trian Fund
Nelson Peltz is another frequently cited risk factor. The market is concerned about self-dealing, and perhaps a potentially unfair forced buy-out. Looking through the recent proxy statements, some of these fears are justified.

Maalox moments from 2008 and 2009 are difficult to forget. However, we should note the declining frequency and severity of insider transactions with Trian. Furthermore, as any diligent proxy reader can attest, such dealings, though regrettable, are par for the course in most public companies. Far worse transgressions may be found in far more "loved" companies.
In Search of Answers
Though Trian's long-term goals remain nebulous for many, we have one important clue from the 12/2/11 8-K. Under the "2011 Agreement," Trian Fund Management agreed to extend the terms of Section 203 from Delaware General Corporate Law until 12/1/14. They will NOT increase control beyond 32.5% for as long as WEN remains a public company. This may be the most important, yet unreported event in the past few years of WEN history.
Given this 2011 agreement, we might expect the following from Trian:
Cut their stake below 25% which relieves Peltz of this obligation.
Hang in for the long-haul and place a bid in late 2014 if the shares remain depressed.
Shop WEN around and sell the to a 3rd party.
Given the continued insider buying, option 1 is off the table. Though Trian could fix and flip for $6 to $8 per share, Peltz is likely aiming for a much juicier return on investment. Given his track record of shopping assets, option 3 is not the issue.
Therefore, option 2 seems most plausible given his comments from an interview several years ago. here.
The Missing Link
Of all the overhangs on Wendy's, Trian's motives may be the most misunderstood issue.
When connecting the dots between Petlz's investment strategy and the recent extension of Section 203, we have some clarity on the probable strategic direction. As explained in the 2007 Harvard Business School interview, one found dollar on an under-performing income statement is worth more than its weight in gold. Trian generally buys non-controlling interests in quality brands, implementing fundamental change to the P&L, and effectively shopping these assets to the highest bidder.
This is what Peltz is after and may explain the market disconnect. While many QSRs are focused on financial engineering, unlocking "hidden" dollars on the balance sheet through asset sales and re-franchising, Wendy's is doing the heavy lifting today. At the behest of Trian, Wendy's is being long-term greedy in a market that needs to get paid tomorrow.
Rather than implementing some nefarious deal, we might conclude from all public records that Nelson Peltz is looking to improve company fundamentals through old-fashioned sweat equity. This explains the market apathy. Near-term asset conversion opportunities are off the table for now, and few have the tolerance to wait another year for Image Activation results.
Conclusions
Reflecting on Wendy's, I am reminded of George Seldon who wrote the following in his 1912 book, Psychology of the Stock Market:
The daily press reflects, in a general way, the thoughts of the multitude, and in the stock market the multitude is necessarily, as a logical deduction from the facts of the case, likely to be bullish at high prices and bearish at low.
What I see with Wendy's is a deeply misunderstood business with high quality assets, trading for a fraction of net worth. Recent salient events and the bitterness of human emotion have tainted objective analysis and created a rare opportunity for the disciplined investor. As highlighted in this article, the realistic and probable risks are de minimous relative to the potential reward. Using realistic assumptions, we can chart a path to triple-digit total shareholder returns for those who can afford to look beyond the next few quarters.
Disclosure: I am long WEN. I wrote this article myself, and it expresses my own opinions. I am not receiving compensation for it. I have no business relationship with any company whose stock is mentioned in this article.