Shares of F5 Networks (NASDAQ:FFIV) have dropped by 25% from their three-month high of $110.6 achieved in September, partially owing to the company's lower than expected Q4 results and lower guidance for the current quarter. I believe the plunge has created a buying opportunity, as FFIV's risk/reward profile has become more attractive. My bullish view is supported by the following analysis.
FFIV's valuations are very attractive based on the company's strong financial performance relative to its peers' (see comparable analysis table below). Analysts on average predict FFIV's revenue, EBITDA, and EPS to rise by 14.7%, 27.7%, and 16.8%, respectively, over the current and next fiscal years. Those growth expectations are substantially higher than the average estimates of 6.8%, 21.7%, and -4.2%, respectively, for a peer group consisting of FFIV's competitors. In addition, FFIV's EBITDA margin is forecast to expand markedly by 8.1% over the same period, compared to the peer average of just 4.8%. On the profit side, FFIV has an industry-leading margin performance. All of the company's profitability margins and capital return metrics are significantly above par. It should be noted that most of FFIV's profit measures are the highest in the group. In terms of leverage and liquidity, FFIV carries no debt and has the highest trailing free cash flow margin at 31.8%. Both the firm's current and quick ratios are below par, but are still within a healthy zone.
(click images to enlarge)

To summarize the financial performance comparisons, FFIV's superior growth potential, industry-leading profitability, and robust free cash flow generating capability should justify a large premium stock valuation over the peer-average level. Nonetheless, the current stock valuations at 9.3x forward EV/EBITDA, 16.6x forward P/E, and 0.91x PEG represent an average valuation premium of just 4.3% over the peer-average trading multiples, suggesting that the stock may have been oversold on the recent pullback (see comparable analysis table above).
Both FFIV's forward EV/EBITDA and P/E multiples are trading at considerable discounts of 49% and 46%, respectively, to their three-year historical averages (see chart below). The stock's forward P/E multiple has underperformed the same trading multiple of the S&P 500 Index over the past 12 months, and the multiple premium has reduced to 22% (see chart below). I believe FFIV's strong fundamentals should justify a higher P/E multiple premium, given that 1) FFIV's forward P/E multiple has a 12-month average premium of 75% over the S&P 500 Index level; 2) the company's estimated long-term earnings growth rate of 18.1% is more than twice the average estimate of 7.9% for the S&P 500 companies (according to Capital IQ data); and 3) as suggested by the aforementioned financial comparisons, FFIV's excellent profitability and free cash flow margin should command a large premium valuation for the stock.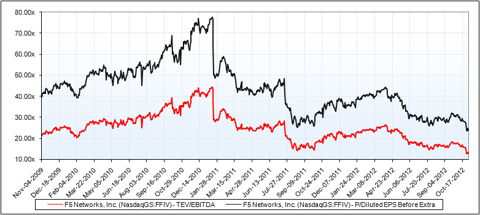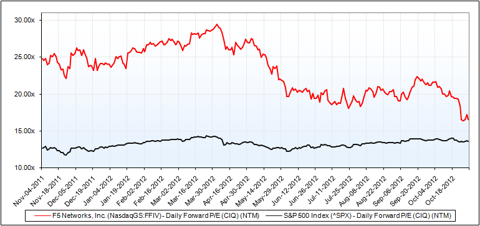 Moreover, the weak Q4 financials are likely the result of the ongoing weak IT spending trend. However, I am in agreement with some sell-side analysts' views that the trend is only transitory, and that FFIV's new product introductions in next year would be a potential catalyst for valuation multiple expansion. Credit Suisse research analyst Paul Silverstein wrote in his recent research note (according to Thomson One, Equity Research):
"We believe the primary driver of the fall-off in revenue growth was weak U.S sales… We believe that this deceleration in growth is a transitory issue, reflective of the macro-economic environment and related challenging service provider capital expenditures and not a secular issue, reflecting a mature product market… We expect eventual recovery will be boosted by significant new product and technology launches in fiscal 2013. We still see F5 as leveraged to the strongest secular tech growth drivers including data center consolidation, virtualization, mobile data and application growth, cloud computing adoption, and security."
Bottom line: In light of the cheap valuations and the robust growth ahead, investors should buy on this pullback. Given FFIV's 12-month average PEG of 1.08x and estimated long-term earnings growth rate of 18.1%, I believe FFIV at least deserves a valuation based on a forward P/E multiple range between 17x and 18x. Supposing that the stock's EPS would rise to the analysts' average estimate of $5.81 by FY2014, my estimated P/E range would imply a range of stock values between $98 and $105, representing an average upside of 23% from the current market price.
The comparable analysis table is created by author. All other charts are sourced from Capital IQ, all financial data is sourced from Capital IQ, and the comment from the sell-side analyst research report is sourced from Thomson One.
Disclosure: I have no positions in any stocks mentioned, and no plans to initiate any positions within the next 72 hours. I wrote this article myself, and it expresses my own opinions. I am not receiving compensation for it (other than from Seeking Alpha). I have no business relationship with any company whose stock is mentioned in this article.