Carnival Corp. (NYSE:CCL) stock trades around $38.70 versus its 52-week high of $39.40, up 20% in the past 1-year. The stock trades at a P/E multiple of 21 times, and a forward P/E of 16 times. It yields 2.6%.
The company's closest peer Royal Caribbean Cruises (NYSE:RCL) is trading at its 52-week high of $35. The stock trades with a P/E multiple of 18 times, and a forward P/E of 14 times. Royal Caribbean stock yields 1.5%.
Both stocks have outperformed in the past 1-year. Although its hard to believe that in difficult economic times, the biggest players of the cruise line industry would outperform, below we outline the fundamental reasons for a possible dividend boost in Carnival Cruise line stock.
As of August 31st, 2012, the company has cash & cash equivalents of $568 million, and $8 billion in long-term debt, which was primarily in the form of customer deposits, and borrowings under the company's credit facilities. Long-term debt/Cap dropped in Q3-2012 to 27% from 30% in Q2-2012, while EBITDA/Interest remained around 9.5 times. This reflects a solid investment grade balance sheet.
The company has a proven record of returning cash to shareholders in the form of dividends, and share buybacks. The company currently has $265 million remaining under its share buyback program, which it is expected to continue to utilize opportunistically. During Q3-2012, Carnival purchased 2 million shares for $67 million.
Management clearly stated in the Q3-2012 conference call that lower capital commitments should result in stronger free cash flow in the coming years. This will be returned to shareholders in the form of cash.
The company is a global leader in a consolidated industry with barriers to entry. Risks in investing in the name remain a continued sluggish economy, which would cause leisure travelers to reconsider their travel budgets. Also, Carnival does not hedge its fuel costs, hence any significant swings in fuel prices would increase the company's operating expenses.
The chart below compares share performance over the past year. "D"s mark dividends paid.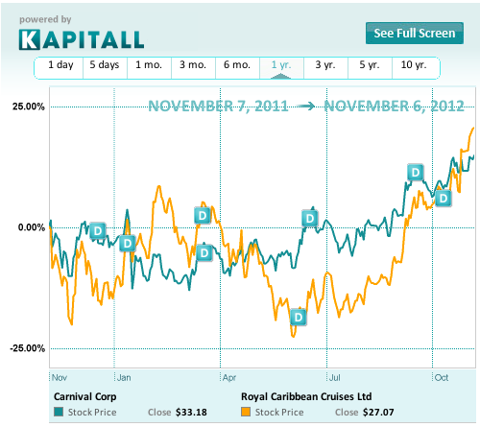 Written by Kapitall's Sabina Bhatia. Tool provided by Kapitall.
Disclosure: I have no positions in any stocks mentioned, and no plans to initiate any positions within the next 72 hours.
Business relationship disclosure: Business relationship disclosure: Kapitall is a team of analysts. This article was written by Sabina Bhatia, one of our writers. We did not receive compensation for this article (other than from Seeking Alpha), and we have no business relationship with any company whose stock is mentioned in this article.