This Q4 Sirius XM (NASDAQ:SIRI) is in the opposite position that it was in Q3. The most recent quarter had analysts expecting the company to report as much as 3 cents profit at one point and some even thinking 4 cents was a possible outcome. Very early on I warned investors that the debt refinancing and debt pay-down issue, while positive, would take its toll on the EPS in Q3. Just before the quarter ended most analysts fell in line with the 2 cent EPS I was expecting for Q3. As it turns out, the company reported a penny instead, booking fewer NOL benefits than I had anticipated.
Now that Q3 is behind us it is time to begin to look at Q4, and it will be positive in that analysts are behind the curve in the opposite direction this time. The street is looking for 3 cents, but the reality is that 4 cents is almost a foregone conclusion if you run the numbers. Right out of the gate we have a positive in that instead of booking $56 million in NOLs this quarter, the number should be more along the lines of $92 million. What does that mean? It means that right away we can anticipate at least 1.4 cents in the Q4 call without even looking at the revenue and cost side of the business.
By applying realistic numbers to Sirius XM we can easily arrive at a Q4 EPS of 4.2 cents. That is getting close to the 4.5 cents that would cause the company to round up and report a BIG FAT NICKLE.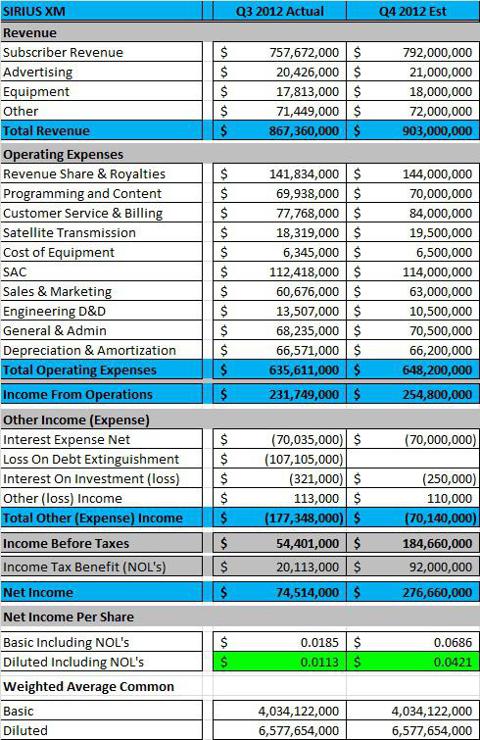 As you can see, I have provided the Q3 results along side my Q4 estimates. The result is not quite a nickel, but what would it take to get there? The answer is $20,000,000. If revenue is higher, costs are trimmed, or a few other things bounce in the right direction, Sirius XM could outshine current expectations by a decent margin. Bear in mind that while I consider this model realistic, I was a bit aggressive on the revenue side and perhaps a bit aggressive on the cost side.
The bottom line here is that a 4 cent quarter is essentially in the bag, and if a few balls bounce in the right direction we could see a slim chance that 5 cents could be within grasp. As exciting as that is we must remember that absent the one time NOL benefit, the company would be reporting the 3 cents that the street is expecting.
As is often the case there are positives and negatives to anything. When the company reports Q4 earnings we will have three consecutive quarters where we have seen benefit from the NOLs from an EPS standpoint. Beginning in Q1 of next year we will see the downside of that. From an earnings point of view the company will now show the tax liability which will be negative to EPS. While no tax will actually be paid, this is a function of accounting at its finest. Remember, we got to see about $0.47 cents of benefit in 2012. Now we will see the tax liability shown.
All of that being said, Sirius XM is now on a path to beat analyst projections. I should caution that analysts will likely update expectations as the quarter progresses. In fact, I anticipate that within the next month we will see street expectations at 4 cents. I do not see any analysts getting to an estimate of 5 cents. If Sirius XM can pull it off it would be a coup of sorts.
In summary it is pretty simple to establish that a 4 cent quarter is in the bag with an outside shot at 5 cents. Analysts will pick up on this at some point so expectations may catch up, but no matter what Sirius XM is on the way to a good earnings call come early next year.
Disclosure: I am long SIRI. I wrote this article myself, and it expresses my own opinions. I am not receiving compensation for it (other than from Seeking Alpha). I have no business relationship with any company whose stock is mentioned in this article.