Today may be an especially good time to favor companies whose dividends are modest but have plenty of potential for growth. With the baby boomers entering retirement and looking to draw more income from their investments, and bond yields sitting near historic lows, investors have piled into dividend stocks.
One smart way to get nice income is to buy shares with modest but rising payouts - maybe not the largest yields around, but the ones that are most likely to increase over time. Prior to the Great Recession, the quest for dividend income was less significant; however, today there are 403 S&P members that pay dividends, the highest since 1999. In a recent Kiplinger's Personal Finance article, Cash in Hand, Jeff Kosnett explains the growing dividend theory,
The financial collapse of 2008 and 2009 reshaped the roster of dividend champs. Hundreds of banks, industrial companies and real estate investment trusts that had been reliable dividend payers slashed or eliminated their cash distributions during the downturn. But now, more than three years after the recession ended, the economy is slowly recovering, corporate profits are healthy, and some of the worst offenders are assiduously moving to repair the damage.
A better way to get yield, especially now, is to identify companies that pay modest dividends today but look likely to pay more in the years to come. Finding the companies that have potential to keep increasing their payments over time can be rewarding, as explained by Jeff Kosnett:
Investing in companies that are restoring their payouts is a sound long-term strategy. If you buy shares that pay a small dividend, the yield on your original investment can soar of the company boosts the rate. And because rebuilders formerly paid high dividends, you can be confident the bosses are willing to share the wealth once the exchequer permits them to.
Unleashing the Power of Dividends
REITs buy mostly income-producing property and avoid paying taxes on the income so long as they pass the bulk of it to shareholders as dividends. With REITs, investing in a diversified pool of real estate is as easy as buying shares of stock.
Today investors are keener than usual on REITs because of their relatively juicy yields. The 10-year Treasury note recently yielded just 1.75 percent and 5-year CDs are averaging just 1.34 percent. The average yield for REITs is also 3.35 percent (as of September 28, 2012) - and REIT dividends, unlike most bond payments, tend to increase over time as rents rise.
Fat valuations don't necessarily mean REITs will produce poor returns relative to other assets, since bond yields are likely to remain slow. The Federal Reserve has indicated it will keep interest rates exceptionally low at least through 2014 as part of an effort to stimulate the economy. Consequently, prices for REITs look safe because cash flow for real estate has only recently started to grow again. If rising dividends lure more income buyers, they could lead to rising share prices.
By owning shares in a modest, but growing REIT, you win two ways (if the dividends grow while you own a REIT). First, the higher payouts increase your yield and, second, the dividend increase usually drives the share price higher. To find the REITs with the best dividend growth prospects, you must pinpoint those with the fastest expected FFO growth. What's that?
Because property owners must deduct non-cash depreciation expenses when calculating earnings, even if the property is, in fact, appreciating in value, reported income is unrealistically reduced by those charges and doesn't measure the actual cash flow generated by the properties. For that reason, the REIT trade association created a measure called "funds from operations" (FFO), which reflects the actual cash profits generated by a REIT's operations.
Although property REITs typically report both net income and FFO, the analysts' earnings estimates that you see on financial sites for REITs are typically FFO per share estimates rather than earnings per share.
REITs offered superior yields before the Great Recession, What Now?
REITs are slower growers than regular growth stocks. Typically, about 5 percent to 10 percent annual FFO growth is about all that you can expect. However, some REITs have bounced back more quickly from the Great Recession as evidenced by the recovery metrics and increased cash flows.
For example, Simon Property Group (NYSE:SPG), the $48.1 billion market cap Regional Mall REIT (with a 2.83 percent dividend yield), saw its dividend cut 87 percent between 2008 and 2009 and, in 2010, the blue chip REIT began clawing back the dividend where it should pay out $4.10 this year. Simon has announced four dividend increases this year - 5 percent each quarter - for an annual bump of around 17 percent.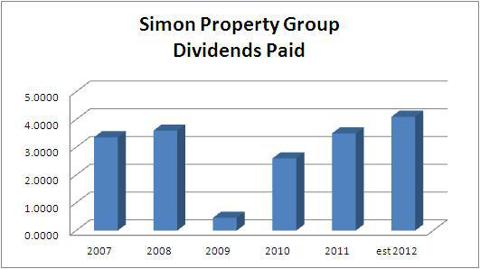 Matt Werner, CFA, with Chilton Capital Management explains Simon's value add strategy:
We believe they are at the top of the class for the REIT Elite as demonstrated by their superior capital allocation track record, balance sheet, and operational expertise. They have demonstrated impressive value creation through acquisitions, developments, and redevelopments. Though they are the largest REIT they are able to move the needle through strong organic growth, and have recently made large splashes with their Klepierre acquisition and global expansion of Premium Outlets. We expect SPG dividend growth to approximate at least AFFO growth for the foreseeable future as they are currently payout out close to the minimum 90% of taxable net income.
Kimco Realty Corp. (NYSE:KIM) also saw sharp dividend cuts in 2009 and 2010, and the nation's largest shopping center REIT has also begun to rebuild its dividend payouts. The New Hyde Park-based REIT, with a market cap of $7.94 billion, has begun to grow its dividend by 13 percent in 2011 and the company recently announced a 10.5 percent increase in the quarterly common cash dividend to $0.21 per share. With a current dividend yield of 4.31 percent, Kimco should continue to climb the dividend ladder in hopes to return to its roots as a stalwart dividend brand.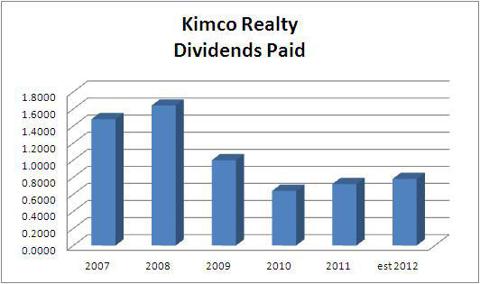 Another shopping center REIT, Retail Opportunity Investment Corporation (NASDAQ:ROIC), has also begun to muscle in on its dividend record. Although ROIC is a new REIT (since transforming from a SPAC in late 2008), the San Diego-based company increased its dividend by 117 percent last year (2011) and the west coast-focused REIT should deliver a dividend increase of around 36 percent this year (2012). ROIC has a market cap of $675 million with a dividend yield of 4.39 percent.
ROIC's significant increase in revenues and operating income reflects the growth in the overall portfolio from acquisitions during the past year. That growth, along with the balance sheet initiatives (at September 30): $260 million of debt outstanding, and a conservative debt-to-total market cap ratio of approximately 26 percent - should propel continued dividend growth during 2013.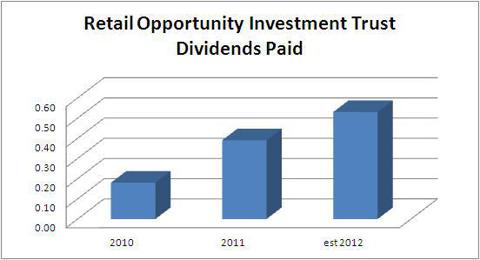 Vornado Realty Trust (NYSE:VNO), although not the simplest REIT on the planet, looks more like a hedge fund, than a REIT. Analysts have been vocal about Vornado's business lines, including companies like J.C. Penney (NYSE:JCP) or Toys 'R' Us that are hard to monetize; however, the New York-based REIT has rewarded investors in the past with the payout of special dividends.
Like most REITs, Vornado sliced its dividend by 57 percent in 2009 and the diversified REIT has been busy since growing its dividend stream. As evidenced by the company's recent focus on simplifying the business model, Vornado has been recycling certain non-core assets, including several regional malls.
As I wrote in a recent article (Vornado Realty Trust: Simply A Hedge Fund In A REIT Wrapper), "Vornado announced that it was selling two New York City-area super-regional malls for about $1.25 billion." The multi-disciplined REIT plans to redeploy the proceeds into more accretive investments. Vornado has a current market cap of $14.96 billion and the dividend yield is 3.43 percent.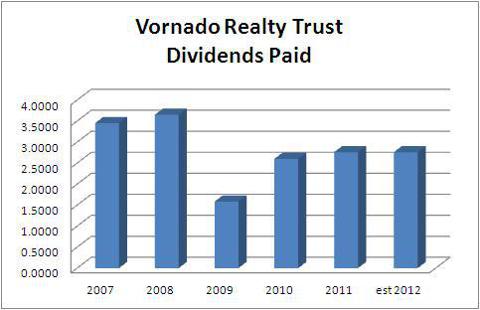 Health care sector REIT, Ventas Inc. (NYSE:VTR), has also seen its dividend performance improve. Although the Chicago-based REIT had a modest decline of 11 percent in 2008, the $18.89 billion market cap company is expected to see an 8 percent spike this year.
Ventas, a S&P 500 company, is a leading REIT with a diverse portfolio of more than 1,400 assets in 47 states (including the District of Columbia) and two Canadian provinces consisting of senior housing communities, skilled nursing facilities, hospitals, medical office buildings and other properties. The current dividend yield is 3.88 percent.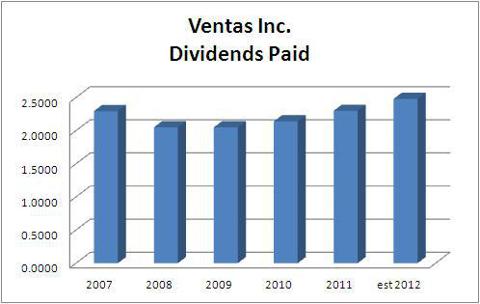 Earlier this week, I wrote an article on Camden Property Trust (NYSE:CPT), and as I wrote:
In the latest quarter (Q3-12), Camden had the highest quarterly NOI growth in 20 years. The company had double-digit NOI growth in nine of its 15 markets and the company had the second-best sequential revenue growth in its history.
Camden has made sound progress with growing its dividend yield from its 22 percent slide backwards in 2010. The Houston based REIT grew the dividend 7 percent in 2011 and the S&P 400 company should see its dividend sail another 13 percent this year (2012). Camden owns interests in and operates 203 properties containing 68,831 apartment homes across the United States and the 5.65 billion cap company has a dividend yield of 3.33 percent.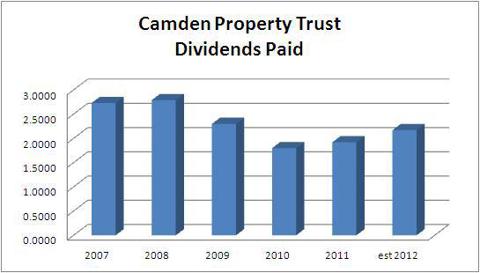 And finally, saving the best for last is Salt Lake City-based Extra Space Storage (NYSE:EXR). As one of my favorite REIT picks, Extra Space owns or operates 910 self-storage properties in 34 states, Washington, D.C. and Puerto Rico. The company's properties comprise approximately 610,000 units and approximately 66.7 million square feet of rentable space, offering customers a wide selection of conveniently located and secure storage solutions across the country, including boat storage, RV storage and business storage. The company is the second largest owner and/or operator of self-storage properties in the United States and is the largest self-storage management company in the United States.
Extra Space, with a market cap of $3.85 billion, saw a 62 percent cut to its dividend in 2009; however, the razor-focused self storage REIT has navigated through the economic recovery by rewarding investors with increased dividends of 40 percent (2011) and 43 percent (2012). In addition to the accelerated dividend growth (currently paying 2.29 percent), Extra Space has returned (year to date) investors around 46.93 percent this year.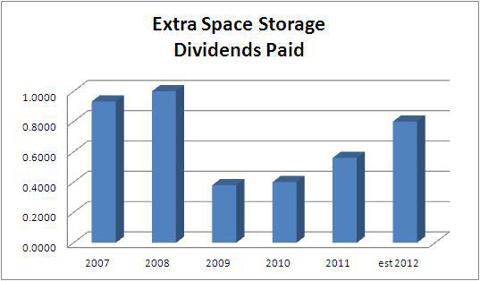 Greatness Isn't Just Talent
The legendary golfer Gary Player once said,
Greatness isn't talent. It's talent applied consistently.
All of the above referenced REITs have demonstrated an exceptional ability to restore dividend successes; however, none of these REITs were able to maintain AND grow their dividend consistently. In fact, during the Great Recession, there were just eleven REITs that maintained and paid increased dividends - that represents less that 10 percent of the entire US REIT universe. As I referred to in a previous article (Checking 'Under the Hood' of the Great Repeatable Dividend Machine):
A dividend machine is capable of paying out dividends for long periods of time without interruptions. In addition, these stalwart companies have also increased dividends for decades (as Seeking Alpha's David Fish describes in his DRiP Investing Resource Center). Among the list of so-called dividend machines include Chevron (NYSE:CVX), Clorox (NYSE:CLX), Coca-Cola, Consolidated Edison (NYSE:ED), Procter & Gamble, and Sonoco Products (NYSE:SON).

All of these companies have built their strategies on unique ingredients; however, the common thread for all of these companies is that they have developed a prime source of competitive advantage. In other words, each of these dividend paying machines have been able to sustain and endure by turning the sources of differentiation into routines and more lasting profitability.
Realty Income (NYSE:O), deemed a true dividend champion, has delivered impressive grades for not only maintaining its dividend record but also for growing it. During the Great Recession, the Escondido-based REIT grew its dividend modestly (averaging under one percent during 2009, 2010, and 2011), and the $5.25 billion market cap company will increase its dividend by 4.1 percent this year (2012). The current dividend yield is 4.62 percent.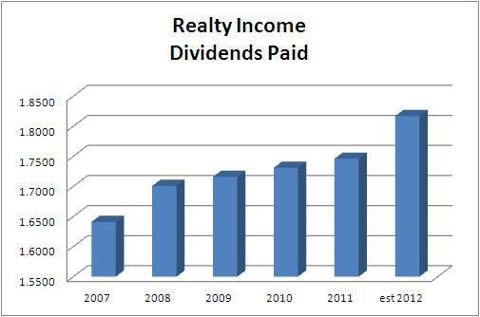 As I wrote in a previous article:
Realty Income's dividend record is exceptional and the legendary investor, Ben Graham, often found that "intelligent" stocks were widely recognized for their defensive characteristics among them "the shares of important companies with a long record of profitable operations." The most intelligent investors often manage to acquire that necessary "trace of wisdom" that Ben Graham calls for and that includes the ability for outstanding investors to distinguish how to "separate the best from the rest.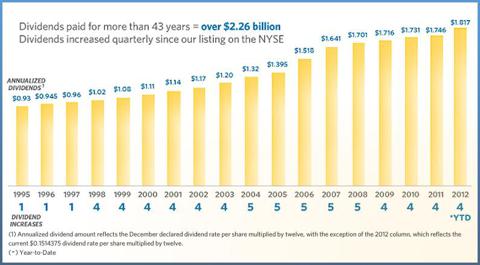 Source: SNL Financial
Disclosure: I have no positions in any stocks mentioned, and no plans to initiate any positions within the next 72 hours. I wrote this article myself, and it expresses my own opinions. I am not receiving compensation for it (other than from Seeking Alpha). I have no business relationship with any company whose stock is mentioned in this article.