Obama was re-elected with victories in key states and will continue his presidency for another 4 years. The result may not be welcomed by Wall Street, but it showed a strong trend of change in U.S. demographics.
According to this report from Bloomberg, the portion of adult citizens who are members of racial or ethnic minority groups grew by 4 percentage points in Nevada, by 3 percentage points in Virginia, by 2 percentage points in Florida and 1 percentage point in Ohio and Iowa between 2008 and 2011. The analysis of Census data was conducted by William Frey, a demographer at the Brookings Institution in Washington. That put states with more electoral votes in the safely Democratic column than in the safely Republican one, and left Romney with fewer potential paths to the 270 electoral votes needed to win the election. Obama's win was further supported by Romney's tough stance on illegal immigration.
If the election result is of any importance to the long-term investor, it is the trend of changing U.S. demographics that we need to pay attention to now. As U.S. demographics change, many industries will be affected.
Here is a look at the data for the population change from 2000 to 2010, as provided by U.S. Census Bureau. As we can see, the white population has decreased from 75.1% to 72.4% and Black or African American numbers has increased by 0.3% and the Asian population has increased by 1.2%. The trend will continue based on the current declining U.S. birthrate and the strong immigration rate to the United States.
Supply Side Change for the Labor Force
In 2020, the working-age population is expected to decline in many countries, including the United States. Japan already has more people exiting the workforce than there are workers prepared to enter it. In the European labor market, 2010 marked the first time more workers retired than joined the workforce, as reported by Ernst & Young. In the States, the labor force will be impacted by the delayed retirement of aging baby boomers and increased immigration, as well as the increased population of African Americans, Asians, and the Hispanic/Latino population. The numbers are shown below.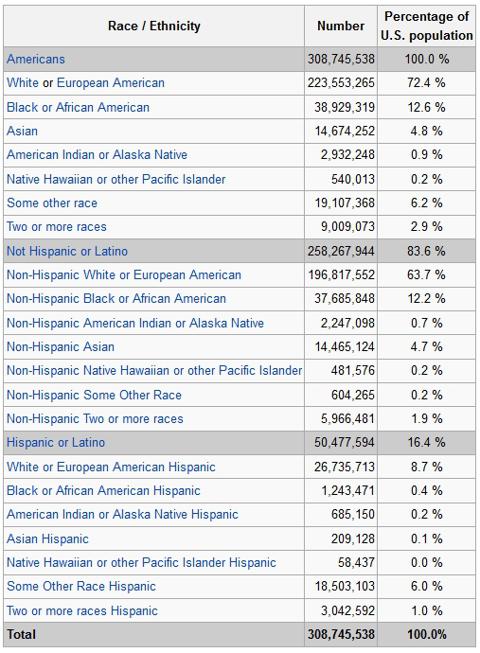 Source: Wikipedia
Shifting Consumer Demand
As the population of different ethnic groups increases, consumer demand will shift and become more diversified. According to Ned Smith's article in Business News Daily, "There's a major demographic shift underway that seems certain to change the way America shops for food."
The confluence of changing demographics, economic factors and customer preferences has the potential to create a long-term disruption across the food-industry value chain, according to a joint study by Jefferies, a global investment bank, and AlixPartners, a global business advisory firm, as quoted in MarketMAPS Blog. The grocery industry is just an example of how demographics shift consumer behavior, thus leading to the demand change in the industry.
Investors Be Aware
Long-term investors need to pay attention to the developing and changing trends and definitely cannot afford to ignore what is changing in U.S. demographics. With the increasing population of different ethnic groups, accompanied by aging baby boomers, U.S. demographics may be changing at a rate faster than anyone's estimate. Investors should pay attention to the increasing needs in the healthcare sector and the shifting of grocery/food demand.
Obama's victory is just the beginning of these changes, definitely not the end.
Disclosure: I have no positions in any stocks mentioned, and no plans to initiate any positions within the next 72 hours. I wrote this article myself, and it expresses my own opinions. I am not receiving compensation for it (other than from Seeking Alpha). I have no business relationship with any company whose stock is mentioned in this article.