Baidu Inc. (NASDAQ:BIDU), China's largest search engine company, saw its shares slump more than 6% after reporting third-quarter earnings late last month. Management reported that revenue growth fell to its slowest in almost two years to 49.7% for $994.6 million, missing expectations for $1.03 billion. The company made $1.39 per share in the quarter, well above the $0.84 earned in the same quarter last year.
Baidu continues to add marketing customers and reached a record of 390,000 in the quarter, even as large advertising customers slowed spending. As we have seen with other internet properties this quarter, the question has been the company's ability to monetize mobile traffic. While management gave no details on programs, they promised to improve earnings from mobile in the coming quarters.
The real story here is the price at which investors can snap up a tremendous growth story compared to the price multiple Google (NASDAQ:GOOG) saw when it was experiencing the same level of growth in 2006. Baidu has grown net income by an annualized 94% over the last five years against revenue growth of 85% on an annualized basis. By comparison, Google was able to grow revenue at an annualized rate of 89% in the five years to 2006.
The difference is that shares of Google traded for an average of 50.5 times trailing earnings in 2006, well above the 23.6 times investors are paying for shares of Baidu right now. The precedent is important because Google was largely an internet search company in 2006. Another search-based business model experiencing comparable growth should be trading at a comparable multiple.
Some will point to stronger sentiment in 2006 but the trailing price multiple for the S&P 500 was only slightly higher at 17.3 times compared to its current multiple of 16.7 times. Even with general sentiment slightly more bearish on the market, shares of Baidu should not be trading at such a low price multiple.
In fact, shares of Baidu are currently only trading at a small premium to Google on a price-earnings basis even though Google's current five-year annualized revenue growth of 29% is less than half that of the Chinese search provider.
Google is a retail behemoth now, but back in the early part of the last decade it was little more than search. While Google dominated U.S. search traffic in 2006, Baidu presently controls upwards of 80% of the Chinese search market. The site is the fifth most trafficked in the world according to Alexa rankings.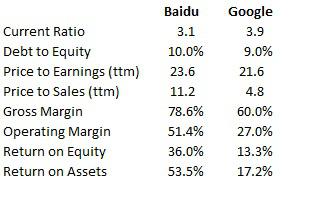 The above shows current fundamentals for each company. Both trade similarly on a price-earnings basis while Baidu is more expensive on a price-sales basis. Operating efficiency and return is where the comparison falls apart. Return metrics for the Chinese search provider are twice those of Google and Baidu wins hands down on operational efficiency.
While Google has tried to gain share in the Chinese market, problems with the government and hackers have acted as a considerable roadblock to growth. As of the second quarter 2012, Baidu received 79% of Chinese search revenues with Google seeing 16% and a distant second.
Internet usage in the country has increased from 22.5 million to 420 million in the decade to 2010, a compound annual rate of 34%. Don't expect growth to slow anytime soon, penetration is just 31.6%, well below that in the United States at 77%.
Management is blowing out peers in the industry with an operating margin of 51.4%, higher than 84% in computer services, and a return on equity of 36% also well above the industry average. Even if management were to drop the ball, the rate of internet growth in China means the stock should have a much higher price multiple.
In fact, Baidu shares have only been cheaper about 4% of the time over the last three years and have averaged 41.9 times trailing earnings over the last year.
The matrix below shows possible one-year price targets given a trailing price multiple between 20 and 40 times and EPS growth between 35% and 65%. Both ranges are fairly conservative given the company's history but present an attractive call on the shares. Even a decrease in earnings growth and significant contraction of its price multiple sees shares 12.5% higher over the next year.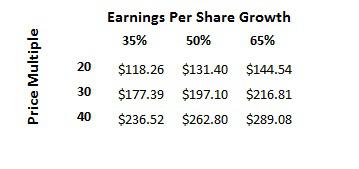 Bears will point to a slowdown in economic growth in China but internet usage and penetration continue to climb at double-digit rates. Even a slowdown in the general economy will not keep the company from seeing strong revenue gains.
Market sentiment is extremely fickle and right now it is not in Baidu's favor, but investors have shown their willingness to pay higher prices for growth in the past and this precedent will eventually turn in the shares' favor. When that sentiment turns and the price multiple returns to that which we've seen in the past, investors could be very well-rewarded.
Disclosure: I am long BIDU. I wrote this article myself, and it expresses my own opinions. I am not receiving compensation for it (other than from Seeking Alpha). I have no business relationship with any company whose stock is mentioned in this article.