Sirius XM Radio (NASDAQ:SIRI) may not be the great value play that some investors think it is, but it's certainly an idea worth entertaining. The draw surrounding the revived satellite radio operator has accelerated with Mel Karmazin's announcement that he will step down early next year. This means that Liberty Media's (LMCA) takeover of Sirius is likely a done deal. Mel has made it clear that he won't work for Liberty's owner, John Malone, or anybody else. He wants to be the boss.
Even though Mel is not easy to play along with, he has certainly done a good job of rebuilding Sirius. Revenue at the company rose by 14% in the third quarter of 2012, even though earnings were down. Value investors will ask how this news will affect Sirius's share value. After all, Mel has sold off large blocks of Sirius shares in the past, and he will probably do so again.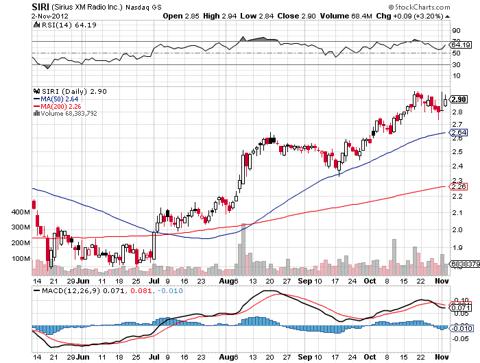 Sirius's share value first dipped slightly, then went up after the announcement. That seems to indicate that the market is not overly concerned about Mel Karmazin's departure. Instead it looks like Sirius's share values are holding steady. But do the numbers justify that assessment?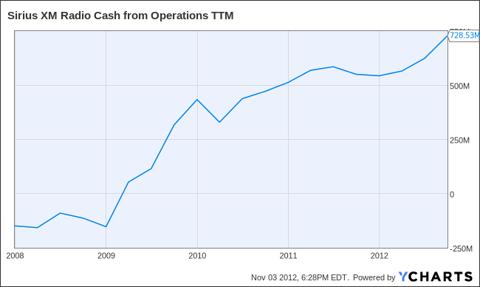 Sirius's cash flow from operations has been going up, despite the drama surrounding its stock. The company has been able to generate far more cash, even as its share value has been driven down by Karmazin and Malone's battle for control. From a cash standpoint, Sirius is in a far better position than the company usually described as its biggest rival: Internet radio provider, Pandora (NYSE:P). As of July 31st, Pandora was losing money from its operations-around $5.227 million-while Sirius earned $728.53 million.
That puts Sirius in a better position than Pandora, which still hasn't figured out how to make money. The latest figures indicate that Pandora has an operating earning yield of -2.9%, and that figure is steadily falling.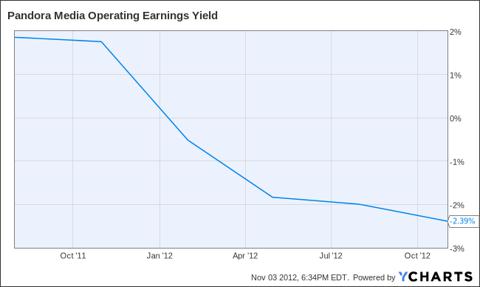 At the same time, Sirius has an earnings yield of 7.32%, and that figure is staying steady. These figures indicate that Mel Karmazin succeeded in creating a stable business that generates cash. They also show that Sirius's business model of relying on subscriptions from car owners is a pretty good one.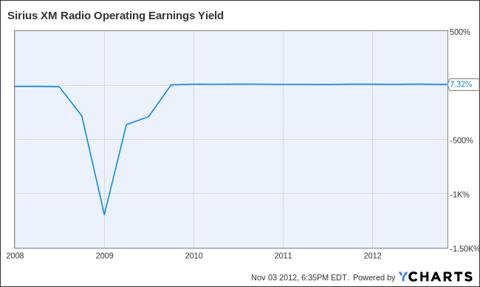 The bizarre aspect of this story is that Pandora's share value is about four times higher than that of Sirius. At the close of business on November 2nd, Pandora's shares were trading around $8.25, while Sirius was trading around $2.90. The case of Pandora and Sirius seems to indicate that Ben Graham's old adage about the market being insane was correct. The market is ignoring a company that's generating cash and paying almost four times as much for shares of a company that's losing money at an incredible rate.
It is easy to see why John Malone wants to get his hands on Sirius; it is making money. Malone seems to be getting a bargain for that $2.90 per share price. Even if the Federal Communications Commission doesn't approve Liberty's takeover of Sirius, Malone can still sell it off and pocket some cash.
Not surprisingly, many value investors will wonder if Liberty Media is another Berkshire Hathaway (NYSE:BRK.A), a holding company led by a savvy investor who makes a lot of value investments. Probably not. But Liberty is still an attractive company from a value investor's standpoint. As of November 2nd, Liberty had a P/E Ratio of 21.05.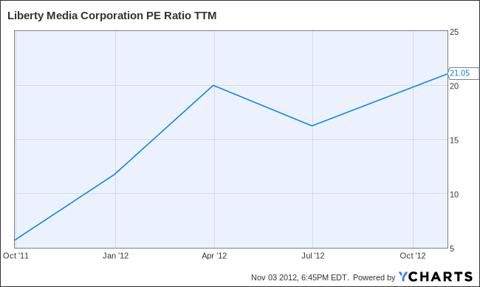 Liberty's P/E ratio was higher than Berkshire Hathaway's, which was 18.45. Yet, Liberty isn't sitting on a huge pile of cash like Berkshire Hathaway is. As of June 30th, 2012, Warren Buffett's company was sitting on $40.66 billion in cash. Liberty Media had just $2.048 billion in cash on the same date.
Liberty isn't the next Berkshire Hathaway, and Malone isn't a new Buffett, even though his company posts some impressive numbers. These numbers indicate that Liberty is a better buy than Sirius, although Sirius has growth potential, even if it cannot survive as a separate entity. The best advice for a value investor is to steer clear of Sirius. The stock is cheap and the company is making money, but its future is uncertain.
Disclosure: I have no positions in any stocks mentioned, and no plans to initiate any positions within the next 72 hours. I wrote this article myself, and it expresses my own opinions. I am not receiving compensation for it (other than from Seeking Alpha). I have no business relationship with any company whose stock is mentioned in this article.