Silver price is going to go much, much higher-much higher, over the next decade.

~Jim Rogers on CNBC, 2011
First, the simple, skewed and probably wrong way to look at this; take a look at 2 charts, one each for gold and silver, showing price movements right from the 1970s down to the present day.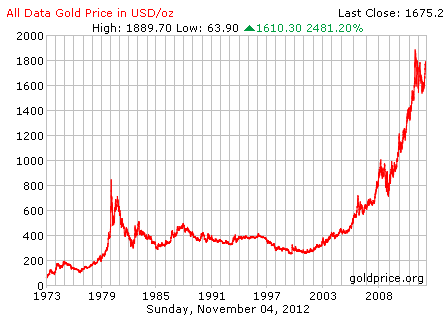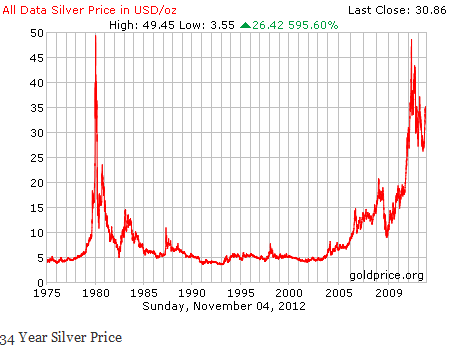 Note, the gold chart starts from 1973, while the silver from 1975.
Some silver bears will tell you that silver has been running at a loss since its 1980 high, unlike gold, which has almost quadrupled. However, that is not a good assessment of the 1980 high for silver. That huge, huge spike and drop in silver prices occurred on the infamous Silver Thursday, 27 March, 1980, as a direct result of the silver market manipulations of the Hunt brothers of Texas. It had its effect on gold too, as you can see in the first chart. However, the effect on silver is more pronounced. In general, the gold chart appears to be more stable than silver. The lurches are fewer and less pronounced. However, on a long-term simple view as I have given above, both gold and silver seem to trace the same sort of path.
That, however, is the wrong way to look at it. You see, gold historically traded at almost 15 times the price of silver - the so-called gold/silver ratio - and it is well-understood, mathematically, that the one with the smaller price will show more pronounced bumps. It is like when you zoom into an image 15 times; bumps and lurches appear 15 times more pronounced. That is exactly what happens in this case.
That is not to say that someone who bought gold on or around that fateful Thursday and still holds it fares the same way as the one who bought silver. No, as you can see from inflation-unadjusted charts, silver buyers never recovered their capital, even to this day, while gold buyers more than doubled their capital (forget inflation, interest, everything else for the time being for this simple comparison) even if they had taken a position in gold on that fateful day.
So, does that tell us that gold works better than silver today? Not right away; there are dozens of other factors to consider.
One factor that many investors do consider is that unlike gold, silver is an industrially useful metal. It does have a volume of industry demand. It is used in plastic design, batteries, mirror coatings, electronics components, medical instruments, water purifiers, solar panels, to say nothing of making silver bullets to fight against the impending werewolf invasion. According to this Kitco report:
The amount of silver used for industrial purposes is forecast to rise to 665.9 million troy ounces by 2015, which would be a 36% increase from the 487 million used in 2010, according to a report from the Silver Institute.

The report identifies 11 still-new applications for silver, ranging from food packaging to radio identification tags to auto catalysts, which collectively could exceed 40 million ounces of industrial demand by 2015, said the Silver Institute.

The report also said that stronger silver industrial demand in the U.S. and Asia will be a key factor driving growth through 2015, with healthy developing-country demand especially in markets such as China and India.
Since silver has a substitution problem just like any precious metal - its available quantity is not unlimited - industry demand will put a premium on silver, unlike gold which has no industry demand worth noting and is priced on pure, ultimate human hype.
To put the industrial demand of silver in perspective, note that although most people think its primary usage is in producing cheap jewelry and cheaper coins, that actually accounts for only 25% of silver demand. The remaining 75% demand comes from the industries, according to this report. As newer and broader applications of silver find their way into technology, that demand will only go upwards. See the chart below; figures are in ounces, 2010 statistics.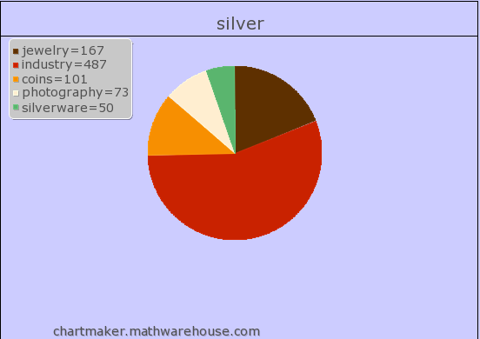 Another thing to note is that silver is less regulated than gold. Central banks do not own silver, they own gold, so silver is more volatile. When markets for silver/gold go down, silver generally goes more down than gold. However, for the same reason, when inflations occur or with rising industrial demand, silver, since it is more volatile, has potentially more short term upside than gold.
So if you are a risk-taker at heart, silver is a good choice. Its highs are very high, its lows are very low. If you can buy at a low and sell at a high, you win a lot. Gold, on the other hand, seems more stable, and it is an excellent hedge in troubled times.
One reason that silver price is often on the rise is that there is a limited supply of gold above ground than silver. Look at it this way. In the last ten thousand years, huge amounts of both gold and silver have been mined. Almost all of that gold is still in the market in a purchasable condition. Silver, on the other hand, has had long industrial use. Silver's industrial refuse (silver scrap) is not usually recycled because costs are high compared to the price of the silver recovered. This makes silver more scarce than gold, and that scarcity is increasing. As an example, over the past twenty years, the estimated supply of silver in London and Zurich fell from approximately 350 million ounces to a mere 50 million ounces.
Silver, since it is more volatile, requires you to have a more cautious approach than gold does. You'd better be a trader rather than an investor if you are buying silver. It can fluctuate by more than 70% in a year, so if you are a long term buy-and-hold investor, silver is not for you.
Silver generally outperforms gold during growth phases of the market, when there is more demand for industrial silver. However, when markets are depressed, demand from the industry scales down, and gold outperforms silver.
Another important point silver bulls remind you of is the so-called silver/gold ratio. This has historically and globally been roughly 15:1; that is, one ounce of gold trades for 15 ounces of silver. However, right now, that ratio is well above 50:1; in other words, gold is trading at over three times the price it used to trade before with respect to silver's price. However, mints report that they sell almost equal dollar amounts of gold and silver; which means that they sell 50 times more silver than gold. So, demand for silver is larger by a big margin, while from a historical perspective, silver is undervalued right now. If silver corrects itself even by a small factor, its price will increase substantially from current levels.
Since silver is not tied in with currencies, and there is a worldwide demotion of currencies across the board, silver's price fluctuation is less pronounced than gold's. This presents a better buying opportunity, coupled with the gold/silver ratio.
The last issue I will note is the problem of counterfeiting. Millions can be made by counterfeiting gold. However, since silver is much less costly than gold, counterfeiting silver is not lucrative. Hence, when you buy it, there is less risk of getting counterfeit bars and coins than there is for gold.
Disclosure: I have no positions in any stocks mentioned, and no plans to initiate any positions within the next 72 hours. I wrote this article myself, and it expresses my own opinions. I am not receiving compensation for it (other than from Seeking Alpha). I have no business relationship with any company whose stock is mentioned in this article.