Norwegian energy giant Statoil ASA (NYSE:STO) reported its third quarter 2012 results on Friday, October 26, 2012. These results missed the analyst consensus adjusted earnings estimate but beat on net income. Overall, these results do not look bad at all. The company strengthened its financial position during the quarter and grew its year over year production. The company also increased its cash flows from the previous year and continued to execute a very successful exploration program that has significantly enhanced reserves. Analysts were disappointed by these results as evidenced by the rash of downgrades that followed the announcement. I, however, am not disappointed by these results. Here are the highlights from the company's earnings report:
Average equity production was 1,811 mboe per day. This represents a 3% increase over the third quarter of last year.
Net income in the quarter was NOK 14.5 billion ($2.53 billion). This is a 47% increase over the prior year quarter when measured in local currency.
Statoil reported a quarterly earnings per share of NOK 4.52 ($0.788). This is 38% higher than the prior year quarter.
In 2012, Statoil has grown its cash flows from operations by 12% to NOK 188 billion ($32.72 billion).
Statoil has increased its resource base by more in the first nine months of 2012 than it did in all of 2011.
Statoil has long had the ambition to increase average equity production to 2,500 mboe per day by 2020 and the company remains on track to accomplish that. Equity production during this quarter was lower than in the first two quarters of the year: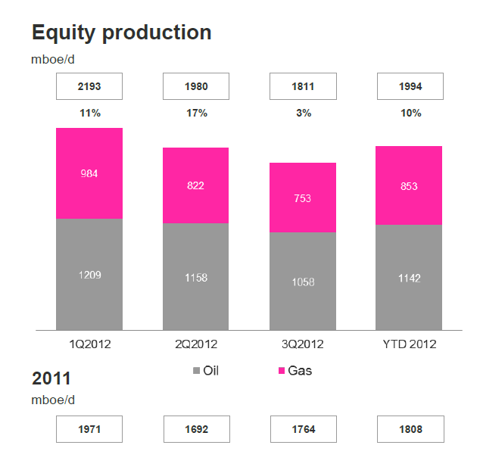 Source: Statoil ASA
This decrease in production from the first two quarters was entirely expected, as I discussed in my analysis of Statoil's second quarter results. Statoil's year-to-date production is still 8% higher than the same period last year and this has been the singularly largest reason for the company's growth over the past year. Statoil's production suffered in the third quarter due to downtime resulting from maintenance activities. The company expects fewer negative impacts resulting from these activities over the fourth quarter. The outlook here remains the same: a 3% compound annual growth rate in 2012 based on actual 2010 production.
There will be no production growth in 2013, however. In fact, the company will likely see production decline. This is due to the recent deal with Wintershall. This deal, which was announced at the end of October, calls for Wintershall to take over Statoil's Brage field as well as acquire interests in the Gjoa and Vega licenses. In exchange, Statoil will receive a 15% share in the Edvard Grieg development project and $1.35 billion in cash. Assuming that this deal receives government approval then the asset swap will take place around the end of 2013. This deal has the effect of greatly increasing Wintershall's production but will reduce Statoil's production in 2013. Statoil, however, has a strong conviction regarding the potential of Edvard Grieg. Acquiring this interest has made Statoil into the largest player in the Utsira High region. This positions Statoil quite well to drive the development of this promising region and, thus, deliver growth through this development.
Statoil also aims to create value through improvements in its oil recovery rate. In the third quarter, Statoil increased its recovery rate to 50% from 49%. That set a new world record for oil recovery and also creates value for shareholders. The reason for this is that this represents an increase in the amount of oil that Statoil is able to extract from the fields that it already has. Oil companies cannot extract all the oil from a field due largely to technical and economic reasons. Instead, an oil company can only extract a small percentage of the oil that is actually contained in the field. This is the recovery rate. By increasing its recovery rate by 1%, Statoil has increased the amount of oil that it can extract from its fields (and thus sell). A 1% increase represents an additional 327 million barrels that the company can now extract that it couldn't before. This is roughly NOK 200 billion ($34.86 billion) in new revenue that these additional barrels will generate. This represents growth from existing assets - Statoil does not have to explore for new oil fields to obtain these extra barrels to sell. Thus, growth from improvements in the recovery rate do not suffer from the same uncertainties that can arise from growing production through exploration (for example, the risk of not discovering any oil). At the same time, exploration is still required because oil fields contain a finite amount of oil and, even if the recovery rate improves to 100%, will still eventually run dry. Thus, both sources of growth are beneficial to the company and both create value for shareholders. Statoil intends to increase its recovery rate of its Norwegian fields from the current 50% to 60%. If the company is successful, that represents an additional 3.27 billion barrels of oil and approximately NOK 2 trillion ($348.6 billion) of new revenue at current prices. Statoil will not be able to accomplish this in the short-term but this still represents a tremendous opportunity for shareholders.
Statoil has also been growing its production in the Bakken region on acreage that the company acquired through last year's takeover of Brigham Exploration (BEXP). In the third quarter, Statoil produced approximately 38,000 barrels per day in the Bakken. At the same time last year, the same land produced approximately 21,000 barrels per day. This represents annual production growth of 81.0%! The company expects to ramp up this production even more going forward as it works towards its company-wide production goal of 2,500 mboe by 2020. To further that goal, Statoil has secured rail cars to ship the extracted oil out of the region. It was necessary for the company to secure these rail cars because of the insufficient pipeline capacity that plagues this rapidly growing region. Statoil stated in its third quarter conference call that this has helped the company secure higher prices for this oil due to the reduction of the price differential.
Statoil's stock was pummeled following the earnings announcement, presumably because analysts expected better earnings performance than what the company delivered.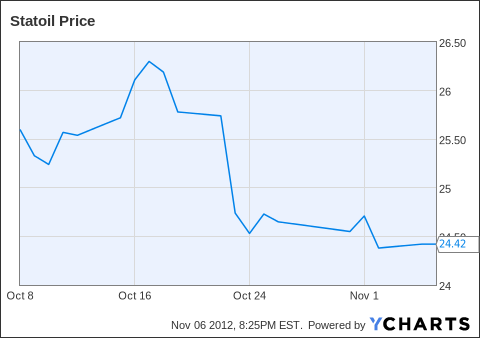 Statoil reported lower adjusted earnings compared to the prior year quarter but every other metric and financial number showed solid growth. Adjusted earnings in the third quarter of 2012 were NOK 40.0 billion ($6.97 billion), representing a 7% decline from the NOK 43.1 billion ($7.51 billion) of adjusted earnings that Statoil reported in the third quarter of 2011. Statoil has also seen higher exploration expenditures this year compared to 2011. Exploration expenditures in the first nine months of 2012 were 16.0 billion ($2.79 billion); the same figure for the first nine months of 2011 was NOK 13.2 billion ($2.30 billion). Thus, Statoil has had slightly higher costs this year. The reason for this is that the company is drilling more wells and more expensive wells. This is Statoil spending money now in order to make more money later. This is a good thing for investors.
Statoil also reported lower revenue than in the third quarter of 2011. The reason for this is that liquids prices were lower in the quarter than prices in the year ago quarter. These sort of fluctuations are common in the industry due to the volatility of oil prices. The lower revenues are not symptomatic of a larger problem at Statoil and, in fact, net income was up so Statoil has been able to increase income on a smaller revenue base. This is a positive sign.
The stock's poor performance following the earnings report looks to be uncalled for. This was a good earnings report and the stock's resultant decline provides an attractive entry point for patient investors. However, patience is required here. Statoil is well-positioned to deliver strong growth over the 2015-2020 period. As I discussed earlier in this article, Statoil is not likely to see any growth in 2013 and 2014 growth is likely to be fairly meager. However, the stock does carry a 4.59% dividend yield (although it is subject to withholding tax), so investors are paid well to wait.
All currency conversions were performed at the USD/NOK exchange rate on 11/6/2012. Statoil reports all results in Norwegian krone and so U.S. dollar-based figures will vary depending on the exchange rate used.
Disclosure: I am long STO. I wrote this article myself, and it expresses my own opinions. I am not receiving compensation for it (other than from Seeking Alpha). I have no business relationship with any company whose stock is mentioned in this article.