Huf On Yen
"I will play it first and tell you what it is later" -Miles Davis
The Huf rule is a tactical move from several board games, such as Alqureque and English draughts (known to most Americans as checkers). The huf rule is enforced where a player who fails to make a capturing move when it is available is penalized or "Huffed", by having the piece that could have performed the capture removed from the board. This rule can be particularly useful when your opponent is not observing the game or is fearful that the bait would lead him into a more precarious position.
Some investors have seen the two month rally of approximately 4.3% in the US dollar against the Japanese Yen and may come to the conclusion that the Yen may continue to weaken in the short to medium term. However, based on deteriorating Japanese economic data and Yen flows, these investors may get huffed for not taking any long yen positions. To take advantage of any Yen strength one should consider a short USDJPY position on their forex portfolio or the ETF FXY (NYSEARCA:FXY), which is long Yen. Expectations in the short to medium term are for USDJPY to return to the 77 price level, a 4% decline from current levels. This would lead to an appreciation in FXY of 4%.
The Current Board Game
The Bank of Japan [BOJ] has been on the forefront of attempting to stimulate the Japanese economy from a global economic growth malaise, and more particularly, any serious economic impacts from their earthquake in March of 2011. The central bank maintained interest rates at record lows (although interest rates were relatively low for over a decade), increased their asset purchase program and set a target for inflation at 1%. As expected, the BOJ increased its new asset purchases by 11 trillion yen to 91 trillion yen and expanded the program to include T-bills, government bonds and a small allocation to riskier assets like ETFs. Furthermore, the central bank stated that it will offer unlimited loans at around 0.10% to lenders to facilitate an increase in credit demand among companies and households in Japan.
The chart below illustrates the BOJ's Asset Purchase Programme [APP]. Thus far, the BOJ seems to be ineffective, to say the least. With that in mind, it is difficult to see any further Yen weakness in the short to medium term as the Yen tends to strengthen as Japan's economy contracts.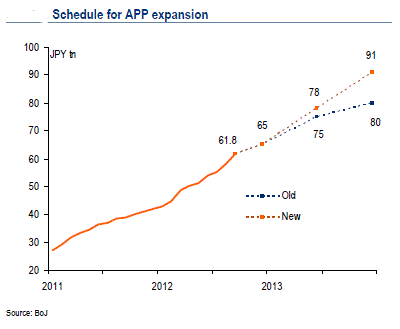 The BOJ has been unsuccessful with their target of 1% inflation, as their inflation rate remains in deflationary territory. The chart below illustrates Japan's CPI.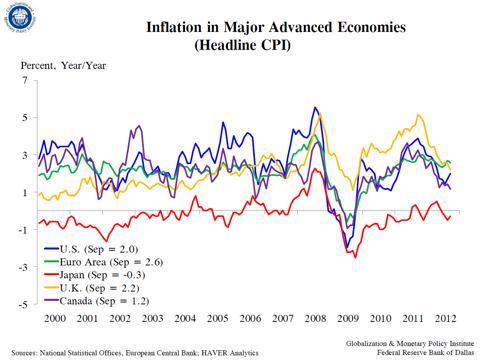 To compound Japan's weakening economy, a consumption tax hike is expected in April 2014. Also, latest figures show that Japan's September trade deficit was 980Bn Yen, the highest ever. Clearly contracted demand overseas is not aiding Japan's situation. A chart of Japan's Trade balance can be seen below.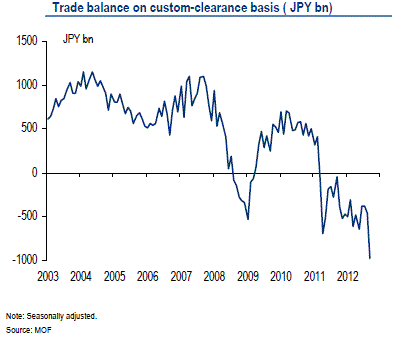 To make matters worse, there has been political tension between China and Japan, which resulted in a sharp slump in auto exports to China. From 2011 data, China represents 25% of Japan's electronic products exports, 7% for passenger cars and 22% for auto parts. Thus, if a 30% decline in exports to China were to occur, an approximate 6% fall in electronic products and auto parts would occur and a 2% fall in passenger cars. Calculations indicate that these declines will result in a contraction in Japan's GDP by 0.3%. Furthermore, core private sector machinery orders, a leading indicator of business investment, fell 3.3% over the month of August. In addition, overtime hours in manufacturing declined for the second straight month in August by approximately 3.4%, from a 4.4% fall in July.
Another reason for my skepticism is the data regarding the flows of funds in Japanese assets. The data suggests that although there was a net outflow in Japanese bond notes in the third quarter of 2012, inflows in both equity and short-term bills remain steady. The table below gives these details.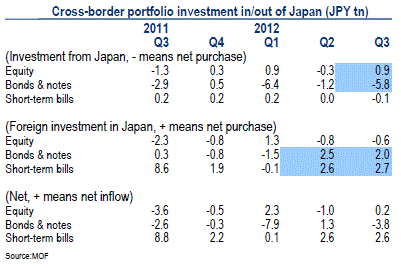 The outflow in bonds may be attributed to banking activity, primarily those that do not take on currency risk. However, institutional investors are increasing their positions in foreign bonds. They are attempting to diversify their portfolios to avoid concentration risk. Nonetheless, second and 3rd quarter figures show overseas investors invested in nearly 10 trillion Yen of Japanese bonds. The flows into short-term bill investments amounted to 2.5 trillion Yen. While this was less than 2011, it still shows that demand remains for Yen denominated assets. As such the recent weakness in the yen, in my opinion appears as a huf and USDJPY should be shorted and FXY should be purchased.
The Pieces on the Board
After the two month rally at the beginning of the year USDJPY declined into June from the highs of 84.086 to trade at the lows of 77.654, a decline of 8.28%. From there it remained range-bound with the FX pair finding resistance around 80.60 and support near 77. In September, USDJPY began to rally and is now trading at levels around resistance. Also during this rally its RSI became overbought. Expectations are for the rally to be exhausted near the 81 level and seeking refuge initially around 79. The 2.5% move lower should benefit a portfolio over the next couple of months. Hence it is recommended not to entry the bull trap. Please see below the daily chart of USDJPY.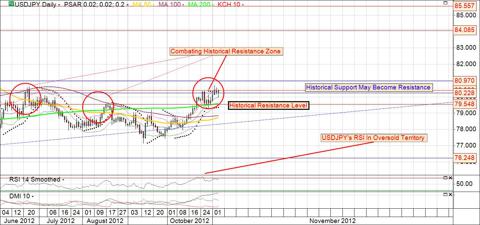 For those investors who tend to shy away from FX spot positions the ETF, the FXY may be useful for Yen exposure. After rallying from March to September 2012, FXY is currently experiencing a pullback, a move of approximately 4.5%. After breaking a historical support/resistance zone of 123, the ETF became oversold. Given that FXY's downward move seems to be exhausted after breaking this support/resistance zone, a short term buying opportunity is on the horizon. This is similar to a short USDJPY position.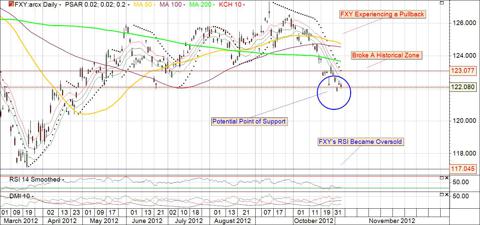 Don't Get Huf
Don't fall prey to the weakening Yen in the short term thinking that it will last, it is more than likely a huf. Position yourself in the 'strong yen' as the opportunity to profit from it draws to a close.
Disclosure: I have no positions in any stocks mentioned, and no plans to initiate any positions within the next 72 hours. I wrote this article myself, and it expresses my own opinions. I am not receiving compensation for it (other than from Seeking Alpha). I have no business relationship with any company whose stock is mentioned in this article.
Disclaimer: The views expressed in this article are my own and are not necessarily the views of any companies or organizations I am affiliated. I expressly disclaim all liability in respect to actions taken based on any or all of the information in this writing.