A classic value opportunity is supposed to be a company with a good business that is beset by short-term problems. The classic thinking is that Mr. Market undervalues such companies-he's only focused on the short term. Currently many value investors are wondering if this applies to Newfield Exploration (NYSE:NFX), which has missed its earnings estimates. Newfield has also reported declines in revenue and profits.
Yet, even though its revenues and profits are down, Newfield still has strong cash flow. As you can see below, the company's cash flow from operations was $1.22 billion on September 30th. That's not bad for a company with a market cap of $3.55 billion and an enterprise value of $6.61 billion.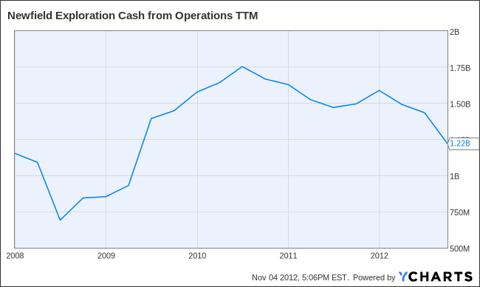 The bothersome thing is that Newfield's cash from operations has been falling in recent years. That bucks the industry trend found at companies such as Continental Resources (NYSE:CLR) and EOG Resources (NYSE:EOG), where cash flow has been increasing. Newfield doesn't seem to be keeping up with the industry trends. Instead it looks like it is heading in the opposite direction.
Newfield appears to be losing money, but it doesn't appear to be losing money in its core business. Instead the losses appear to come from investments, including commodity losses. Newfield admitted that it lost $135 million playing around with commodity derivatives. The company lost another $20 million by redeeming $550 million worth of Senior Subordinated Notes early.
Success in the Uinta Basin
The company appears to be expanding its core business. It reported that its oil and gas production in the third quarter of 2012 was 20% higher than in the same period in 2011. The added production includes wells in the Uinta Basin in Utah, where Newfield plans to add 60 wells in 2012. Newfield's production in the Unita increased from 7,000 BOEPD (barrels of oil equivalents per day) in 2004 to 27,000 BOEPD in 2011. So Newfield has demonstrated that it can increase production in new areas.
Despite its reported losses, Uinta is still pumping oil and plans to pump more soon. The company has signed agreements to supply 38,000 barrels of oil a day to Tesoro (TSO) and HollyFrontier (NYSE:HFC), refineries in Salt Lake City over the next decade.
Newfield has also demonstrated the ability to turn the new oil production into revenue. Despite the slight drop in revenue this year, the charts show that Newfield has increased its revenue substantially over the past few years. The strategy of concentrating on exploration and development in the mainland U.S. seems to have paid off.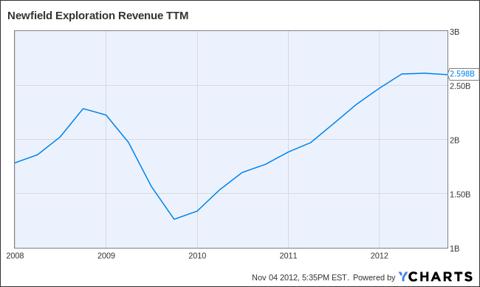 Judging by these charts, the quarterly earnings estimates look like a blip on the radio rather than an accurate assessment of long-term earnings. It looks like Newfield's revenues will keep growing over the long haul. Newfield's revenue per share actually grew by around 4.55% until the investment losses were reported.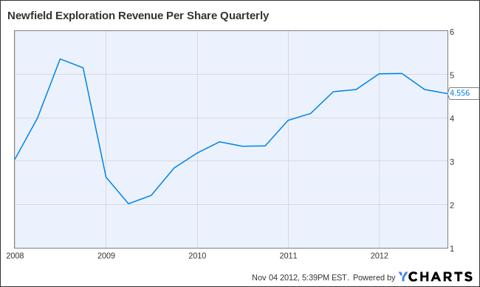 These losses appear to be a short-term phenomenon rather than an indicator of long-term problems. The revenue and cash figures indicate that Newfield's core business is pretty sound. The revenue losses the analysts are focusing on are quarterly year to year growth, which means a comparison of revenue in the third quarter of 2011 and 2012. There's no way that can be used as a long-term indicator of performance unless the losses continue for at least two or three quarters.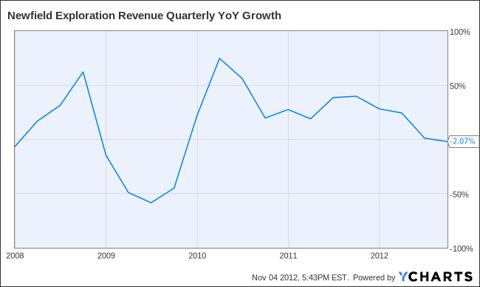 As you can see above, the amount of those losses is fairly low and can be made up once the one-time investment losses have passed; although Newfield's current numbers are well below some of its competitors. Gulfport Energy (NASDAQ:GPOR) reported a Revenue Quarterly Year to Year growth figure of 19.31% for the same period.
Newfield looks like a classic value opportunity right now; its losses don't look permanent, and its fundamentals look good. It looks like Newfield is moving into the bargain territory.
I also have to wonder if there is a trend here. There's a strong possibility that a lot of independent oil and gas companies with a domestic focus will soon be undervalued. If that happens, there's going to be a major value opportunity in oil and gas.
Disclosure: I have no positions in any stocks mentioned, and no plans to initiate any positions within the next 72 hours. I wrote this article myself, and it expresses my own opinions. I am not receiving compensation for it (other than from Seeking Alpha). I have no business relationship with any company whose stock is mentioned in this article.