After Vringo's (VRNG) arguably decisive win yesterday against search giant Google (NASDAQ:GOOG), we have another winner in VirnetX (NYSEMKT:VHC), which reportedly just got awarded $368 million in damages from Apple (NASDAQ:AAPL) by a federal jury in Texas. The patents in question were Virnetx-held U.S. Patent Nos. 6,502,135, 7,418,504, 7,921,211 and 7,490,151 related to the virtual-private-network technology that Apple infringed in developing its FaceTime video-calling function used across a broad range of Apple products like iPhones, iPads, iPods and Macs.
In his closing argument, Doug Cawley, a lawyer with McKool Smith in Dallas who represents VirnetX, said
"For years Apple refused to pay fair value for the VirnetX patents. Apple says they don't infringe. But Apple developers testified that they didn't pay any attention to anyone's patents when developing their system."
Scope of the Four Patents
The four patents are related to VPN technology and used in VHC's Gabriel Connection Technology. Another related patent is the 8,051,181 ("the '181 patent"), on which VHC has filed another complaint against Apple with the ITC. This 181 patent was filed for on February 27, 2007, but granted only on Nov 1, 2011, just days before VirnetX filed its first salvo against Apple for infringing it.
The four patents are part of the so-called Munger family patents (discussed in detail in the next section). These patents are crucial technology for developing an advanced cellular communication network, among other things, and VirnetX has filed a number of lawsuits pursuing large companies that it alleges have infringed on these patents. The goal of VirnetX is to secure FRAND licensing for these and other patents, and so far it has successfully secured licensing from Microsoft (NASDAQ:MSFT) for $200 million in 2010 and settlement from Aastra Inc in May 2012.
These patents cover claims that relate to the use of a domain-name service which can be used by websites to interact with users securely over a virtual private network, or by employees accessing company files securely from home. The related technology, as can be seen below, was developed at the CIA.
VirnetX Corporate Background
VirnetX was incorporated in 2005 with the principal aim to develop and monetize the patent portfolio it acquired from Science Applications International Corporation (NYSE:SAIC), according to this report:
SAIC, a San Diego-based government contractor, has worked closely with the Department of Defense and U.S. intelligence agencies on various projects. One of those projects involved developing a secure communications system for the Central Intelligence Agency. It is from this development work that the foundational intellectual property of VirnetX was born.
In 2008, two former SAIC executives, Edmund Munger and Dr. Robert Short III, joined VirnetX. Edmund Munger is well-known for developing the core technology of SAIC in a set of patents known as the "Munger patent family" from research conducted during his tenure as an employee of SAIC, a contractor for US government agencies like the CIA, the FBI, the USDOD and others.
At present, the VirnetX patent portfolio includes over 20 US patents and 18 International patents and over 100 pending applications. Some of these patents have been declared by VirnetX to be essential to seven of the Release 10 specifications of the 3rd Generation Partnership Project (3GPP), which in turn has led to the development of the 4G LTE mobile network technology. "The VirnetX contribution to Advanced 4G networks, and in particular the LTE-Advanced standard, is fundamental and foundational." This is the technology that is implemented in the latest mobile communication systems being developed in the US and elsewhere.
Other VirnetX Patent Litigation
The present litigation and victory is important for VHC in context of the slew of lawsuits it has filed related to other patents in the Munger patent family. Since this victory has been won against a litigant of the caliber of Apple, investors can be more confident about the prospects of future lawsuits and settlements. The following table gives a list of companies VHC is pursuing right now, and the patents they allegedly infringe. Note that, from this list, Avaya has already settled in May 2012 and Apple has lost a case in Texas yesterday.
(click to enlarge)

Source: Moreno report cited above
Given below is a related list of actual products of the above companies that are claimed to infringe on VHC patents. As you can see, the list is large, probably based on the concept that if you throw a large number of stones at a large number of birds, some of the stones are bound to hit some of the birds. This is sound business practice for the NPE IP litigation and business model.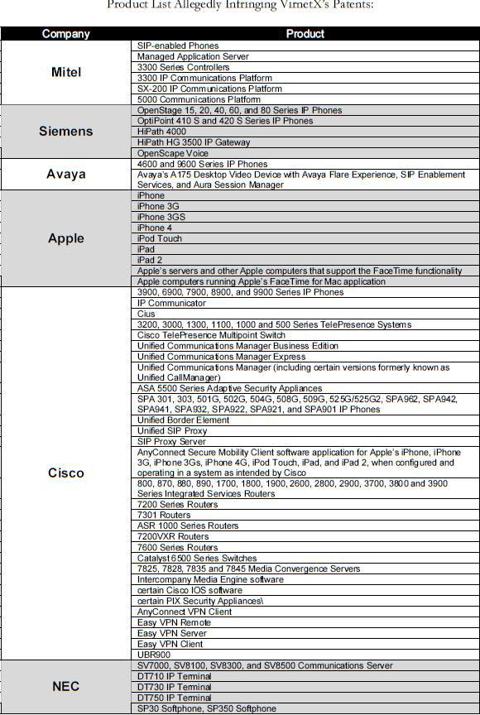 Of these cases, the one titled VirnetX Inc. v. Cisco Systems Inc., 10cv417, U.S. District Court for the Eastern District of Texas (Tyler) is pending trial right now. Plaintiffs include Cisco (NASDAQ:CSCO), Avaya and Siemens (SI).
My Take on VHC
We are seeing a slew of lawsuits this year being fought in various domestic and foreign jurisdictions over patent infringement. We saw Microsoft and Motorola, Apple and Samsung, Vringo and Google, and yesterday we saw VHC and Apple, to name a few cases. In each of these cases, we saw that juries decided in the most part for the plaintiffs' alleging infringement of their intellectual property. For NPEs, patent litigation has become a viable business model where they can be assured of regular income from settlements, jury awards and licensing fees for years to come.
VHC is one of the pioneers of this new business model. They have an important patent portfolio, they have moral standing by having the original assignee and actual inventors on their side or on their management team. The company has over $40 million in cash according to its latest available 10-Q. VirnetX has $36,000 in royalty revenues in the second quarter this year, and a current market cap of $1.34 billion. All in all, the company is very well-positioned to pursue the alleged patent infringements to the court and settlements and/or licensing fees and sustain a moderately growing business for years to come. Below is an estimate from the previously cited report of VHC's monetization potential. I think this estimate is very optimistic; however, as against that, note that VHC stock is currently trading at $26.29, and its 52-week high is $41.93, which is also its all-time high.
(click to enlarge)
Disclosure: I have no positions in any stocks mentioned, and no plans to initiate any positions within the next 72 hours. I wrote this article myself, and it expresses my own opinions. I am not receiving compensation for it (other than from Seeking Alpha). I have no business relationship with any company whose stock is mentioned in this article.