It is time to put politics aside and start making money with the new healthcare system. When you dig deep enough, insurers of Medicaid recipients are the mother lode in Obamacare. Amerigroup (AGP) may be one of the biggest beneficiaries of the Act.
Three aspects of the Patient Protection and Affordability Act offer investment opportunities: more insured people, lower reimbursements to the medical community, and increased government regulation. The first two affect specific industries while the last applies to all businesses. The Patient Protection Act could be nicknamed the Big Business Protection Act.
A top-down analysis starts with hospitals.
Hospitals Can Collect Bills
For-profit hospitals should benefit from the Act. Approximately 30 million new people may become insured. Hospitals that must accept all patients will see their bill collection become easier and more productive. Uncollected debts account for about 25 percent of such hospitals' billings. That number may drop by half according to Jeffrey Loo, research analyst at S&P Capital IQ.
Emergency rooms will benefit the most. Under the previous system, physicians had to refer uninsured patients to emergency rooms for all treatments. Both major and minor conditions got the full service of these facilities resulting in high costs for minor procedures. Sophisticated emergency rooms dispense the most expensive band-aids in the world.
The Act includes a downside for hospitals: lower reimbursements from insurance companies. It is important to note that these payments will not be cut; their rates of increase will slow. Reimbursements will increase less than the rate of inflation. These payments, however, should be less important to hospitals' balance sheets than the increased number of patients who pay their bills.
Large hospital chains stand to gain the most in this new environment. They will have the resources to comply with extensive, complicated new regulations. Companies to consider for your portfolio include HCA Holdings (NYSE:HCA) and Tenet Healthcare (NYSE:THC). On the day that the Supreme Court upheld the Act, these shares increased ten percent and seven percent respectively.
Insurance Companies to Profit
Health insurance companies will probably gain from the Act. New customers combined with lower rates of reimbursements should expand their profit margins. Thirty million new insureds will more than make up for the items that health insurers had to give up. They now must cover pre-existing conditions and end price discrimination based on gender and age.
Large insurance company stocks have out-performed the market since the Supreme Court upheld the Act last June. Cigna (NYSE:CI), in particular, has done well, in part because it is large enough to overcome the new regulatory barriers. Cigna strongly outperformed the S&P since August. (source: BigCharts.com)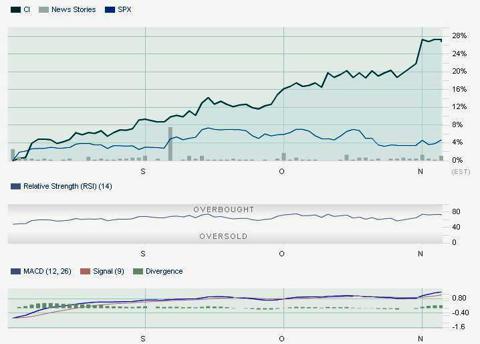 If you are looking for a household name in the healthcare insurance sector to add to your portfolio, you may want to consider Cigna. Cigna's moving average - MACD line - is still positive, but its relative strength - RSI - is approaching overbought.
Here is a stock that is still oversold.
Medicaid Insurers Win Big
The biggest winners, however, may be firms you never heard of. These companies offer federally funded insurance, Medicaid, to low wage earners. About 16 million additional Americans may qualify for Medicaid next year alone. This will translate into a major business expansion for insurance companies that serve this population. Amerigroup, one of the largest in this sector, has just 2.7 million "members," or insureds, according to their website. Amerigroup's share of the 16 million new Medicaid recipients could generate substantial new revenue. AGP will further benefit from having to pay lower rates of reimbursements. AGP's fifty percent rise after the Supreme Court ruling last June reflects this outlook. (Source: BigCharts.com)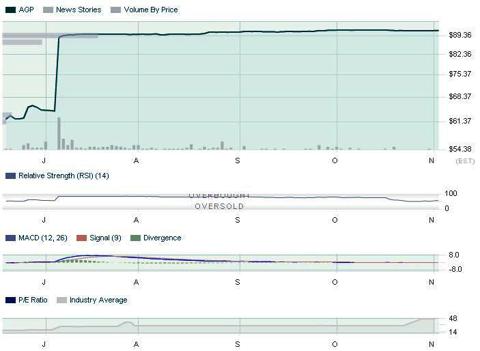 Small Businesses Suffer
Small, physician-owned hospitals have been constrained since the Act passed in 2010. The law limits their ability to start new ones or expand existing facilities. Scott Oostdyk, counsel to Physician Hospitals of America (PHA), says that 100 new hospitals cannot open and that $4 billion in construction projects are frozen. The PHA sued in 2010, but the U.S. 5th Circuit Court of Appeals dismissed the case last month. The PHA contends that the Act favors large corporate and community-owned hospitals. Here is a one-page PDF summary of their views.
Small businesses in every sector will feel the effects of the Act. They saw their employees' insurance costs increase last summer when the Supreme Court handed down its decision. Small businesses will continue to see expensive, complicated government regulations that will raise their barriers to entry. The only small businesses that benefit may be accounting firms.
I wonder if we will start calling the Patient Protection Act the Accountants' Protection Act. If you do not want to retrain as an accountant, you may want to invest in a Medicaid insurer such as AGP.
Disclosure: I have no positions in any stocks mentioned, and no plans to initiate any positions within the next 72 hours. I wrote this article myself, and it expresses my own opinions. I am not receiving compensation for it (other than from Seeking Alpha). I have no business relationship with any company whose stock is mentioned in this article.