Shares of Argan, Inc. (NYSEMKT:AGX) are up 57.4% year to date thanks to solid financial results in the first two fiscal quarters. The fiscal second-quarter report from mid-September included a sharp year-over-year gain in EPS, sending shares to a new 52-week high. In addition, this Zacks No. 1 Rank (Strong Buy) provider of heavy construction services offers consistent special dividend payouts.
Driving Catalysts
Fiscal 2013 has been a strong year for the company so far. In its fiscal second-quarter announcement from Sept. 12, the company said that earnings per share of 45 cents soared past last year's 15 cents. Revenue jumped 214% year over year to $82.6 million. The company's prime subsidiary, Gemma Power Systems, contributed 95% of total revenue, roughly 2% more than the year-ago contribution.
The company has been regularly paying special cash dividends over time with increases at regular intervals. Most recently, on Sept. 20, the company's board of directors declared 60 cents of special cash dividends to be paid to shareholders on Oct. 11, 2012.
Rising Earnings Estimate
Over the last 60 days, the Zacks Consensus Estimate for fiscal 2013 has increased by 0.6% to $1.63, while the Zacks Consensus Estimate for fiscal 2014 is up 11.0% to $1.92 per share. These earnings estimates represent year-over-year growth of 191.1% for fiscal 2013 and 17.8% for fiscal 2014.
Valuation
Argan is currently trading at a price-to-earnings (P/E) ratio of 11.0, compared with the peer group average of 15.3. On a P/S basis, shares trade at 1.0 times vs. the peer group average of 1.0 times. The company offers an ROE of 15.8%, while the peer group average is at 15.3%.
In the last two years Argan has performed well, rising remarkably from an under $10.00 share price to approximately $18.00 per share. Growth prospects appear bright for the stock as can be deduced from the rising Zacks Consensus Estimates.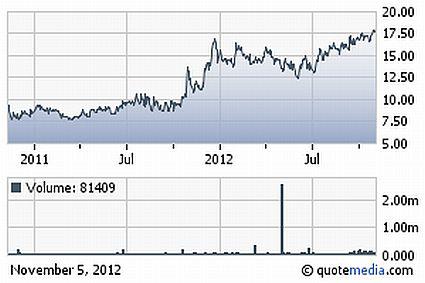 Argan is based in Rockville, Md., and was incorporated in 1961. It operates in the Industrial Goods sector, focusing primarily on providing heavy construction services to public utilities, independent power project owners, municipalities, public institutions, and private industry. It currently has a market capitalization of approximately $247 million.
Read the full analyst report on AGX (email registration required).