While many people were disappointed to hear that the Lumia 920 would be an AT&T (NYSE:T) exclusive this quarter, the handset still has a chance to help Nokia (NYSE:NOK) become a formidable smartphone competitor in the all-important U.S. market. The following review will show that the odds of survival, and maybe even prosperity, are in Nokia's favor.
Lumia 920 vs. The Competition
Since its debut in September, the Lumia 920 has quietly been winning side-by-side smartphone comparisons across the web and the majority of the comments continue to be positive for the Nokia phone. Following the U.S. release on November 9th, Nokia plans to spend heavily to promote the new Lumia, recently announcing a $1 billion convertible issue to help support the future initiative. As lead users begin to snap up Lumia 920s and word of mouth spreads, Nokia could finally begin to have a meaningful existence in the U.S. market by the end of 2013.
Apple (NASDAQ:AAPL) and Samsung dominate the U.S. smartphone market with the iPhone 5 and the Galaxy SIII. So what sets the Lumia 920 apart from these best-selling handset models? For one, the pricing on the 32GB model is a bomb dropping $100 versus a price point of $300 and above for both the 32GB iPhone 5 and the 32GB Galaxy SIII. It also has a battery that outlasts the competition, a superior camera that takes great low light photos, a flash supporting operating system and a lineup of image apps that exemplifies coolness. This smartphone is clearly different from the other Lumias released while Nokia was in "transition" mode.
The Lumia 920 image apps really help drive the phone's coolness factor. For instance, most people have had more than a few pictures ruined by the blink of an eye. Not with the "Smart Group Shot" app. The app captures five images quickly, and then uses an advanced algorithm to detect faces and automatically pick the "best" face. Once automatically selected, the faces are combined into a single "best" shot. The Lumia 920 also has an app that allows users to create their own animated GIFs using just a few finger swipes (check out MobileGeeks.com to see this in action). Nokia's new augmented reality app is also pretty unique. Here is how it works: imagine you are walking in an unfamiliar city and you want to grab something to eat. Simply pull out your Lumia and point it at the storefronts using "Nokia City Lens" (shown below) and pick your spot.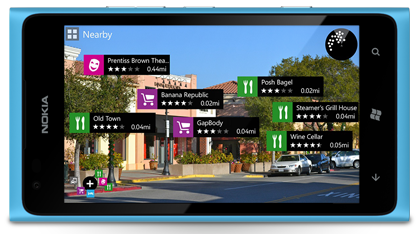 Image courtesy of Nokia
As you can see the phone is going to be a hot commodity when it is released on November 9th. But to show I am not being completely biased here, I will mention that it is not the thinnest or the lightest phone of the group. However on the bright side it could double as a brick if you ever find yourself being mugged. Try doing that with the iPhone 5.
Microsoft Windows Phone 8
A discussion about the Lumia 920 cannot occur without a having a discussion about Microsoft (NASDAQ:MSFT) Windows Phone 8. The platform is as important as the hardware running it. So what are the tech experts saying about it? PC Magazine called it "elegant, personable and different" and Engadget says that "Microsoft has finally caught up in many ways to its competitors".
Given that the Microsoft platform is a mere 3.6% of the U.S. smartphone market, consumer adaptation could be slow as skeptical consumers take a "wait and see" approach. One of the biggest complaints about the Windows platform has always been a lack of apps. Microsoft is fighting hard to fix this issue and claims that 46 of the top 50 apps will be available on WP8. Pinterest and Instagram are not currently available on WP8, but as Microsoft grows their market share one can only assume that they would jump on board. On the plus side, WP8 users that have switched from another platform are now able to salvage their music by syncing their phones with iTunes.
One of the goals of Windows 8 was to create a platform design that was very similar across mobile, PCs and tablets. Microsoft is hoping that as consumers get comfortable with Windows 8 on their PC, they will not be afraid to take the next step into buying a phone or a tablet running the Windows 8 platform. Initial results are positive - according to Microsoft preliminary demand for Windows 8 and the Surface tablet are already running ahead of expectations. And this is ahead of the advertising blitz that Microsoft's Steve Ballmer says will be so heavy that "you won't be able to turn on a TV or open a magazine without seeing a Microsoft Windows ad".
Nokia Sum-of-Parts Valuation
Since hitting almost $40 a share in 2007, Nokia's stock has been on a downward spiral. Recently hitting a price of $1.63 in July, many people are wondering how much this business is really worth. Nokia contains not only a handset business, but also a location business and an infrastructure business. In addition to these businesses the company also has one of the largest stocks of patents in the industry. What might all this be worth in a breakup? The sum-of-parts or "breakup" valuation showed below conservatively values Nokia's businesses, IP and adjusted assets net of liabilities. Assuming a value of zero for Nokia's handset business, the liquidation value of the company would be $3.19.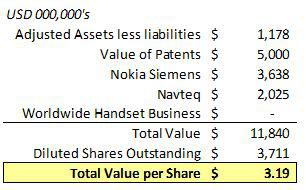 Assets and liabilities were obtained from the Nokia's third quarter balance sheet. Several balance sheet items were modified to ensure a more conservative value. For instance, PP&E and inventory was reduced by 50% and the values of both deferred tax assets and intangibles were ignored. Navteq was purchased by Nokia in 2007 for $8.1 billion and it is well known that Nokia overpaid, therefore I pegged the value of this business at 25% of what was paid in 2007. Regarding Nokia Siemens, CEO Stephen Elop stated on the Q3 conference call to expect long term operating margins of 5-10% from this venture. With $15 billion of sales and positive margins this business clearly has value. The average price-to-sales ratio of Ericsson and Alcatel-Lucent has been used to value Nokia's ownership stake in this business. Analysts have pegged the value of Nokia's patents at $5-10 billion; $5 billion was used to be conservative. This analysis excludes the $1 billion convertible issue that Nokia is working on issuing.
The value may come as a surprise given that some analysts have a target of $1 for Nokia's shares. This is because analysts drive using their rear view mirror; they extrapolate the past into the future assuming that current trends will continue. As a result, many continuously miss critical reversals. In this case, analysts have assumed that the handset business will continue to erode Nokia's overall value in the future.
Since August shares have traded in a range between $2.50 and $3.00 so investors are clearly not pricing in a turnaround for Nokia's handset business. If you are thinking about buying the shares then you will want to consider the company's correlation to the broader market along with your prognostication for the broader market. I have calculated that from July 1st through November 2nd shares of Nokia have had an 81% correlation to the Nasdaq market (based on ticker QQQ), therefore if the market continues to be weak. Nokia's share price is likely to continue to struggle.
Nokia's 2013 U.S. Business Strategy
The pace of smartphone innovation in the U.S. is fast and furious. Hardware and software producers need to continuously adapt and evolve to remain at the top. By next year's fourth quarter the Lumia 920 will be old news, therefore Nokia will need to be ready with its next batch of innovation by September 2013. Nokia creates a tremendous amount of innovative ideas, yet they have always struggled with the timely implementation of those ideas. Having looked death in the face, Nokia is well aware of its issues and dealing with them head on.
Nokia has a chance to make low end digital still cameras and portable GPS devices obsolete, and I believe this is the avenue that they will take in the future. Nokia's Pureview camera was able to achieve a staggering 41 megapixels. Unfortunately the Pureview did not have the platform or the design to become a competitive smartphone, but if some of this camera technology could be merged into future Lumia models the result would be a smartphone that finally removes the need to carry around an additional digital camera. The Lumia 920 already comes with Nokia Drive, which leverages Nokia's proprietary map technology obtained in the Navteq acquisition and enables users to access GPS while being offline. With the purchase of a snap-on mount this app makes portable GPS units unnecessary.
Looking forward to 2013, I think we will continue to see a leadership position from a GPS, camera and image technology standpoint from Nokia. Future Lumia models will need to get slightly thinner and lighter as well. Initial Lumia 920 pre-release and post-release data points are positive. Pre-orders at Best Buy quickly sold out and the release in Italy has already sold out twice. As the Lumia 920 and WP8 both gain popularity, expect other carriers like Verizon (NYSE:VZ) and T-Mobile to pick up more Nokia product offerings. This should position Nokia well for the fourth quarter of 2013. Given the strong value proposition of the current 32GB Lumia 920, there is also room for Nokia to take the price up from $100 to $200 on future Lumia 32GB models. The $100 price target could stay in place for a 16GB model that may be introduced. Overall, the future for Nokia is finally looking brighter.
Disclosure: I am long NOK, MSFT. I wrote this article myself, and it expresses my own opinions. I am not receiving compensation for it (other than from Seeking Alpha). I have no business relationship with any company whose stock is mentioned in this article.