I am one of those very choosy types. I don't just like any sushi; I like good quality, good value, good variety, and good service. If you visit San Diego, come by and see me and I will take you to the nearby Sushi Deli. The seven-spice seared ahi tuna roll is my favorite.
I have had some bad BBQ in my life and I have had some great BBQ. I envy those who come from BBQ states like Texas and North Carolina, we just don't have those great pits available to us here on the west coast. Phil's BBQ is about the best we can do here in San Diego. I call it San Diego BBQ. You know it is good, because there is always a line around the restaurant.
I am also very picky with the stocks that I invest in. I like quality, I like value, and I like good service (or management). It also does not hurt to have the stock be popular, maybe even with a line out the door. Just like restaurants are given letter grades, I have developed my own stock grading system. I hate taking a chance at a C rated diner, especially if it is the health department grade!
I just gave you two examples of good restaurants that meet my demanding criteria, but what about a stock that meets my strict grading system? How about an "A" rated stock?
Let's begin with quality. How does one define quality in the stock market? The quality of the company's products is obviously important, but then again, I have seen stocks like Dollar Tree (NASDAQ:DLTR) selling cheap trinkets and products excel in the market. I have also seen Dollar Tree in my portfolio in the past. In fact, I harvested a 138% profit out of that stock before selling it earlier this year.
I wrote about Dollar Tree almost one year ago right here for MarketWatch. I stated that I thought the stock had the potential of doubling again. The stock was trading at $38.55 at the time. The stock peaked at $56.78 just seven month later for a gain of 54%. Okay, not quite a double, but not too bad for seven months. As I stated earlier, I did more than double my money in stock however during the 18 months that I owned it.
I sold my Dollar Tree this past summer when the chart started rolling over and it started dropping in rank. Its peers were also falling out of favor. So, how about a stock in today's market that has the same potential as Dollar Tree had a few years ago?
Clients of Gunderson Capital Mgt. Inc. currently have a large position in Visa (NYSE:V). I bought it in late June of this year and have a 12% gain in it so far. I think it has a lot more upside potential however; more on that to follow.
The company is a large-cap $95 billion dollar company headquartered in San Francisco, CA. It is not an aggressive small-cap stock. It is more suited for large-cap, conservative-growth investors.
.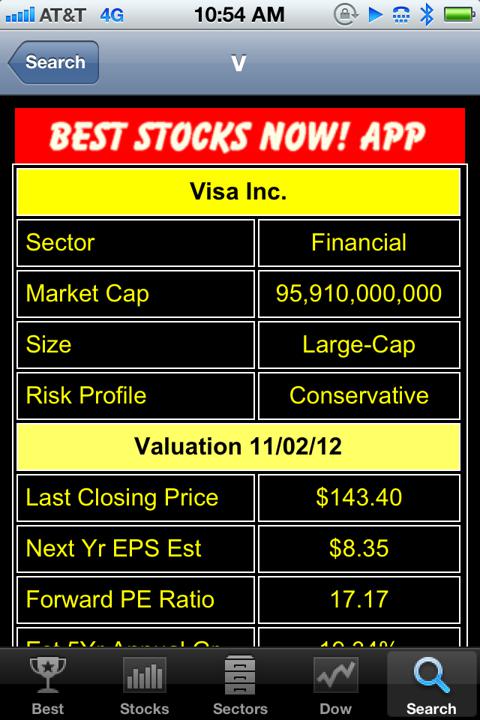 Data from Best Stocks Now app
Let's begin with quality, how has management treated the shareholders over the years?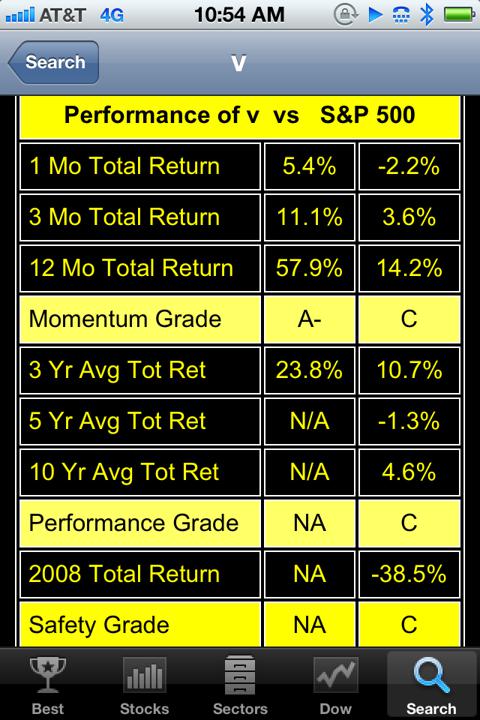 Data from Best Stocks Now app
The company went public back in March of 2008 and does not yet have a 5-year track record. But, as you can see from the above graphic, the stock has far outperformed the S&P 500 for the last one and three years. This is a good start!
Let's next look at valuation: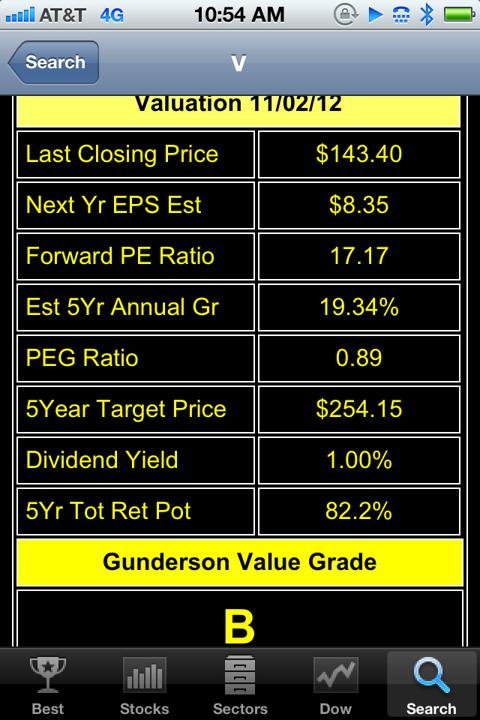 Data from Best Stocks Now app
The shares are currently trading at 17.1 times its forward earnings estimate. The consensus five-year growth estimate is 19.3% per year. The stock is currently trading at a discount to its growth rate. The PEG ratio is a reasonable 0.89. I have a five year target price on the stock of $254.15, which is obviously significantly higher than its current price.
Performance plus value, that is the combination that I like in my stocks. The third leg of the stool is the technical pattern, however. Let's take a look at a current chart to see what kind of condition the stock is currently in: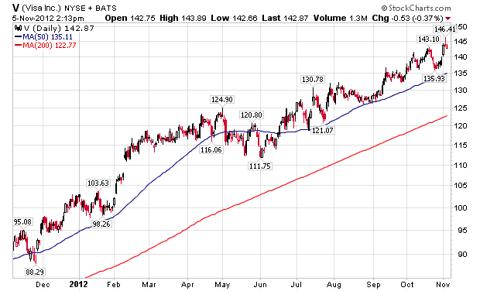 I don't like to buy stocks that are in downtrends. I don't like to buy stocks that are in sideways trends. I like to see them break out first. I also don't like to buy stocks that look like they are running out of gas and beginning to top out. Visa currently has a very health chart. No, it is not a fresh breakout, but there is nothing wrong with buying a stock in a good uptrend, as long as you keep a good watch on it.
When all is said and done, Visa is one of the best looking large-cap stocks in the entire market right now. Out of the 3,111 stocks that I follow and rank on a daily basis, it comes in at number 61. I think I will keep coming back until I get a bad meal!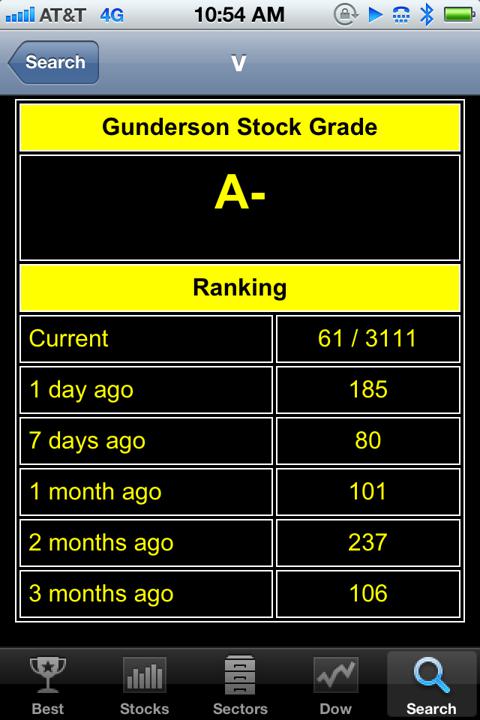 Data from Best Stocks Now app
Disclosure: I am long V. I wrote this article myself, and it expresses my own opinions. I am not receiving compensation for it. I have no business relationship with any company whose stock is mentioned in this article.