We previously wrote about Invesco in a previous article where we compared a number of different mREITs, (read article) and after Invesco's recent results announcement, we still favor the name.
Invesco Mortgage Capital (NYSE:IVR) reported results for Q3 2012 last week and while yields continued to decline, it was able to maintain its dividend consistent with the prior quarter's $0.65/share. The current dividend was $0.15/share less than it was a year ago but that shouldn't come as a surprise. Yields on Invesco's portfolio have decreased from 4.16% in Q3 2011 to 3.31% in Q3 2012 (see chart below). This trend is not exclusive to Invesco however, as yields for most other mREITs have declined similarly.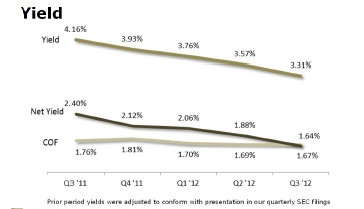 Source: www.invescomortgagecapital.com
Despite this trend, Invesco has been able to maintain its net income at relatively steady levels by using a hybrid strategy, as well as growing its asset portfolio via the deployment of proceeds from the issuance of $5.6B in preferred equities.
A pure mortgage REIT typically invests in what are called Agency securities or Mortgage Backed Securities (MBS). Agency securities are those mortgages that are backed by government sponsored agencies such as Fannie Mae, Freddie Mac, or Ginnie Mae. They have an implied guarantee by the US government and therefore are free of credit risk. Unfortunately, they also tend to have the lowest yields. After all, the fundamentals of investing always apply: high risk/high return, low risk/low return.
Invesco not only invests in these Agency securities, but also invests in Non-Agency MBSs and commercial MBSs (NYSEARCA:CMBS). This is called a Hybrid strategy. The yields on the latter securities are somewhat higher than Agency MBSs and by allocating a portion of its portfolio to these securities, Invesco has been able to maintain its net income and may be able to minimize the impact to its dividend by maintaining an adequate net interest spread.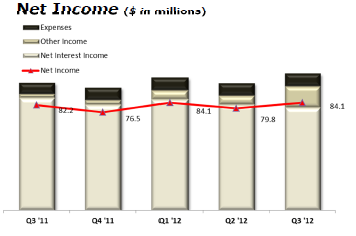 Source: www.invescomortgagecapital.com
The other way that Invesco has been able to maintain its dividend is by growing its portfolio. The portfolio increased by $2.3B due to both increasing asset values as well as the previously mentioned investment of proceeds from the preferred issuance, which is now fully invested.
The majority of that growth went into Agency MBSs, but some of the proceeds also went into the higher yielding Non-Agency and Commercial MBSs.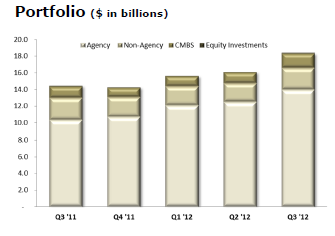 Source: www.invescomortgagecapital.com
On the negative side, we continue to see increases in prepayment rates as shown in the chart below. Hybrid ARMs increased to 20%, while the 30 year fixed rate and 15 year fixed rate increased to 13.1% and 14.6% respectively. We expect this trend to continue over the short term.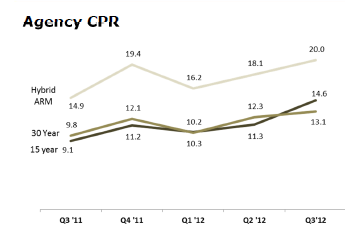 Source: www.invescomortgagecapital.com
CMBS Strategy
Within its CMBS portfolio, Invesco continues to reposition assets to higher credit quality securities. And though this may provide a lower yield than its previous CMBS portfolio, the chart below shows that the decrease has been minimal, decreasing from 5.69% in Q4 2011 to 5.24% in Q3 2012. This strategy is interesting because although it is allocating a bit more to the higher yielding Non-Agency and Commercial MBSs, it is improving the quality of those assets by improving the overall profile of those assets.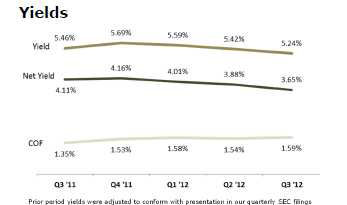 Source: www.invescomortgagecapital.com
Valuation
At 1.2 times book value, we really like the valuation for Invesco going forward. While we expect FFO and dividends to be under pressure in the short-term, we think Invesco has an adequate hybrid strategy of investing in both lower yielding agency-RMBSs and higher yielding non-agency RMBs and CMBSs. Unlike a pure Agency-RMBS mREIT like American Capital Agency Corp (NASDAQ:AGNC), a hybrid strategy will enable it to continue to pay an attractive dividend yield, even if that yield decreases slightly before it returns to historical levels.
As always, please consider an investment within the context of your investment objectives and risk tolerances, and make sure you have adequate diversification in your portfolio.
Disclosure: I am long AGNC. I wrote this article myself, and it expresses my own opinions. I am not receiving compensation for it (other than from Seeking Alpha). I have no business relationship with any company whose stock is mentioned in this article.