While the broader S&P index hasn't responded well to last night's election results, coal mining stocks such as Peabody (NYSE:BTU), James River Coal (JRCC), Alpha Natural Resources (ANR), Arch Coal (ACI), and Walter Energy (NYSE:WLT) are behaving as if President Obama spent the entirety of his victory speech last night bashing coal miners: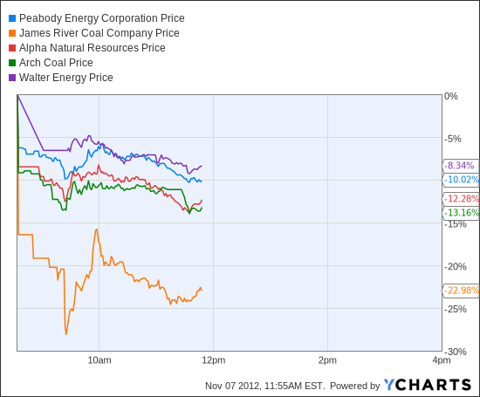 One of Governor Romney's campaign bullet points was to label recent EPA power plant regulations as a "War on Coal" that was entirely responsible for the industry's recent doldrums. This only tells part of the story, of course. The prices of natural gas and coal in the U.S have been tightly correlated historically, and the recent boom in U.S. shale gas production has dragged coal prices lower over the last two years as a result: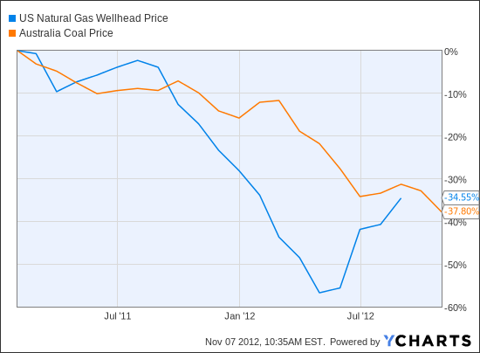 US Natural Gas Wellhead Price data by YCharts
The combination of low natural gas prices and the Obama administration's broad discouragement of electricity generation from coal has caused a large number of U.S. power plants to switch from coal to natural gas as feedstock since 2009: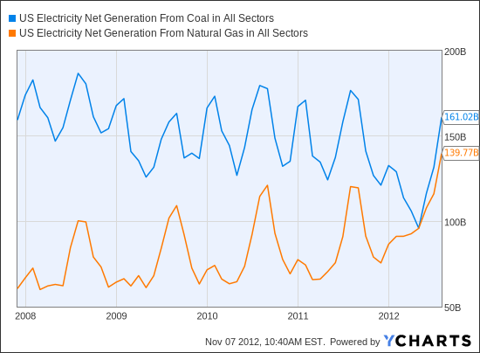 U.S. Electricity Net Generation From Coal in All Sectors data by YCharts
Today's sharp fall in coal mining stock values seems to be predicated on the belief that a victory by Governor Romney would have resulted in both a coal-friendly EPA and diminished competition from shale gas as power plant feedstock. Obviously, the latter is not true. At no point did Governor Romney's campaign come out against U.S. shale gas production. More importantly, however, even the strictest EPA regulations on U.S. coal-fired power plants will have little long-term impact on the coal mining industry. Global coal consumption has increased by 50% over the last decade, despite falling slightly in the developed world. The main drivers of this divergence are China and, to a lesser extent, India, both of which have sharply increased their consumption of coal since 2003: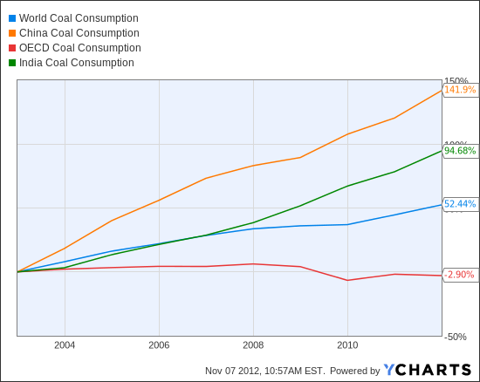 World Coal Consumption data by YCharts
Indeed, in absolute terms, China's coal consumption surpassed that of the entire OECD back in 2006, and is now responsible for nearly half of all global consumption: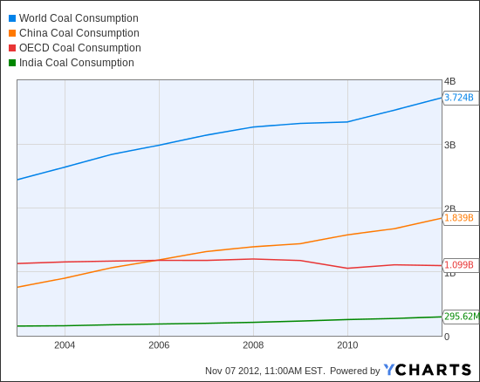 World Coal Consumption data by YCharts
U.S. coal exports have already increased by 170% since 2003 in response to increased global demand. While the Energy Information Administration (EIA) is forecasting total U.S. coal consumption to fall by 70 million tons between 2009 and 2015, net exports of coal are expected to increase by 57 million tons over the same period. In other words, higher exports will offset most of the anticipated near-term decline in domestic consumption resulting from low natural gas prices and EPA regulations. China will happily purchase and burn any coal that the EPA doesn't allow to be combusted in the U.S. (which has a nice touch of irony to it, given the global nature of greenhouse gas emissions).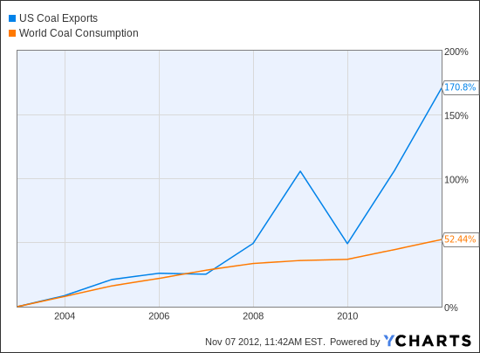 US Coal Exports data by YCharts
Conclusion
The market's reaction to President Obama's victory is only rational if you believe that (1) his administration has been the primary cause of the coal industry's recent downturn, and (2) the market for U.S. coal will dry up without demand from U.S. power plants. Neither is true. The drastic fall in U.S. natural gas prices since 2009 has placed significant pressure on global (let alone domestic) coal prices, and booming coal consumption in the developing world will offer U.S. coal miners the opportunity to offset any decline in domestic consumption with exports to the developing world. While the next several years are unlikely to see a renaissance for the industry, the events of the last 12 hours hardly justify the current panic-driven sell-off of coal mining stocks.
Disclosure: I am long BTU and long BTU calls. I wrote this article myself, and it expresses my own opinions. I am not receiving compensation for it (other than from Seeking Alpha). I have no business relationship with any company whose stock is mentioned in this article.