Junior Potash Miner Inks $2 Billion Off-take Agreement!
Passport Potash (OTCQX:PPRTF) shareholders should be thrilled. Arizona peer, Prospect Global Resources (PGRX), announced a $2 billion, 10-year off-take agreement with a Chinese Agri/Chemical company and indicative terms for a $100 million bond investment from Apollo Group. Both companies could become significant potash producers, yet Passport's pro forma, fully-diluted Enterprise Value ("EV" ) of C$ 48 million is 82% below the EV of Prospect Global.
Catalysts Could Re-Rate Passport Potash Stock Higher
Catalysts for Passport include a Preliminary Economic Assessment ("PEA") updated NI 43-101 resource report in 1Q 2013 and an off-take agreement or strategic investment soon after. This would lead to a Prefeasibility Study in 2H 2013. Achievement of these events would further de-risk the story and re-rate the stock higher. Partially closing the valuation gap from 82% to a 50% discount would drive Passport's stock to C$ 0.65 per share from the current price of C$ 0.19. *** Warning, this stock is highly speculative, significant downside is possible, [See Risk Factors Below].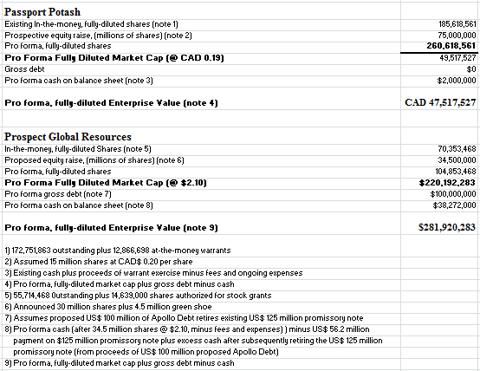 Map of the Holbrook Potash Basin Worth a Thousand Words
The increased interest in Prospect Global's project is an important vote of confidence in the Holbrook basin in Arizona. With the basin further de-risked, Passport's 122k acres are looking increasingly valuable. I recommend this interactive site where one can view the landholdings of the various parties in the basin. Strategic and financial players are no doubt looking closely at this map!
Prospect Global and Passport could each eclipse the U.S. potash operations of Mosaic (MOS), Compass Minerals (CMP) and Intrepid Potash (IPI). Combined, the two could be producing 4-5 million metric tonnes of potash annually by the end of the decade. Despite substantial blue-sky potential, Passport's pro forma, fully-diluted EV of C$ 48 million is completely out of line with its true value.
Prospect Global and Passport Neck and Neck in Race to Production
I believe that Prospect Global is fairly valued at $2.10 per fully diluted share, a pro forma EV of $282 million, [See Capitalization Tables Above]. However, it appears that Prospect's funding is far from resolved. Shares have fallen recently on concerns about the onerous terms of the proposed Apollo debt deal and lack of upfront funding from the off-take agreement. This suggests that Prospect Global is not as far ahead as many believe and that the steep discount in valuation between the two is unsustainable.
Even if one maintains that Prospect Global is a year ahead, (by virtue of Prospect Global having already tabled its PEA) one thing that's indisputable is Passport paid A LOT less per acre, to obtain a larger footprint. Furthermore, Passport gained control of its holdings WITHOUT the use of debt, giving it considerably more flexibility going forward.
Passport's Land Procurement Strategy Far Superior
From a review of Prospect Global's Prospectus, I estimate that Prospect Global spent $201 million, or $2,100 per acre to control 94,000 acres. The company recently paid $150 million in cash for the 50% of American West Potash ("AWP") that it did not already own. In addition to cash Prospect Global will pay a 1% gross revenue royalty, (capped at $75 million) and granted 5.6 million (at-the-money on issue date) stock options.
Assuming a 10% discount factor and $1 billion of revenues per year beginning in 2017, the Net Present Value ("NPV") of the 1% gross revenue royalty stream is $28 million. The Black-Scholes value of the 5.6mm stock options is about $12 million, assuming 50% volatility for the seven-year options. That equates to $190 million, plus the $11 million paid for the initial 50% stake in AWP, is $201 million.
In stark contrast, Passport paid a total of $47 million, or $400 per acre, in a series of land deals over the past few years. The details of each deal can be found in Passport's Registration of Securities dated October 26, 2012, and its latest 10-Q filing. Passport's Registration Filing is a must read document as it provides the most up to date and detailed information on the company.
Prudent Capital Deployment, Zero Debt, Minimal Equity Dilution
With regard to Passport's liquidity, CEO Bleak and his Board wisely used a combination of cash, stock options and warrants in exchange for payment terms stretching out over a number of years. Passport's near-term capital requirements are fairly modest. The company forecasts a need of $60 million over the next two years. Bleak expects a majority of this amount to come from a strategic investor and/or an off-take agreement next year.
Strong Management Team
Joshua Bleak, President & CEO, is a fourth-generation miner from an Arizona mining family that has developed gold, silver, copper and uranium properties throughout the southwestern United States. He was previously President of American Energy Fields, Inc., a U.S. publicly traded uranium company. Currently, he serves as a director for a number of Canadian junior mining exploration companies and is President of North American Environmental Corp., a consulting company specializing in mining project management, permitting, lobbying and land tenure.
David J. Salisbury, Chairman of the Board, has been Chairman since January, 2012. He has had an extensive career in the mining industry spanning four decades. Seventeen of those years were with Rio Tinto. While with Rio, he served as CEO and President of Resolution Copper Mining from 2008 until his retirement in January, 2011. At Resolution he was responsible for the development of a deep underground copper mine in Superior, Arizona.
During his career, he has had experience in almost all phases of mine development and operation, including; operating and capital budget development, operating cost control, product quality, profit/loss analysis, engineering, safety, field operations and maintenance, strategic planning, environmental compliance, market development, merger and acquisition analysis, employee relations, community relations, public relations and government relations at both the state and federal levels.
Salisbury is a very impressive, highly seasoned mining veteran. In recent interviews available on Passport's website, he explains why he was lured out of retirement to take on such a big project. Salisbury serves on no other Boards, he is entirely focused on this project.
Jerry Aiken, Director, has more than 41 years of experience in mineral exploration involving base metals, precious metals, and industrial minerals with the most recent emphasis on Borates, Potash and Lithium. Mr. Aiken worked 29 years for US Borax (Rio Tinto Exploration) in Tucson, Arizona and Valencia, California.
Aiken is another highly experienced Board member and considered a top potash expert in North America. Like Salisbury, Aiken worked for Rio Tinto for many years and has vast experience in Arizona.
Possible Suitors, Indian and Chinese Parties
Passport is speaking with Indian and Chinese parties about off-take agreements and strategic investments. Board member Ali Rahimtula is the president and founder of Transnational Enterprises, Ltd., a member of the Rahimtula Group. Rahimtula was a pioneer in the fertilizer business in India and has been an industry leader since the 1960's. Rahimtula gives Passport extraordinary access to India.
However, if the Indians and Chinese don't move soon, a handful of more traditional natural resource players could step in front of them.
Mosaic and Agrium (AGU) have substantial potash production in Saskatchewan. These players would gain better access to southwestern U.S. markets and be able to export through the Gulf to South America. Year-round production in Arizona would offer a natural hedge to Canada's sometimes severe winter weather.
Rio Tinto (RIO) has known aspirations in potash and Passport's Board members Salisbury and Aikens have close ties with the company. Majors like Rio typically get involved with green field projects after Prefeasibility reports are delivered.
With BHP's (BHP) massive Saskatchewan project Jansen on hold indefinitely, Passport's much lower capital intensive project might be appealing. BHP could scrap the Jansen project and consolidate the entire Holbrook basin by acquiring Passport, Prospect Global and privately-held NHZ Potash. Again, please see the map.
Passport would be a good fit for Vale (VALE). Based in Brazil, Vale could export potash to consumers in South America and through California ports to Asia. An acquisition could be the quickest way for Vale to gain scale in potash.
Valuation Exercise
Assuming that Passport's 122k acres are worth what Prospect Global paid for their acres, Passport would be worth C$ 0.98 per pro forma, fully-diluted share. Assuming that Passport acres are worth the same as Prospect Global's acres on an EV/acre basis, Passport would be worth C$ 1.08 per share.
A key question then, "is there a big difference in the potash grade, royalties, resource depth and proximity to infrastructure of the two company's land holdings?" The simple answer is no, the geology is largely the same. Passport has a greater proportion of acres that are royalty free with surface, mineral and water rights attached. And, Passport's resources are several hundred feet shallower than Prospect Global's, making them less costly to exploit.
Asset Value Provides Substantial Downside Protection
Just a few days ago, news of Passport's amendment and full settlement of litigation with North American Potash Developments Inc. provided an intriguing clue as to the possible valuation of just that property alone. New to the agreement is the following clause, paraphrased from the above SEC filing,
The amendment reads, if Passport transfers the Property for $30 million or more, but less than $40 million, the "Sellers" would get a bonus of 20% of the amount exceeding $30 million. If Passport transfers the Property for $40 million or more, but less than $50 million, the "Sellers" would get a bonus of $2 million plus an additional 10% of the amount exceeding $40 million. If Passport receives in excess of $50 million, the "Sellers" would get a bonus of $3 million plus an additional 20% of the amount above $50 million.
Reading between the lines, it's not difficult to imagine why this clause was added to the original agreement. It appears the sellers believe the property is possibly worth $30-$50 million. If accurate, this property alone could account for most, if not all, of Passport's Enterprise Value.
Passport's Valuation Could Withstand Large Equity Dilution
For argument's sake, if one assumes that Passport is forced to equity-fund all of the $60 million it needs, the fully-diluted EV of C$ 97 million would still be 65% below Prospect Global's current EV. Even with this level of dilution, Passport's fully-diluted stock would be worth about C$ 0.60 per share. That compares to C$ 1.08 per share if Passport achieves Prospect Global's valuation using C$ 15 million of incremental equity capital, which is my base case.
Conclusion
Prospect Global's proposed funding and off-take agreement demonstrate significant interest in the Holbrook potash basin in Arizona, in which Passport Potash is the largest land holder. If one believes that Prospect Global's pro forma EV of $282 million is reasonable, Passport is trading at an 82% discount, an unwarranted gap that should close over time.
Passport paid $400 per acre to assemble a package of 122,000 acres, while Prospect Global spent $2,100 per acre for 94,000 acres. Passport's superior land procurement and avoidance of debt position the company as well or better than anyone in the Holbrook basin. As Passport releases its PEA, and updated NI 43-101 resource report early next year and Prefeasibility Study in 2H 2013, investors will come to the same conclusion. By then, the stock may already have moved a lot higher.
Early next year Passport will release its PEA. It's not a stretch to assume that the PEA will show a NAV north of $3 billion, (Prospect Global's is $3.8 billion) meaning that Passport's pro forma, full-diluted valuation is less than 2% of that projected NAV.
Further Reading and Important Risk Factors
There is virtually no equity research on Passport, but the company has been mentioned several times on various investment blogs and there are a number of video clips. To save readers the trouble, the following are a few of the best articles and videos about Passport Potash and the Holbrook potash basin.
Well done, detailed article about Passport Potash and Arizona's Holbrook potash basin.
Independent research report on Passport Potash dated 10/16/12.
Recent Insider Buying of Passport Potash stock.
An article advancing the thesis that Passport is cheap compared to Prospect Global.
Most Informative video (six minutes) on Passport Potash.
Least Informative, but BEST LOOKING Interviewer of Passport CEO....
Important Risk Factors-- See This SEC Document For A More Detailed Discussion of Risks,
Significant equity dilution is possible--An equity raise of C $ 15 million at C$ 0.20 per share is assumed, bringing fully diluted shares to about 260 million. If Prospect is unable to attract an off-take agreement or strategic investor next year, further significant equity dilution is possible.
The Holbrook Project may be subject to unknown land title defects-- Although we believe we have exercised reasonable due diligence with respect to determining title to our properties, there is no guarantee that title to our properties and other tenure will not be challenged or impugned.
We may not locate any commercially viable mineral deposits on any of our current properties within the Holbrook Basin Project-- Our exploration for commercially viable mineral deposits is highly speculative in nature and involves the substantial risk that no viable mineral deposits will be located on any of our properties within the Holbrook Basin Project.
There is no guarantee that we will be able to finance the Holbrook Basin Project for production if we are successful at locating a commercially viable mineral deposit-- If we are successful at locating a commercially viable mineral deposit on any of our current properties within the Holbrook Basin Project, then any decision to proceed with production on the Holbrook Basin Project will require significant production financing. If we are unable to source production financing on commercially viable terms, we may not be able to proceed with the project and may have to write-off our investment in the project.
A portion of our properties is within the expanded boundaries of the Petrified Forest National -- Our Holbrook Basin Project is in close proximity to the Petrified Forest National Park ("PFNP"), a national park in northeastern Arizona protected by the United States National Parks Services. In December 2004, the United States government enacted legislation which expanded the authorized boundary of PFNP by approximately 125,000 acres to include adjacent lands. Portions of our Twin Butte Ranch property fall within the expanded boundaries of the PFNP. The proximity of our properties to the PFNP may expose us to increased environmental and regulatory scrutiny.
Disclosure: I am long OTCQX:PPRTF. I wrote this article myself, and it expresses my own opinions. I am not receiving compensation for it (other than from Seeking Alpha). I have no business relationship with any company whose stock is mentioned in this article.
Additional disclosure: Passport Potash is a junior mining company. An investment in Passport Potash is not appropriate for all investors. Included in the article are important links to very informative documents. Please take the time to review these links before investing. Readers can reach me at epstein.peter4@gmail.com for more information.