In my past articles regarding Tesla Motors (NASDAQ:TSLA) I kept saying that Tesla might become a "buy" soon but the time wasn't right yet. While I was always encouraged with the company's innovative idea (i.e., building a car that is energy-efficient, good-looking, fast and powerful at the same time), I was always worried about the feasibility of this idea. After all, other car giants like GM (NYSE:GM) are yet to achieve this with all the experience and resources they have. Another quarter passed and the company announced a loss once again. However, this was mostly expected. On the other hand, Tesla's management provided some encouraging future guidance for the investors of the company. Did Tesla become a buy after the recent developments? Let's find out.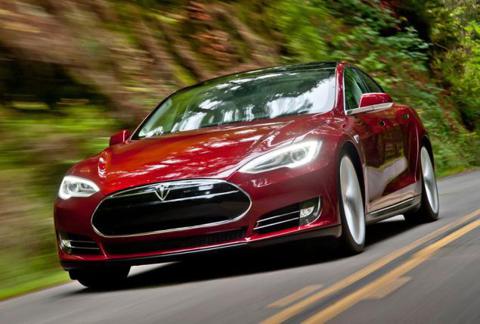 The company posted a revenue decline of 13% compared to the last year. Tesla was able to achieve revenue of $50.1 million in the last quarter. While the company's loss of 92 cents per share (after excluding the one-time items) was mostly in line with the analysts' estimates, the company's revenue was better than the average estimate of $45.8 million. This is partly because Tesla's revenue includes the battery packs it provides for Toyota's (NYSE:TM) RAV4 model. The company's net loss for the quarter was as large as $110.8 million.
Ben Schuman, an analyst for Pacific Crest Securities, said that "the market is reacting more because results weren't worse than the expectations. They're ahead in terms of Model S production in the third quarter, though not by too much."
While Tesla's last quarter wasn't that great, management's future outlook was much better than feared by the investors. The company's CEO Elon Musk said that they would reach their production goals by the end of December, which is sooner than expected. The company's goal is to produce 20,000 Model S cars annually, which equals 400 cars per week. This is definitely great news for the investors of the company. According to the latest earnings call, if the company can produce 20,000 Model S cars per year as it targets to do, these cars will have a gross margin near 25%. This is definitely achievable by the company as it ramps up its production rate rapidly.
In the beginning of last quarter, the company was only able to build 5 cars per week. Now it is able to build 100 cars per week. Only a couple months ago, Elon Musk stated that Tesla's survivability would be in question if it wasn't able to meet the production goals soon enough. On the earnings call, Mr. Musk said that the company has passed the point of high-risk and its survivability was no longer in question. This is definitely bad news for the large number of people who shorted this stock. Just two weeks ago, the amount of short interest in this stock was at 30.35 million, which is an all-time high. I believe that there will be a lot of short covering in the next few weeks, which should help long investors of the company greatly.
Earlier Tesla was also having troubles with its supply chain, which caused some of the delays in production. It looks like Tesla has been working on that area too. Earlier on, management was blaming supply chain issues for not meeting production goals. During the earnings call, it was mentioned that the company was able to resolve "a myriad of supply chain issues in Q3 and is continuing to work with (the) suppliers to improve the timely and efficient delivery of parts." In the short and medium term, the company will have to make sure that its supply chain remains intact and free of any issues in order to meet the production goals. This is one area where Tesla has limited control, because the company can't really dictate how efficiently its suppliers will produce things.
By the end of the year, the company expects its annual revenue to reach $440 million. This is mostly due to the acceleration production rates in the later part of the year. In the last quarter, Tesla received 2,900 new reservations for its Model S, taking the total number of net reservations from 11,500 to 13,200. It looks like the company will not have demand issues in the near term.
Now we can go back to the question of whether it is time to buy Tesla or not. Next year, if the company can sell 20,000 Model S cars (with an average price of 60,000) and have a gross margin of 25% as it targets to have, it will have revenue of $1.2 billion and profit of $400 million. Given that Tesla's current market value is $3.28 billion, it will be looking at a forward P/E ratio below 10. This is a great value for a company that has a lot of growth potential. Because of the high short interest and investor fear regarding Tesla's survival, the shares are priced pretty nicely.
I believe that this may be a good time to buy Tesla. Personally I plan on buying some Tesla shares next month when I have some extra cash and I am selfishly hoping that it will not rally too much between now and then.
Disclosure: I have no positions in any stocks mentioned, and no plans to initiate any positions within the next 72 hours. I wrote this article myself, and it expresses my own opinions. I am not receiving compensation for it (other than from Seeking Alpha). I have no business relationship with any company whose stock is mentioned in this article.
Additional disclosure: I plan on buying TSLA next month.