Apple (NASDAQ:AAPL) sold 3 million of its new iPad and iPad Mini during the new lineups' first weekend, double the number of WiFi only new iPads sold on the launch weekend back in March.
While Apple didn't break out sales by device, we can assume a good chunk of units were the new Mini, which bodes well for long term suppliers Broadcom (BRCM) and Cirrus (NASDAQ:CRUS).
A broadening of Apple's lineup means they benefit not just from Apple product refreshes, but from more slots too.
Apple continued its long time reliance on Murata's Wi-Fi module, which features Broadcom's BCM4334.
According to the tear down gurus at iFixit, Apple's connectivity is delivered by Broadcom's BCM4334, a single chip dual band combo device handling Wi-Fi, Bluetooth and FM duties for the Mini.
The 4334 appears entrenched in the Apple lineup, which has increasingly focused on improving low power connectivity. In addition to the iPad Mini, the chip is also found in the iPhone 5 and the new iPad.
In addition to the BCM4334, Apple also included two BCM5976 touchscreen controllers in the Mini. This follows Apple adding a second BCM5976 to the iPhone 5 too. The combination of the content growth in the iPhone 5 and volume from the Mini position Broadcom nicely for volume growth.
In the most recent quarter, those design wins helped Broadcom revenue advance 8.7% year-over-year and 8% quarter-over-quarter.
Especially intriguing given Apple's tight fisted approach to supplier pricing, Broadcom's non-GAAP gross margins rose to 52.1% from 50.9% the prior year, suggesting some price stabilization and volume driven earnings leverage.
Cirrus continues its dominance as Apple's go-to Audio supplier.
As Apple's devices mature they're becoming increasingly bandwidth friendly, which is boosting consumer use of mobile devices for high quality audio and video entertainment
This trend bodes well for Cirrus, which relies heavily on Apple's demand for Cirrus audio solutions.
In the most recent quarter, 79% of Cirrus sales came from Apple, up from 70% just a few quarters ago. It's likely we'll see that number move even higher next quarter when we factor in Cirrus iPad mini volume.
According to iFixit, the audio codec found in the Mini, which is tasked with coding and decoding audio, is the same found in the iPhone 5. It likely falls into the CS42L73 smart audio category.
In addition to the codec, Cirrus also supplies the Class D amplifier for the Mini, which is likely part of the CS35L0X family.
The new chips for the Mini and refreshes for the iPhone and iPad helped Cirrus revenue increase 91% last quarter from a year ago as audio chip sales more than doubled to $177.91 million, up from $83.68 million.
Like Broadcom, volume seemed to offset pricing pressure last quarter at Cirrus.
While Cirrus cost of sales increased to 48.3% from 46.5%, research and development spending fell as a percentage of net revenue, dropping to 15.2% from 19.37% a year ago. SG&A similarly fell to 10.4% from 16.4%. This allowed GAAP operating margin to grow to 26% from 18%.
If Apple's revamped product line performs well this holiday season, both Broadcom and Cirrus may reward shareholders with yet another quarter of growth. And, if volume continues to offset pricing pressure, earnings should benefit too. Given the potential, investors may find it profit friendly to pick up shares, particularly given both stocks have a tendency to outperform in November.
Source: Seasonal Investor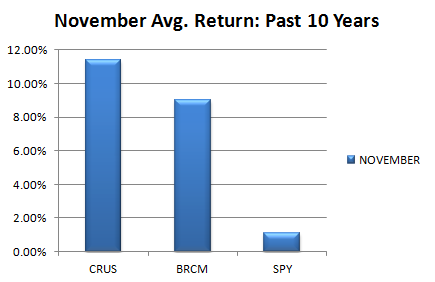 Disclosure: I am long AAPL. I wrote this article myself, and it expresses my own opinions. I am not receiving compensation for it (other than from Seeking Alpha). I have no business relationship with any company whose stock is mentioned in this article.