Charles Dow had it right: in order for our economy to be really booming, what we produced (manufactured goods, but services too in recent decades) also had to be shipped and delivered to markets.
A rising tide would lift all boats. Thus, the transportation sector must be a participant in any economic recovery which is truly durable. This is a core principle of Dow Theory, and both fundamental and technical analysis.
Thus, bullish investors looking for the next big leg up in stock prices should wait for the Dow Jones Transportation average to end a 15 month downtrend.
Production is measured by the Industrial Average, which includes manufacturers such as Caterpillar (NYSE:CAT) and service firms such as IBM (NYSE:IBM).
In the old days, we spoke of Rail Roads (two words!) as carriers of the nation's goods, and the second Dow Jones Average (the 3rd was the utilities) bore that name. Today, we combine them with truckers, airlines, shipping and logistics companies in a broader Transportation Average.
And therein lies the thorn in the side of the broad market in 2012. Forget Europe. Forget the election. Forget problems with technology: Intel and mobile computing, or Microsoft and Windows 8. Forget Zero Interest rates, or QE3, or the fiscal cliff. That's all talk.
Stock prices show where the money is, not where the mouth is. And for over a year, Transportation stocks have been under performers.
This is clear with a glance at the iShares Dow Jones Transportation Average Index Fund ETF (BATS:IYT):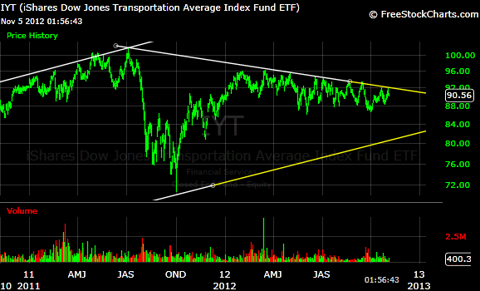 source: freestockcharts.com
Do you remember where you were in August of 2011? IYT does! It was nearly 20% higher back then. The broad market, measured by the Dow Jones Industrial Average and S&P 500, or their respective ETFs (DIA and SPY) has roared to new highs in 2012.
But the Transports have been the poor orphan. Not only have they been weak, they have failed to break out through a descending trendline that has been touched eight times in the last six months.
Without the Transportation average, the market is going nowhere.
Right now the trendline rests in the low nineties and every time the IYT touches it (like a couple days ago) it gets the vapors and backs off. The money is talking: it is suspicious. Is it also prudent and foresighted?
While some blame can be placed at the foot of higher oil prices, this is not an adequate explanation. Oil prices fell sharply this past spring and summer, yet IYT continues to languish. Not just technicians and Dow Theorists, but long term investors should be concerned about this underperformance. What could lift the Transports higher? Conversely, what could make the 86 "support level" give way?
Several possibilities come to mind. Sure...Even lower oil prices would help. So would increased use of natural gas vehicles, especially long haul trucks and delivery vehicles. Natural gas fuel is cheaper, the engines are cleaner, quieter, and more efficient. Keep an eye on sales data for Westport Innovations, Inc (NASDAQ:WPRT), the global leader in developing natural gas engines, for hints that this process continues.
C.H. Robinson Worldwide (NASDAQ:CHRW), boasts not only a global footprint but offers intermodal transport and logistical analysis as well.
Westport shares have been weak lately; those of CH Robinson, strong. Watch carefully to see how this disparate price behavior is resolved: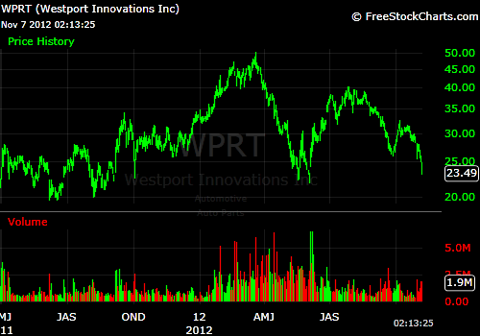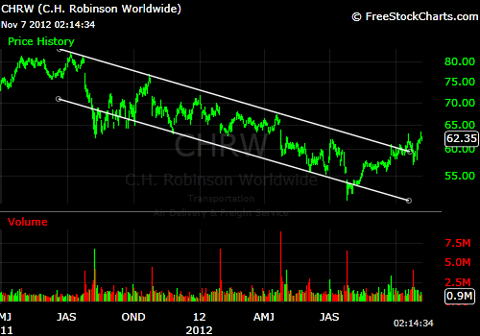 If Westport does not find support in the low 20s, or if the rally in CH Robinson shares flags, that would be a serious warning for long term investors. Of course the opposite is also true.
On the downside, a stronger dollar would hurt almost all Transportation stocks by reducing our exports. So would a continuing recession in Europe or slowing throughout Asia.
A bear market has not been signaled by Dow Theory: traders should not sell short or buy inverse ETFs such as the iShares Ultrashort S&P 500 ETF, [[SDS]]. But the most prudent use of investor funds would be to wait until this divergence between the Industrial and Transportation indices is resolved. As an optimist, I expect the market to perform strongly next year once political uncertainties in the US, China and Europe are settled. But follow the money, not the headlines. Wait for IYT to break decisively above the low 90s.
Disclosure: I have no positions in any stocks mentioned, and no plans to initiate any positions within the next 72 hours. I wrote this article myself, and it expresses my own opinions. I am not receiving compensation for it (other than from Seeking Alpha). I have no business relationship with any company whose stock is mentioned in this article.
Additional disclosure: I am waiting for IYT to break decisively thru its descending trendline. Then I may buy shares in IYT or its most attractive component, CHRW.