I wasn't surprised by Agrium (AGU) missing consensus Bay and Wall Street analyst expectations for Q3 adjusted EPS by a whopping 48 cents ($1.34 versus $1.82). The lowest analyst estimate was $1.45 per share. Oops….
Total revenues also missed, coming in at $2.962 billion versus an average estimate of $3.13 billion. All numbers in USD.
The stock was "ploughed under" today, closing at $95.58, down $11.57 on 5.8 million traded. The average daily volume on the NYSE is 1 million. The low of the day was $95.44. Another 2.33 million shares traded on Canadian exchanges. This was a high volume dumping of the stock.
While other analysts are now hastily zagging and reducing their targets for Agrium, I may start zigging again.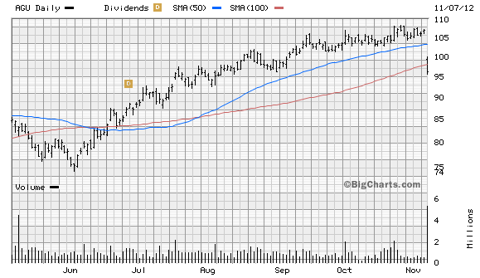 My forecasting record on Agrium and fellow nitrogen producer CF Industries (NYSE:CF) is unblemished, going back to fall 2010 at the latest, when I tipped both of them to rally strongly. CF was down 2.1% today, closing at $201.99, after announcing a strong Q3 earnings on Monday night.
The rally for nitrogen fertilizer producers had been extended in 2012 due to strong crop and nitrogen prices, up until recently. PotashCorp (POT) and The Mosaic Company (NYSE:MOS) have already been in secular bear markets for reasons I have covered elsewhere.
On August 3, I predicted Agrium's stock would keep climbing (correct - went from $95 to a $108.42 high), due to their ability to increase the dividend (they did - to $2/per share) and the now completed $900 million share buyback for about 5% of the outstanding.
But I also warned the severe 2012 drought would play havoc on farmer behavior by the Fall, in this interview on BNN TV: here.
The shortfall announced today showed up both in the retail division, with sales down from $2.011 billion to $1.834 billion, a drop of $177 million or 8.8% q/q, and the potash segment of the wholesale division, with sales down $87 million, from $167 million to $80 million or a 52% drop.
U.S. farmers have been reluctant to put down crop nutrients down on parched soil. And they've not had to spray corn with fungicides when the corn has already been parched and mowed over or reaped for silage.
That would seem obvious to anyone that lives in an agricultural area (I do), unless the closest you have come to a farm has been pictures in magazines.
The lack of U.S. farmer enthusiasm to spend money right away was also tipped off by AGCO's (NYSE:AGCO) Q3 announced October 31. Here's the stock price chart: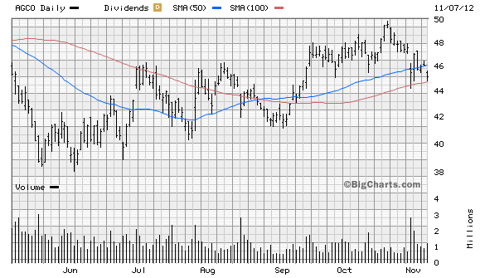 Agrium's potash profit shortfall was caused by the Vanscoy potash mine being closed for eight weeks plus a delayed restart, for the first installation of the million ton expansion scheduled to come on line in the 2H of 2014.
Given Agrium couldn't produce more than 151,000 tons of potash, it had to buy it from the other two Canpotex participants, at lower margins, to fulfill their quota with Canpotex. Potash gross margin shrunk to $23 million versus $102 million.
The higher capital expenditures for the $2 billion budgeted Vanscoy mine and plant expansion probably caused higher depreciation and turnaround-related expense to cut into potash operating income, turning it into a loss. Agrium's total quarterly depreciation expense rose from $98 million to $128 million.
The good news could be since Canpotex's (international) sales have been weak to India and China (again, common knowledge due to PotashCorp's Q3 report two weeks ago), this was probably a good time to have your potash mine taken down.
Nitrogen fertilizer sales were the bright spot in wholesale, with $548 million in sales versus $405 million last year's Q3, on 1.08 million metric tons at an average $517/mt versus 817,000 at 497/mt last year.
Nitrogen gross margin was a quarterly record $271 million versus $177 million q/q, up 53%. This was also boosted by great prices and volumes for nitrogen fertilizers, plus ultra low natural gas feedstock costs, plus their temporary ownership of 34% of the CFL plant in Medicine Hat, which is still pending approval for sale to CF Industries.
The phosphate segment was weak, with sales off from $217 to $183 million (15.7%) and gross margin shrinking to $47 million versus $82 million q/q, a drop of 42.7%). The culprit was higher phosphate rock and sulfur costs.
The ESN delayed-release nitrogen segment actually had a good quarter, with EBITDA adjusted for the closure of the Courtright facility, of $9 million versus $3 million reported last year.
Agrium earned only 80 cents in the basic EPS for Q3, or 54 cents less than adjusted earnings. It was reduced by a 29 cent charge for "environmental remediation liabilities."
Agrium had to provide $139 million for asset retirement obligations, mainly the decommissioning of a phosphogypsum stack at the Conda, Idaho phosphate facility. If you didn't know, "gypstacks" are nasty piles of slightly radioactive salts left over from making MAP and DAP.
Also deducted from Q3 adjusted earnings was 23 cents for share based compensation because the stock rose strongly during the quarter, and management get's a big piece of the action. This should reverse next quarter, giving the cloudy stock drop a silver lining at least if it continues.
The final 2 cents in adjustments were for the closure of an ESN facility in Courtright, Ontario, which is near Sarnia, Ontario, on the border with Michigan. I've been down there; it is a basically a strip of smelly chemical plants and refineries.
All, in all, I think today's Agrium earnings shortfall and stock drop were highly predictable.
I'd like to share with you where I think things are headed now, but I am afraid institutional fertilizer analysts have now started to read my material to improve their own forecasting track record.
If you want to get the low-down on where the "ferts" are headed, please send me an email or give me a call.
Disclosure: I have no positions in any stocks mentioned, and no plans to initiate any positions within the next 72 hours. I wrote this article myself, and it expresses my own opinions. I am not receiving compensation for it (other than from Seeking Alpha). I have no business relationship with any company whose stock is mentioned in this article.