At 1394, the S&P 500 is now back to the level of March 13th, making the last eight months a tie and leaving the index with a 1% price loss since the end of the first quarter. The question now is, who wins the election post-season?
While Wednesday's big sell-off was not a coincidence, it would be superficial to lay all of it at the door of the election. Wall Street had been more or less resigned to the prospect of an Obama win for some weeks going into the election, and while there was disappointment, there wasn't surprise. Futures trading in the very early hours Wednesday before the US open didn't indicate a problem, and European markets opened the day up.
Then Europe got another look at the monster in the basement - Germany rattled everyone with its industrial production report for September, reporting a drop of 1.8% that was far larger than anticipated. The outlook for the fourth quarter wasn't brilliant either, and unemployment is beginning to rise.
Subsequently, a pessimistic ECB President Mario Draghi allowed that the German economy is indeed beginning to feel the pain, the bank lowered its outlook for 2013, and Western markets began to tank. That there is a problem isn't news, but when the central banker admits it, it is news. Draghi may have lit up the markets two months ago with a pledge of unlimited sovereign bond buying, but as I wrote at the time, it didn't create a single extra job for Europe. Moreover, with aid conditioned on pledges of further austerity, the economy continues to sink.
Throw into the morning mix a big flurry of fiscal cliff warnings from Wall Street strategists (definitely some disappointment there), along with stories of riots and Molotov cocktails in Athens (because we've grown used to it, it might have been overlooked on another day), and you had conditions for a sell-off. The market had gone out on a limb, especially on election day, with a two-day rally that seemed to feed on a late surge of Republican confidence in a presidential victory and a possible sweep of the elected branches. The most egregious example was the stampede into coal stocks, a greater-fools-trade that required overlooking the salient fact that cheap natural gas is coal's main problem, and a Romney presidency would hardly have been negative for natural gas.
Though a little rebound action would be normal, the short-term outlook remains modestly tilted to the downside. I have said that my base case is a test of the S&P 500 200-day exponential moving average, currently at 1377. In practice, this should mean an initial rebound from the 1379-1380 area. The first test of the 200-day is rarely successful, and without a more dramatic catalyst (e.g., Draghi announces at his press conference on Thursday that he is joining a monastery and turning things over to Bundesbank president Jens Weidmann), it is usually repulsed.
The bad news is that markets usually tack on another percent or so on to the day-after election move over the following week; the good news is that a one percent drop would take us right to the 200-day. That comes with a warning - markets are oversold on a short-term technical basis, but not as much as they were in May and June (see the chart below). November is often difficult for equities in the first part of the month, and it wouldn't be an exceptional thing to see momentum carry the S&P a few percent below its 200-day to the 1320-1340 area. A break below the October 2011 trend line visible in the graph below would probably lead to a fast trip to the 200-day, and might also induce a move lower without it being anything more than typical trading action.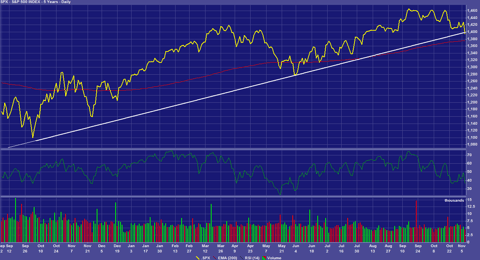 S&P 500 Index August
I will leave election analysis to others, yet one thing that was always certain was that its passing would bring the fiscal cliff into focus. Only a Republican sweep would have convinced the markets that it was alright to stop worrying about it. That would have been a mistake in my view - there is no easy way out - but one I wouldn't have traded against until after the inauguration.
Now the cliff is back in full view, aided (if not outright promoted) by the dire memos sent out by the Street, and the sudden change of focus by the business media away from the election. Bloomberg television had both Alan Greenspan and Mohammed El-Erian warning of the imminent pitfalls this morning. While I agree with the assessment that an agreement is most likely to come at the last minute, you should also take into account that the stock market is still going to be sensitive to cliff stories between now and then. I would guess anxiety to peak over the following week and then again the week before the deadline, but the specter of a disruptive story will lurk in the wings until it's over.
One should therefore expect - and discount - a certain amount of posturing by both sides in the next few days. The more rabid partisans of either side are usually more defiant, not less, in the wake of a presidential election. Extreme views usually sink quickly from sight, but not after throwing a few frights around that may require discrediting. At the other end, there are the usual conciliatory statements about working together to find common ground. In practice, this rarely means more than a willingness to allow the other side to agree with you, especially on Capitol Hill.
That said, my best read is that the Obama administration is not aiming to try to duplicate the Clinton strategy of hanging a government shutdown on the Republicans, at least not yet (it may come in March). Although Treasury Secretary Tim Geithner is almost certainly leaving in January, if not before, his generally non-confrontational approach to the financial markets has clearly prevailed over the Sheila Bair way of thinking in the administration.
Against that, the biggest obstacle is the largely symbolic, but still thorny, issue of the top tax bracket. From a macro-economic view, whether or not the Bush rate cut on the bracket expires is meaningless. Fiscally speaking, it's too small an amount of money to matter. Politically, however, it is enormously charged, like one of those barren pieces of rock where nobody lives that two countries periodically decide to be grounds for all-out war.
The President may feel with some reason that pushing through an expiration is something he owes the base that helped elect him. For their part, Republican legislators are acutely aware that any vote for any tax increase at all has led to guaranteed defeat in the next primary. It's a genuine problem for both sides. I don't know how it gets resolved - someone has to step down, and that has long been out of fashion in Washington. What I do know is that it will be a contentious process, and that markets don't like contention.
Buying some VIX calls (they are tricky, so be sure you know what you're doing) or SPY puts might be a good idea, if you haven't done so already. Stepping to the sidelines, as many did by selling out Wednesday, isn't the worst idea either and one I've been suggesting in recent weeks. The S&P has now fallen below the Day of the Draghi line (1403), the last level on the S&P before Draghi made his unlimited promise and Bernanke followed with his infinite one. That break set off stop-loss selling and a fast drop to 1390, where the market found support at the October 2011 trend line.
All is not lost: the US economy is in a much better place than it was four years ago. Despite the goofy sell-off last Friday (good jobs = no more Fed stimulus in December), the jobs report was sound enough. The Gallup employment poll is even better, with a non-seasonally adjusted unemployment rate of 7.0%. That suggests another positive for the November jobs report. Inventories have been running down and capital spending delayed in the face of the election and cliff. Once a resolution is reached, we're going to see a restocking pop.
There is event risk in both directions over the next month, and in that respect it does resemble the Lehman period. Another deferral of the Greek ending - the odds-on choice - would cheer markets, but a misfire would be disaster (I don't expect it, but I didn't expect the Lehman outcome either). The fiscal cliff looks suspiciously like Lehman in the sense of a great deal of complacency about an extension being reached, but it too could go awry if the two sides get sick of it. As El-Erian put it (cf. the link above), would you want to get in the car with a driver who had a 30% chance of a serious crash?
China's transitional party congress is set to begin today (November 8th), and traders have their fingers on the trigger for stimulus announcements of some form or another. It could come at a time when markets were ready for any excuse to rally, yet disappointment is likely to set in afterwards. When, however, is a good trading question. Those looking for a replay of 2009 are in for a disappointment, because China's banks are sitting on mountains of bad debt and don't want any part of another lending binge. The newly-fashionable belief that China has already turned the corner needs to reconcile that view with the fast-fading German economy: The two are major trading partners.
Like Lehman in the summer of 2008, Europe still hasn't come to grips with all of the impaired assets it has on the books. As the Wall Street Journal succinctly observed last week, "All creditors agree that Greece's debt is unsustainable. They also agree that someone will have to take a loss. They all insist that the said someone is someone else." Replace "Greece's debt is unsustainable" with "Spanish property debt is unmanageable," and you're getting the idea. Unlike Lehman, Europe can finance its own rescue. Will it? The waiting has already done considerable damage.
My parting advice is first, given the above, it might not hurt to sit out the next two or three weeks. Second, don't make the mistake of starting to sell out at 1340 without a very good reason. At that point, any move towards a half-decent cliff solution, even on the order of a band-aid, could start a violent year-end rally.
Disclosure: I am long SPY and short IWM. I wrote this article myself, and it expresses my own opinions. I am not receiving compensation for it (other than from Seeking Alpha). I have no business relationship with any company whose stock is mentioned in this article.