Clean Harbors (NYSE:CLH) is one of the leading providers of environmental and energy services to organizations ranging from Fortune 500 companies to small government entities. On the surface, the company appears quite tantalizing: growth of net income and revenue over the past 5 years of over 20% CAGR. There are other appealing aspects such as its corporate strategy, its positioning in growing and important industries, its ability to reduce corporate costs, and the company's ability to manage remedial liabilities better than others.
And yet there are some negatives about the company such as an inability to grow gross margin, unpredictability of some revenues, levered balance sheet, dependence on capital expenditures and declining return on invested capital. Though the company is strong, its valuation levels, even before the recent rise from hurricane Sandy, were too high and did not provide the margin of safety that strong investments do. It would be prudent to keep an eye on Clean Harbors in the future, to buy at a point of valuation deterioration unaccompanied by decline in company prospects.
Technical Services is the largest revenue and profit generator for the company, and a point of competitive strength. The company has many permits in the area, and has experience obtaining them. These permits are time consuming and difficult to obtain providing a significant barrier to entry. The company has made a point to increase its geographic presence and the scale of its landfills and incinerators. This allows the company to pick up waste with reduced transportation costs, send waste to the most efficient processing facilities, and cross sell to companies according to the company's 10-K. Finally, Clean Harbors' landfills have a remaining life of approximately 47 years left as illustrated by the following chart:
| | | |
| --- | --- | --- |
| | Yd3 | Remaining life |
| CA | 11090 | 50 |
| CO | 711 | 17 |
| ND | 912 | 15 |
| OK | 3631 | 26 |
| TX | 917 | 17 |
| UT | 2244 | 22 |
| Alberta, CN | 901 | 6 |
| Ontario CN | 6405 | 82 |
| Total | 26811 | |
| Weighted Avg | | 47.38 |
Source: CLH 2011 10K
Landfills are both very difficult to manage well which Clean Harbors has shown success at, and difficult to create because of stringent regulations. The longevity of these landfills should provide the company with revenue for years to come.
The industrial services division also has long-term viability. The company provides services in this area such as high pressure chemical cleaning and catalyst handling to major industrial companies. As revenue is dependent upon production levels of major companies, this area is somewhat cyclical. However, over the long run, it is reasonable to expect industrial production to increase. Additionally, environmental regulations are more likely to increase than decrease creating a growing revenue source.
The company provides fluid handling and other services to energy companies as part of its Oil and Gas Field Services. Clean Harbors' revenue is tied to overall oil output, which depends upon the price of oil, because it cleans up oil companies' messes. In particular, fracking creates a significant amount of hazardous by-products, and Clean Harbors has specifically positioned its services towards this market. A boom in this area would be very beneficial for the company in the long run.
The company provides emergency services as part of its field services segment. This segment differs from the others because the primary revenue source is onetime events and disasters as opposed to a recurring revenue stream. Revenue looks very stable, however, over the long run, because many companies are currently letting potential remediation sites sit, and disasters will happen. Scale and expertise help Clean Harbors in this area; more important is Clean Harbors' large geographical network which allows it to respond quickly and directly visit the site. Unfortunately, hurricane Sandy caused investors to realize the value of this division for the company, and the company rose over 18% in response. Sandy is likely not to increase the company's long-term revenue by 18%, likely making this instance an overreaction. A better buying opportunity would occur when revenue in this segment declines and investors sell, as if implying the probability of disasters has declined.
The most recent 10-K illustrates that the company is also pursuing initiatives that should prove quite profitable in the future. The company has made it a point to restore Brownfield sites; this is significant value creation because this involves turning unusable land into usable land. The company is in the process of investing in many small scale satellite locations to increase its geographic presence to respond more quickly and reach a large customer base. The company has made it a priority to maintain stricter government standards than required by the government as evidenced by the fact that all of Clean Harbors' remedial liabilities resulted from Clean Harbors' acquisitions.
The company's major strategy recently has been acquisitions. The company recently acquired Safety Kleen for $1.25B and completed acquisitions in 2011 totaling over $350MM. For a company with a market cap of slightly more than $3B, this is quite aggressive. These acquisitions increase the company's geographic range and its range of services. More services make the company attractive to consumers; these companies know they have problems but do not know the full extent because of lack of expertise. Clean Harbors has the ability to adapt to a variety of unforeseen issues and solve the initial problem.
Additionally, the company is focusing upon Canadian acquisitions; according to the most recent 10-K, 2 out of the 3 companies acquired in 2011 were Canadian, and so is Safety Kleen. The Canadian corporate tax rate is 15% compared to the United States' rate of 35%. Thus, if Clean Harbors pays a reasonable price on an EV/EBITDA basis, a common metric for acquisitions, Clean Harbors may be able to boost its profits disproportionately because EBITDA is tax rate independent. According to this article, Safety Kleen was acquired at around 7X to 8X EBITDA to EV, compared to CLH's multiple of around 9.5X, indicating that the company at least did not pay significant premium, and the boost of lower tax rates may be significant.
Additionally, the company has taken advantage of its ability to remediate environmental liabilities of other companies. As mentioned earlier, all of Clean Harbors' remedial liabilities are from acquisitions and consistently provide indemnification to those who are acquired. These liabilities often scare away other acquirers; however, Clean Harbors' skill in managing them allows them to acquire the companies' other valuable assets at a reduced cost.
It appears the company tries to acquire smaller, less well known pieces of companies to avoid paying a significant premium, as evidenced by the size of Clean Harbors' individual acquisitions. Clean Harbors then tries to integrate these revenue streams without increasing its costs as much. There is some evidence of this as seen by growth figures over the past 5 years.
| | | |
| --- | --- | --- |
| 5 Year % Change | % Change | CAGR |
| Revenue | 109.50% | 20.31% |
| COGS | 107.83% | 20.07% |
| SG&A | 70.47% | 14.26% |
| Interest Expense | 198.48% | 31.44% |
| Net Income | 187.78% | 30.25% |
| Cash Flow From Operating | 124.38% | 22.39% |
Source: CLH 2011 10K
The company has been able to grow net income faster than revenue principally because of a decline in SG&A. However, Clean Harbors has not been able to reduce COGS as a percentage of revenue over this time period. This indicates that on a corporate level, the company has been and may continue to achieve relative cost reductions, but Clean Harbors' continuing business requires inputs that cannot be bought more cheaply in bulk. This makes sense because its work is resource intensive and technical in nature, forcing vendors to be specialized but giving them pricing power over companies like Clean Harbors.
Many investors argue that these acquisitions are accretive and provide growth making the company stronger. Acquisitions do increase earnings; however, the value depends upon whether the price paid for the company is less than or greater than the cash flows the company will receive owning the new company. Additionally, the numerous acquisitions the company has made make it difficult to determine the organic growth the company has achieved over the past years.
According to the company's recent 10-K, growth from 2009 to 2010 was ascribed to the Everready acquisition, and in 2011 organic growth for the company's segments was anywhere between 0% and 30%. However, some of this was due to the strengthening of the Canadian dollar and oil prices. The long-term trends of the company are positive; however, painting this company as a growth story would be inaccurate.
There are a couple of other key points about the company from a long term perspective that can be gleaned from the 10-K. The company operates in a niche market with relatively few competitors and many customers. The company also must respond to emergencies. While the uncertain nature of environmental contracts does give consumers some ability to renegotiate, these factors give Clean Harbors significant pricing power. The company is still led by its founder who has been leading the company for decades and owns almost 10% of the company. Additionally, the company does not issue stock options any more as compensation. These concepts align incentives for the company as a whole giving one confidence in future management decisions.
At the same time, there are risks and weaknesses to Clean Harbors. First and foremost is the company's level of debt. The company currently has a market cap of approximately $3B and long-term debt of over $500MM, which is offset by about $250MM of cash and short-term equivalents. However, the company is acquiring Safety Kleen for $1.25B for all cash, implying Clean Harbors either took out debt or equity. The exact terms are unclear, but even a 50:50 split would put its long-term debt over $1B and an all debt financing would put Clean Harbors' debt around $1.75B. The company's interest rate is about 7.5% on current debt; if one assumes the same interest rate and an all debt deal, this would put its yearly interest payments at around $131MM.
When one adds Safety Kleen's EBITDA (about $160MM according to the same article that I linked to earlier) from the past year and subtracts assumed D&A expenses ($60MM assuming the same D&A:EBITDA ratio of CLH), the combined company had operating revenue of approximately of $317MM. Given these figures, the company has relatively large interest payments, not including principal payments. Assuming a windfall from the hurricane Sandy, it is unlikely that the company will be unable to meet interest payments; but it may be required to maintain a certain coverage ratio. The company's fortunes are tied to cyclical industrial production and the price of oil, areas that could deteriorate in the future. These two areas correspond to over 40% of the company's revenue. A decline in these regions could then trigger a default event.
The company's management of capital is also disconcerting. The following table helps illustrate the progression of return on invested capital.
| | | | | | | | |
| --- | --- | --- | --- | --- | --- | --- | --- |
| | 2005 | 2006 | 2007 | 2008 | 2009 | 2010 | 2011 |
| Total assets | 505 | 614 | 770 | 898 | 1401 | 1602 | 2086 |
| Current assets | 212 | 324 | 380 | 489 | 620 | 752 | 892 |
| Operating income | 51.3 | 74.4 | 85.3 | 108 | 82.1 | 211.9 | 217.66 |
| ROIC | 17.51% | 25.66% | 21.87% | 26.41% | 10.51% | 24.93% | 18.23% |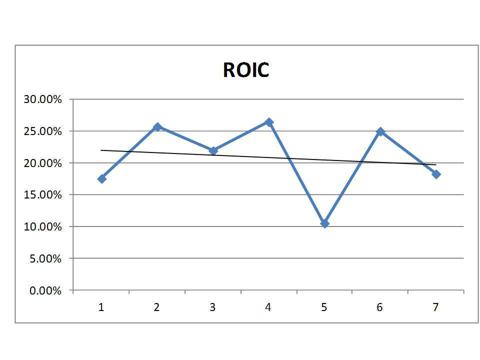 Source: CLH 2011 10K
The company had its 2 highest values over 4 years ago, and it appears that ROIC has trended gradually downward. In the conservative case that ROIC has not actually declined, and these figures merely represent noise, these figures are still disconcerting. This company's main strategy is acquisition of other small companies in a capital intensive industry to achieve synergies. If Clean Harbors were fulfilling this promise one would hope to see some upward trend.
This figure is also particularly important given the large increase in capital expenditures the company has undertaken. In 2007 the company had capital expenditures of $37.8MM; the company has increased levels every year since then and now has CAPEX levels of $151MM over the past year and is on pace for CAPEX levels of about $168MM this coming year. These figures put CAPEX growing at 41.47% CAGR over that time period, significantly more than the rises in revenue or net income. These levels are simply not sustainable if the company wants to be profitable. Evidence for this comes in the progression of the company's FCF yield over the past 5 years.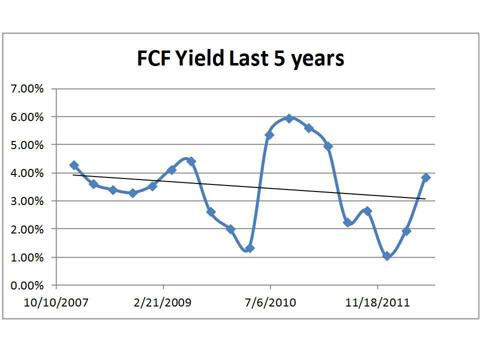 Source: ycharts.com
Although there is a significant amount of noise in the middle period due to the recession cutting industrial output and then a boom from a disaster spill, which in effect balance each other out, there is a noticeable downward trend. This has occurred even though the company has acquired numerous companies, which boosts revenue and the depreciation and amortization add-backs, and has grown organically over the time period. This provides evidence that CAPEX is hurting the profitability of the company.
Additionally, when one realizes that FCF has been boosted by the larger a huge positive change in working capital, the current FCF yield is inflated; when one simply makes changes in working capital zero, FCF yield ttm declines to 2.5%., which is paltry for a well established company.
Further evidence of non-attractive valuations comes from the historical P/E ratios of the company seen below. The company is currently trading in the middle end of its historical P/E ratio even though it has matured over this period. The company would be historically undervalued when this ratio falls below 20.

Source: ycharts.com
Finally, a relative valuation of the company, with competitors Waste Management (NYSE:WM), US Ecology (NASDAQ:ECOL), Stericycle (NASDAQ:SRCL) and Veolia Environment (VE) illustrates that the company is not trading at a discount, but most likely a premium.
| | | | |
| --- | --- | --- | --- |
| | P/E | EV/EBITDA | FCF Yield |
| CLH | 23.70 | 9.50 | 3.85% |
| WM | 17.37 | 7.48 | 6.05% |
| ECOL | 16.58 | 8.37 | 1.98% |
| SRCL | 31.05 | 16.90 | 3.69% |
| VE | NA | 4.92 | 13.56% |
Source: ycharts.com, Yahoo Finance
It should be noted that investors are discounting Veolia according to FCF yield and EV/EBITDA because of the company's massive debt levels. As mentioned, the company's FCF yield is really around 2.5%, making it one of the most expensive on this metric. In fact, it is the second most expensive on every metric. If the company were growing organically at the 20% clip touted, then this may be a worthwhile price. This premium, however, does not seem justified at this point.
In summary, Clean Harbors appears to be a strong company that is unfortunately trading at too large of a premium to justify a purchase at this point. There is much to like about this including alignment with profitable industries, economies of scale at the corporate level, increasing geographic presence, and barriers to entry in a niche market. There are also some weaknesses of the company, including a levered balance sheet and dependence upon capital expenditures and acquisitions for growth. These questions make the company too expensive currently.
Disclosure: I have no positions in any stocks mentioned, and no plans to initiate any positions within the next 72 hours. I wrote this article myself, and it expresses my own opinions. I am not receiving compensation for it (other than from Seeking Alpha). I have no business relationship with any company whose stock is mentioned in this article.