The election results are in and as expected Congress and the White House maintain status quo. As a result, certain tax codes like the capital gains and dividend and interest income tax rates are at risk of a significant increase. Of the two tax codes, the capital gains tax rate change will have the biggest impact on prices of stocks, bonds, housing, and any business venture that has been successful over recent years. As the law currently stands, the capital gains tax rate will see the largest year-over-year increase in history. Some intelligent investors didn't wait for election results to lock in the low capital gains tax rate.
A good example is Star Wars creator George Lucas, who recently sold his Lucas Films empire to Disney (NYSE:DIS) for $4.05 billion. Lucas built his empire over many years and is sitting on a very large capital gain. Although Lucas has not publicly stated that tax policies had anything to do with the timing of the sale, there is speculation that it was a large factor. If outcomes from past tax policy changes are any indication of what will result this time around, then be prepared for a lot more selling between now and year-end.
In 1986, the maximum tax rate on long-term capital gains increased from 20% to 28%, a 40% increase. This was the largest year-over-year capital gains tax rate increase from 1954 through 1986 and remains the largest increase unless the rate goes up as it is currently written. As the law stands, the capital gains tax rate would increase from 15% to 25% which results in a 67% increase. The increase encompasses expiration of a 5% Bush-era tax cut, expiration of a 1.2% tax deduction nicknamed "Pease" after the congressman who introduced it, and the implementation of a 3.8% health reform tax. This is the worst case scenario and this outcome has a high probability of occurring. Even if the worst case scenario is avoided, the best case scenario would result in a rate increase by 25% from a rate of 15% to 18.8%, which only accounts for the health reform increase.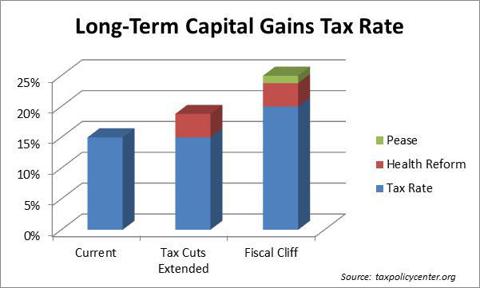 A look into the tax revenue section for total realized capital gains in 1986 shows a significant correlation between the increase in the capital gains tax rate and realization of capital gains. In the chart below, you can see that in 1986, total realized capital gains as a percent of GDP (green line) increased to 7.35% when the maximum tax rate on long-term capital gains (blue line) went up in 1987. This compares to a 30-year average of 2.65% from 1955 to 1985.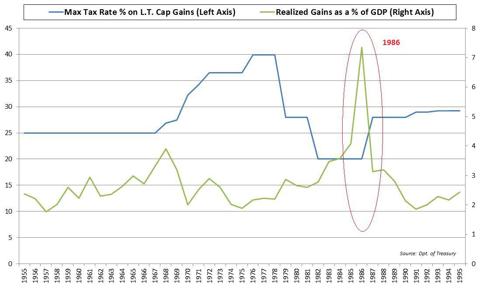 Digging into the 1986 capital gains sales further, you can see from the chart below that the majority of the capital gains that were realized in 1986 came from sales in December.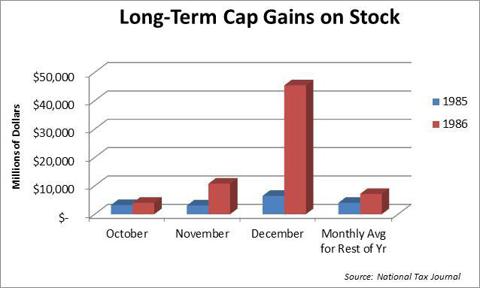 High-income earners will absorb the brunt of the capital gains tax rate increase. First, the health reform tax and the Pease deduction only apply to high-income earners. In addition, while most U.S. citizens receive close to 100% of their income from salary and wages, the top 400 income earners in the U.S. receive the majority of their income from capital gains. In fact, in 2007 only 7% of the top 400 tax filers' income in the U.S. came from salary and wages while 66% came from capital gains. One area that should be closely watched is the hedge fund industry. For starters, only accredited investors, defined as having a net worth of $1 million or income exceeding $200,000 in each of two most recent years, can invest in a hedge fund. Now that we've segmented the market, we need to look at the holdings of the hedge funds. It helps to look at stocks that have had a big run up in the past few years. As you read this on your iPad, MacBook, or iPhone, one stock may come to mind.
Apple Inc. (NASDAQ:AAPL) has seen a more than two-fold increase in price over the past five years which makes for some nice long-term capital gains. According to Hedge Fund Wisdom, a quarterly hedge fund activity report from marketfolly.com, Apple is held in 17 out of 25 widely followed hedge funds and is the top holding for six funds. In addition, since Apple is such a large component of many stock indices, look for the sell-off to influence the performance of many widely tracked benchmarks.
For example, the Technology Sector ETF (NYSEARCA:XLK) is comprised of 18.5% Apple stock, compared to its next largest holding, International Business Machines (NYSE:IBM) which comprises a modest 8.1%. More importantly, Apple is the highest weighted stock in both the S&P 500 Index (NYSEARCA:SPY) and the NASDAQ Composite Index (NASDAQ:QQQ) and could drag down both indexes through the end of the year.
Many factors point to selling assets that have seen a significant run up in price over the past few years. When selling an empire like Lucas did, it takes an army of legal and financial experts hundreds of man-hours to complete, which results in a very large transaction cost. Selling marketable securities on a liquid exchange has minimal transaction fees and can be conducted in your bath robe in the time it takes to brew a pot of coffee. The risk-reward is extremely high, especially for a high income investor. The risk is being in cash while the market rallies into the end of the year while the reward is avoiding a sell-off and locking in a low capital gains tax rate for any investors with unqualified investments. In December of 1986, the S&P 500 Index was down 2.83% and in January of 1987 it was up 13.18%. Invest like a Jedi and may the Force be with you.
Disclosure: I have no positions in any stocks mentioned, and no plans to initiate any positions within the next 72 hours. I wrote this article myself, and it expresses my own opinions. I am not receiving compensation for it. I have no business relationship with any company whose stock is mentioned in this article.