Introduction:
In April of this year, I wrote an article titled: "Dividend Growth Investing: Beating Inflation With Long Term Investing." Here is a link to that article..
As a dividend growth investor, I look for companies that:
Have a history of paying and increasing dividends on an annual basis
Are increasing those dividends at an annual rate that is greater than inflation
Have the earnings power to continue raising those dividends on an annual basis
Are priced at a value to intrinsic net worth
In my earlier article, I showed the dividend growth rate for six stocks. These were companies that I own and companies that many DG investors also hold. The companies were: Coca Cola (NYSE:KO), Colgate Palmolive (NYSE:CL), Johnson and Johnson (NYSE:JNJ), Kimberly Clarke (NYSE:KMB), Procter and Gamble (NYSE:PG), and Walmart (NYSE:WMT). Each of these companies grew dividends annually by a rate that was significantly greater than inflation on an annualized basis from 2000-2012.
What You Need To Know:
My article did not take into account the impact of taxation on the dividend growth vs. inflation. However, in a recent article by Doug Cary, "Can You Beat Inflation With Dividends?" (see here) the issue of taxes and the impact of those taxes on dividends was addressed.
Doug says this in his opening statements:
With consumer price inflation, as measured by the Consumer Price Index, running at 2% year-over-year and 10-year treasury yields at 1.6%, investors cannot even keep up with inflation by investing in treasury bonds. Therefore, many have turned to dividend paying stocks to help keep up with rising prices.

But beating inflation with dividend paying stocks isn't as simple as some might think. In taxable accounts, it's not enough to just find stocks that have dividends growing faster than the rate of inflation. It turns out that in a taxable account, if inflation is high enough investors are very likely going to lose money over time.
What I Know:
Since the largest portion of my personal stock portfolio is in a tax deferred account, I have not paid all that much attention to the impact of taxes on my dividends. I'll be honest with you, Doug's article got me thinking about a portfolio that I created for my mother, before she passed away, that is a taxable portfolio of dividend growth stocks.
For the last 10 years, due to the Bush tax cuts, dividend income was taxed at a 15% rate. It is very possible that the dividend tax rate will not remain in effect in 2013 and the impact of taxes at a higher rate may very well become an issue for "beating inflation."
It is not my intent to present a tax primer here. I don't even do my own taxes. I have a CPA who does them for me. Suffice to say, I think there should be some concern over the potential changes to dividend taxes for investments held in a taxable account. Perhaps it might be prudent to hold dividend growth stocks in a tax deferred account and have more investments that tend toward capital gain opportunities in a taxable account.
But, again, going back to my 4 point premise, I would like to share with you, a list of 105 Dividend Champions and the annual dividend growth rates for the companies on this list.
David Fish provides a monthly spreadsheet with Dividend Champions, Contenders, and Challengers. You can get your copy of this fantastic tool here.
When we look at the 105 companies that are part of the Dividend Champion list, we find that these companies have been:
Increasing dividends on an annual basis for an average of 39 years
Have an average yield, collectively of 2.89% as of October 31st
Have increased dividends by 7.2% over the last year; 6.1% over the last 3 years; 7.6% over the last 5 years; and 7.6% over the last 10 years.
A List of My Favorites: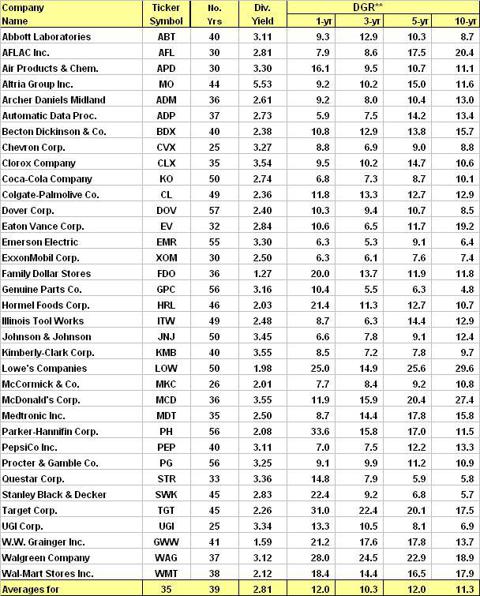 These 35 companies have an average yield of 2.81% as of October 31st. The 35 companies have increased dividends a composite 12% over 1 year; 10% over 3 years; 12% over 5 years; and 11% over 10 years.
Conclusion:
While this is not an endorsement of any company on this list, I think that these 35 companies have kept dividend growth investors ahead of inflation, even if held in a taxable account.
At the same time, there are additional companies to review in the Dividend Contenders and Challengers that would stack up very favorably to these Dividend Champions on this list of 35 companies.
At the risk of sounding like a broken record, my investment strategy is defined by first having an objective. For me, it's about an ever increasing dividend income stream. My methodology for creating that income stream has been investing in DG stocks.
So, can a dividend growth investor beat inflation in a taxable account? I think so. What about you?
Disclosure: I am long ABT, AFL, MO, APD, ADM, ADP, BDX, CVX, CLX, KO, CL, DOV, EV, EMR, XOM, FDO, GPC, HRL, ITW, JNJ, KMB, LOW, MKC, MCD, MTD, PH, PG, PEP, STR, SWK, TGT, UGI, GWW, WAG, WMT. I wrote this article myself, and it expresses my own opinions. I am not receiving compensation for it (other than from Seeking Alpha). I have no business relationship with any company whose stock is mentioned in this article.