Clearly Google (NASDAQ:GOOG) and Apple (NASDAQ:AAPL) currently dominate the smart phone and tablet market. With Microsoft (NASDAQ:MSFT) in a full-out new product launch cycle, it will be interesting to see how this war plays out.
According to IDC's Worldwide Quarterly Mobile Phone Tracker, total Android smartphone shipments worldwide reached 136.0 million units, accounting for 75.0% of the 181.1 million smartphones shipped in 3Q12.
Top Six Smartphone Mobile Operating Systems, Shipments, and Market Share, Q3 2012 (Preliminary; Units in Millions)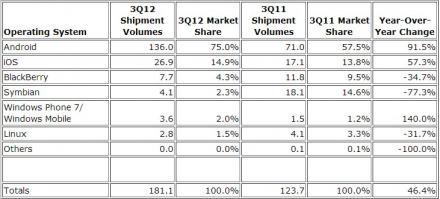 Worldwide sales of mobile phones to end users reached 419 million units in the second quarter of 2012, a 2.3 percent decline from the second quarter of 2011, according to Gartner, Inc. Smartphone sales accounted for 36.7 percent of total mobile phone sales and grew 42.7 percent in the second quarter of 2012.
Table 2
Worldwide Mobile Device Sales to End Users by Operating System in 2Q12 (Thousands of Units)
Operating System

2Q12

Units

2Q12 Market Share (%)

2Q11

Units

2Q11 Market Share (%)

Android

98,529.3

64.1

46,775.9

43.4

iOS

28,935.0

18.8

19,628.8

18.2

Symbian

9,071.5

5.9

23,853.2

22.1

Research In Motion

7,991.2

5.2

12,652.3

11.7

Bada

4,208.8

2.7

2,055.8

1.9

Microsoft

4,087.0

2.7

1,723.8

1.6

Others

863.3

0.6

1,050.6

1.0

Total

153,686.1

100.0

107,740.4

100.0
The mobile smart phone market has been dominated by Google's Android and Apple's iOS, whose market share combined is over 82%, however table 1 shows Samsung Electronics and Nokia (NYSE:NOK) being the leaders in World Wide Mobile Device Sales in the 2nd quarter of 2012. Samsung (OTC:SSNLF) took over the top spot with the help of the Galaxy S3 becoming the best-selling android smart phone.
Table 1
Worldwide Mobile Device Sales to End Users by Vendor in 2Q12 (Thousands of Units)
Company

2Q12

Units

2Q12 Market Share (%)

2Q11

Units

2Q11 Market Share (%)

Samsung

90,432.1

21.6

69,827.6

16.3

Nokia

83,420.1

19.9

97,869.3

22.8

Apple

28,935.0

6.9

19,628.8

4.6

ZTE

17,936.4

4.3

13,070.2

3.0

LG Electronics

14,345.4

3.4

24,420.8

5.7

Huawei Device

10,894.2

2.6

9,026.1

2.1

TCL Communications

9,355.7

2.2

7,938.9

1.9

HTC

9,301.2

2.2

11,016.1

2.6

Motorola

9,163.2

2.2

10,221.4

2.4

Research In Motion

7,991.2

1.9

12,652.3

3.0

Others

137,233.4

32.8

152,989.70

35.7

Total

419,007.90

100.0

428,661.15

100.0
Computing is going mobile and Microsoft, although late to the mobile smart phone party, has all the resources to increase their own market share of the mobile smart phone market with their new Windows 8 phones which will integrate Microsoft services such as Microsoft SkyDrive, Microsoft Office, Skype, and Xbox Music Video Games. And now with the introduction of Microsoft Surface and Windows 8 business owners will have all the essentials to run their business from anywhere in the world. Microsoft understands there is a secular decline in PCs which is why they are making a big bet and forging into the smart phone and tablet market, and with the Demand for Microsoft Business software strong. Their core businesses continues to generate cash to add to their big pile of cash of $57 billion, which will assist them in navigating the global mobile smart phone and tablet markets which are not fully developed.
A recent report from Strategy Analytics in the third quarter stated the number of smartphones in use in the third quarter of 2012 totaled 1.03 billion, a 47 percent increase from third quarter 2011. Lessons can be learned from the Cola Wars in the 1980s and 1990s, and if history does indeed repeat itself then there is room for more competition which will help the consumer by offering more choices. For Microsoft this launch is very exciting but also risky, but if successful will put them on the right course, especially when Apple and Samsung fight over patent issues.
With Microsoft's dividend at 3%, I believe MSFT to be undervalued at $29.52 and fairly valued at $33.00 and would not be surprised if it reaches $37.00.
Buy the stock outright at $30.00 or less.
Target Price: $37.00 or 20 times normalized earnings
Target Return: 23%
Disclosure: I have no positions in any stocks mentioned, and no plans to initiate any positions within the next 72 hours. I wrote this article myself, and it expresses my own opinions. I am not receiving compensation for it (other than from Seeking Alpha). I have no business relationship with any company whose stock is mentioned in this article.