Apple's (NASDAQ:AAPL) iPad mini is officially on sale and investors are likely wondering if the device can lift shares out of their current dive.
Since mid September, shares have over 20%, or $155, despite the company reporting solid revenue growth of 27%.
But, solid isn't good enough given shareholders became accustomed to market beating results under Steve Jobs.
What's weighing on investor minds?
Slowing year-over-year growth. This year, total revenue rose 27%. In FYQ4 2011, revenue had jumped 39% from the prior year.
Falling operating margins. In FYQ4 they came in at 30.4% of sales, down from 30.8% a year ago.
Net income growth, which is no longer outpacing revenue growth, up 24% versus 27% this past quarter, versus 54% and 39% a year ago.
iPad unit sales growth, which paled in comparison to last year at 26%, down from the 166% jump from FYQ4 2010 to FYQ4 2011.
Cash flow from operations of $9.1 billion, below the $10.4 billion generated in FY Q4, 2011.
The company is becoming more IBM than Linkedin.
Apple's still selling plenty of stuff, but slowing growth may suggest a transition from the doubling associated with emerging technology to a more stable path common in maturing categories.
The company itself may have recognized this shifting dynamic in acquiescing to a dividend, a policy more associated with stable, cash flow rich companies than emerging high growth firms like Linkedin (LNKD).
At current levels, Apple is yielding 1.9%, which is slightly better than IBM (NYSE:IBM). But, Apple does have a big advantage over big blue. It's debt free and sitting on $121.3 billion in cash, up from $117 billion ending June and $81.6 billion a year ago. This cash could fuel further dividend hikes. However, with dividend tax rates likely climbing the allure of dividend paying stocks may be waning.
Apple's biggest asset is market adoption of its mobile devices.
No one would argue a 58% jump in iPhone sales is stodgy.
The iPhone 5 is increasingly available worldwide this quarter, so holiday sales should help drive strong unit sales for FYQ1 too. In particular, if the company can finally ink a distribution deal with China Mobile (NYSE:CHL), sales momentum could accelerate in 2013.
And, while iPad sales were 14 million - below what just about everyone had hoped - they were still above the 11.1 million sold in Q3 '11. Despite more competition from Google's Nexus and the new Kindle Fire HD, Apple's iPad mini and revamped new iPad, should help it maintain market leading share this quarter.
Further, while Dell (DELL) and Hewlett (NYSE:HPQ) struggle amid falling PC sales, Apple shipped more MacBook's last quarter, helping Mac units sold climb 1% and making FY12 the first year the company sold more than 4 million units in each quarter.
Finally, Apple still has a robust retail distribution network having opened 18 stores last quarter and entering Q4 with 390 locations generating $11.2 million in sales per store, up from $10.7 million last year.
What this means for investors.
While the operational trends outlined at the top of this article are clearly weighing on investor minds, some investors will likely find the following chart even more worrisome.
The steep decline in its share price has now put prices at their lowest level relative to their 200 day moving average since the recession. The last time we undercut the 200 day moving average was June 2011, when shares reached -3.34% below.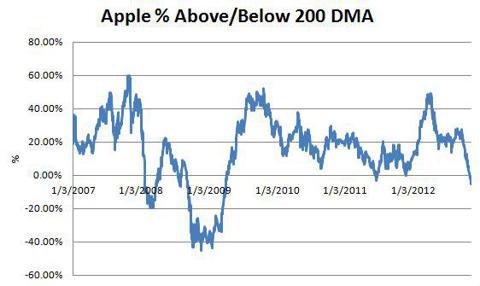 It would be hard to argue shares aren't getting oversold, which is supported by current stochastics. However, the worrisome fundamental backdrop and technical headwinds could suggest sellers re-emerge again on any rally back up to $600.
Seasonality is working in favor of shareholders, with Apple gaining ground in 8 of the past 10 Q4's, increasing a median of 11.94%. That's solidly better than the 7.51% median return for the S&P 500 ETF (NYSEARCA:SPY).
Given the potential catalysts, including greater global distribution, the new iPad mini and future dividend hikes, are somewhat offset by worries, investors may consider taking some shares here for a short term trade higher. If they're right, booking some profits north of $590 would be prudent. If they're wrong, investors should use a trailing stop loss to make sure losses remain controlled.
Source: Seasonal Investor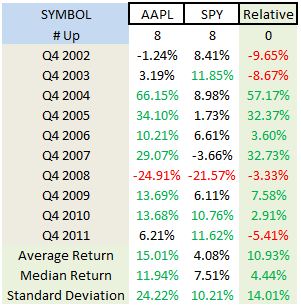 Disclosure: I am long AAPL, LNKD. I wrote this article myself, and it expresses my own opinions. I am not receiving compensation for it (other than from Seeking Alpha). I have no business relationship with any company whose stock is mentioned in this article.