For the first time in several years, it appears as though Yahoo! (YHOO) may be entering a period of growing share price. The current performance of YHOO is around a 9% year-to-date gain and in the future prices could continue marching upwards. Through this article, I will present the bullish case that YHOO is breaking out of a multi-year malaise and share price could reach new highs in the near future.
A Breakout of Returns
In order to fundamentally analyze YHOO, I have relied heavily on two key metrics: return on assets and return on equity. Return on assets is the net income of the firm divided by average total assets in a given period. Return on assets is helpful to analysts in that it provides information about the efficiency of an organization in using its assets to generate profits. Return on equity is the net income of the firm divided by directly-invested shareholder equity and it tells investors how effectively management generates returns on investments. In the chart below, I have included 9 years of return on assets and return on equity for YHOO.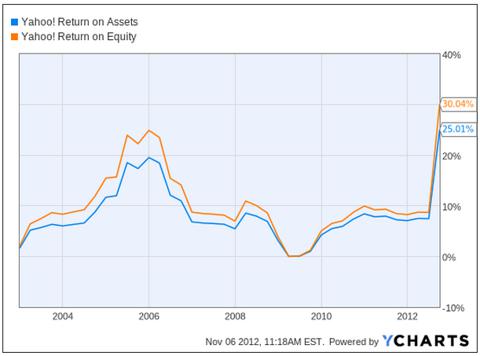 The issue which should be most apparent to investors is the recent return on assets and return on equity. It can be seen in the chart above that the recent quarterly performance is significantly out of line with historical performance. For the past 9 years, Yahoo! has experienced increases and decreases in organization returns with relative consistency and very few surprises. In light of 9 years of performance, we can safely say that the recent quarterly gains are a significant departure from the norm.
In order to understand the significance of return on assets and return on equity, we should examine these ratios in respect to share price. Returns tend to drive share price performance since the market is more willing to invest in companies that efficiently use assets and equity to generate profits. For example, between the years of 2003 and 2006, returns greatly increased. Over this same time period, share price increased by over 180%. Conversely, between the years of 2006 and 2009, organization returns declined and share price subsequently fell by around 70%. This clear relationship between organizational returns and share price performance sets the stage for a prudent investment in YHOO.
Since history suggests that the logical relationship between returns and share price performance holds true, I believe that share price could increase in the future. The recent dramatic increase in organization returns has not yet been coupled with a significant gain in share price. In my opinion, this discrepancy between growing fundamental performance and a slowly-increasing share price allows prudent investors the ability to purchase in the early stages of a developing trend.
Technically Speaking
Even though I believe that investors purchasing YHOO will be buying into a growing company, I do not advocate immediate purchase. I believe that investors should exercise caution and think through the risks prior to initiating any trade. YHOO has been in a trading range for the past 3 years. This essentially means that share price has literally stayed within a small range and has not increased or decreased beyond a certain threshold. Loosely speaking, YHOO is currently bound between $19 per share and $11 per share. For the past 3 years, price has been unable to end a month above or below these two boundaries. Since I believe that YHOO is fundamentally entering a phase of growth, then I feel the most appropriate entry is when price is able to also enter growth phase. For this reason, I do not believe that investors should purchase shares until price is able to close above $19 per share. Investors should seek to preserve their precious capital and I believe that by waiting for price to confirm our fundamental growth thesis, we can better protect ourselves from false signals. In order to establish a floor beneath this analysis, I believe that any close below $15 will invalidate this research. My fundamental thesis is that we are just entering a phase of strong growth and prices will begin a new upwards trend. If price falls below $15 per share, then this will disprove the timing of my analysis and investors should consider exiting long positions.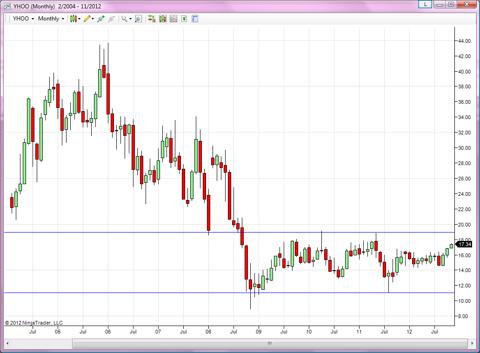 Disclosure: I have no positions in any stocks mentioned, and no plans to initiate any positions within the next 72 hours. I wrote this article myself, and it expresses my own opinions. I am not receiving compensation for it (other than from Seeking Alpha). I have no business relationship with any company whose stock is mentioned in this article.