It is difficult to get excited about Great Canadian Gaming's (OTCPK:GCGMF) prospects these days. With tepid revenue growth and lackluster earnings results, investors can seek better opportunities elsewhere. The company is a gaming and hospitality operator in three Canadian provinces and Washington State. It operates 10 casinos, three community gaming centers, four horse tracks and one hotel resort.
Canadian Gaming's primary sources of revenues are derived from its gaming and hospitality operations, which were 68.8 and 20.1 percent of third quarter gross revenues, respectively. The remainder of revenues were generated through facility development commissions and its racetrack operations.
The company recently reported that its third quarter revenues have increased a meager 1 percent on a year-over-year basis -- hardly a growth rate to get excited about. The trend of growth the company enjoyed in 2000-2006 has flattened dramatically in subsequent years. In fact, the company has experienced little to no revenue growth since fiscal 2006.
In the third quarter, Canadian Gaming experienced revenue declines in several of its operations, with more profound revenue declines at the Boulevard Casino, the British Colombia Racinos and Casino Nova Scotia. Although those declines were offset to some degree by the River Rock operations, this issue underlines what is now a multi-year pattern of offsetting the declines in one operation with the increase, or acquisition of another.
Annual Revenues (in millions) & Growth Rates:
(click images to enlarge)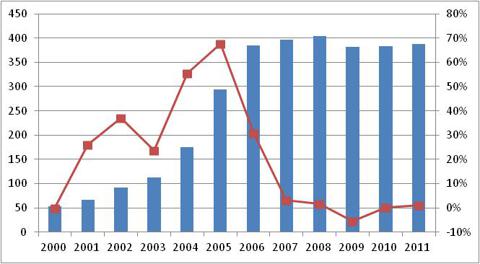 As one can assume, with weak revenue growth comes weak earnings growth. As the chart below shows, earnings per share have been mostly positive; however, investors do not necessarily look to put their capital at risk for positive earnings. Investors look for growth that will generate capital appreciation, which is obviously lacking in Great Canadian Gaming. The chart also illustrates a multi-year trend of sideways results as earnings have been fluctuating in a range for the better part of the past decade, and do not indicate an upward trend or momentum.
Annual Earnings Per Share: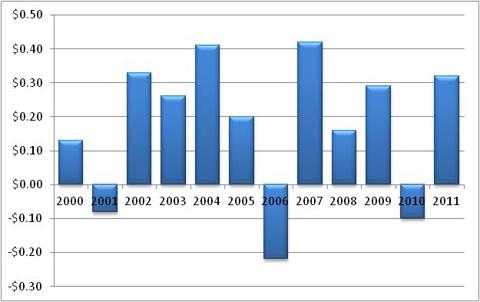 The company recognized the problem it is facing, and responded with poor measures. It has purchased about 10M of its shares for $100M in an issuer bid that ended on August 2012. The intended result of this action is obvious: it was meant to decrease the number of shares outstanding, thereby increasing earnings per share artificially. This will generate what seems as an earnings per share growth pattern when absolute earnings are actually little changed.
Weighted Average Number of Outstanding Common Shares (in millions) & Growth Rates: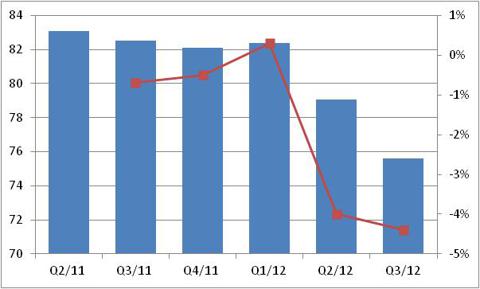 The share buyback would not have been an issue of concern if Canadian Gaming was generating enough free cash to justify the purchase. However, it seems the company has used debt financing to make the entire purchase. As the chart below illustrates, total long-term debt grew (highlighted in red) by more than $100M in the third quarter.
Long-Term Debt Balance (in millions):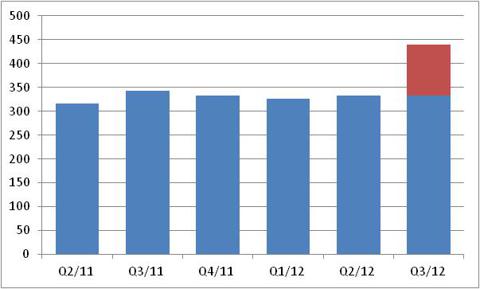 For those who do not see an issue with this transaction, it will be helpful to think of the buyback in terms of another form of cash returned to shareholders -- dividends. Dividends, like share buybacks, are another method companies use to reward their shareholders. But unlike buybacks, dividends are not temporary in nature, which speaks well of the company's financial health. If a company were to borrow to pay its dividend (i.e., return cash to shareholders), it would be viewed as a risky investment since the practice cannot be repeated for a very long period of time. At some point, the company's debtors will cease their lending and put pressure on the company to cut its dividend, which was unjustified from its inception.
Another reason the buyback program was not justified is the outstanding common share count. As the chart above demonstrates, the company never had a massive number of outstanding shares to begin with. Now with the buyback eliminating another 10M shares from the market, the company will become even more illiquid, a trait institutional investors tend to avoid. The lack of shares outstanding creates wider spreads between the bid and ask for the company's shares, which in turn, creates more volatility -- a trait most investors would like to either minimize or avoid.
Great Canadian Gaming represents an investment that investors should avoid. The debt-financed buyback of the company's shares might generate an artificial growth in earnings per share, but that growth comes with a decrease in liquidity and an increase in volatility. The artificial earnings per share growth will not solve, but mask the company's fundamental growth problems, which ultimately stem from the weak revenue growth experienced over the past several years.
Charts created by author, using data from The Globe and Mail website.
Disclosure: I have no positions in any stocks mentioned, and no plans to initiate any positions within the next 72 hours. I wrote this article myself, and it expresses my own opinions. I am not receiving compensation for it (other than from Seeking Alpha). I have no business relationship with any company whose stock is mentioned in this article.