Hasbro (NASDAQ:HAS) is trading around $37.21 versus its 52-week range of $31.51-$39.98. The stock trades with a P/E multiple of 13 times, and yields 4%. Its closest peer JAKKS Pacific (NASDAQ:JAKK) trades with a P/E multiple of 21 times, and yields 3%. Mattel (NASDAQ:MAT) trades with a P/E multiple of 14 times, and yields 3.4%.
As of June 30th, 2012, the major institutional holders of Hasbro are Massachusetts Financial Services (8%), T. Rowe Price (7.7%), Vanguard (5%), FMR LLC (4%), and Wellington Management (3.4%).
Hasbro has several positive fundamental characteristics, which make the dividend attractive for an income portfolio. Most current news on Disney (NYSE:DIS) and its acquisition of Lucas would benefit Star Wars related toy license sales for Hasbro. Hasbro had extended its Star Wars brand licensing agreement with Lucasfilm in 2009 through 2020. Disney provides an opportunity to expand this brand to the non-U.S. market.
As of September 30th, 2012, the company has ample liquidity on its balance sheet in the form of $700 million in cash & cash equivalents, and $500 million in available borrowings under its revolving credit agreement.
Management efforts to shift about 4% of its revenues to 2H versus 1H will have the benefit of reduced inventory risk, and savings from reduced warehousing will be allocated to advertising and marketing. This will help the company to acquire new customers.
The holiday season provides an excellent opportunity from new initiatives such as those involving Zynga and the Angry Birds Star Wars board games.
Risks in investing in Hasbro relate to a loss of a major customer such as Wal-Mart (NYSE:WMT) or Target (NYSE:TGT), strong competition from the Digital world, and a loss in key licensing agreements.
The chart below compares share performance over the past year. "D"s mark dividends paid.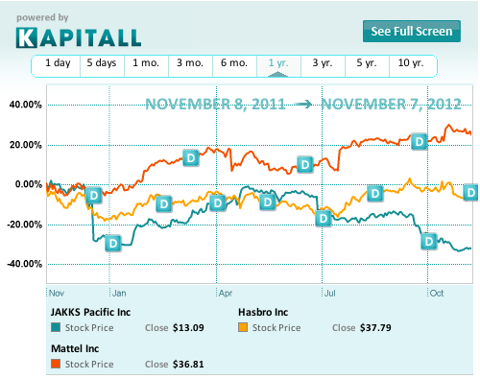 Tool provided by Kapitall.
Disclosure: I have no positions in any stocks mentioned, and no plans to initiate any positions within the next 72 hours.
Business relationship disclosure: Business relationship disclosure: Kapitall is a team of analysts. This article was written by Sabina Bhatia, one of our writers. We did not receive compensation for this article (other than from Seeking Alpha), and we have no business relationship with any company whose stock is mentioned in this article.