Applied Materials (NASDAQ:AMAT) is not only an industry leader in the production of technologies related to capturing solar energy, AMAT is also leading by example in recently converting its corporate headquarters to run on solar power. On September 19th, Applied Materials in conjunction with SunPower Corp. (NASDAQ:SPWR) completed two solar power systems at AMAT's corporate headquarters in Santa Clara, California. While the project is clearly self-serving to AMAT, the nation's largest solar powered corporate office could serve as a model for others to follow. Clearly, Applied Materials has become far more than a semiconductor company since entering solar in 2006.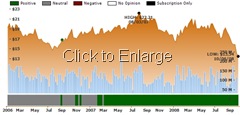 The costs of such a system were not made available, but clearly AMAT took advantage of the federal investment-tax credit aimed at spurring investment in alternative and renewable energies. This tax credit (as political observers know) is set to expire at year's end, but no matter who gets elected in November, energy will be a major issue. There is a strong possibility that the next administration will enact some form of program to deploy more energy alternatives, in hopes of achieving the oft-mentioned "energy independence".  Applied Materials would undoubtedly benefit from the extension of such a policy.
It is not just America that is clamoring for alternative sources of energy. The developing world is hungry for energy as well and large solar projects are already underway in India and China. A report by GreenTech Media and the Prometheus Institute predicts that the thin-film solar industry is expected to double each of the next 3 years!
We are not saying that solar energy will either make us "energy independent" or in fact become the most cost effective source of alternative energy, but to us it seems to be an industry that has great potential for growth. We touted AMAT as Undervalued back in March (Applied Materials: Going Green) at a price just below $19 because we saw increasing revenues and growth looked positive. We believe that now, at near a ten year low price of below $13, this stock is Greatly Undervalued. This stock is a prime example of one that is being dragged down unfairly in a difficult market because the company continues to report sales growth and positive earnings. As of the last quarterly report, management expects fourth quarter revenues to be up 2%-10% and orders are expected to increase 5%-10%.
At Ockham Research, we understand that it can be difficult to invest in any company right now, but as the saying goes, "be greedy when others are fearful." It is impossible to deny AMAT is cheap right now when compared to what the market has historically been willing to pay for the shares. For example, over the last ten years, AMAT has traded between 2.6 and 5.0 times sales, but the stock is currently well below this range at a price-to-sales of 2.0. Furthermore, AMAT's price-to-cash flow is currently 10.4, while this stock has historically ranged between 17.2x and 31.3x. So, for Applied Materials to trade within these historically normal bounds, the stock would need to appreciate to at least $22. That being said, these are not normal times and it may take some time before the market again recognizes the underlying value of such a company.