McDonald's Corp. (NYSE:MCD) is down over 2.0% today after reporting lower than expected October same-store-sales ("SSS"). Global October SSS fell 1.8% (the company's first monthly sales decline since March 2003), driven by a softening global economy and tougher competition.
Are The Golden Arches Finally Tarnishing?
No one wants to be left holding the proverbial paper bag (pun intended) when a great stock falls from grace. There are very few businesses that can hide from a global slowdown, especially one with a global footprint as wide as McDonald's. That said, a good investor should always try to dig a little deeper to see if the softness is truly macro driven (economy), or if there are underlying micro issues (company-specific).
Let's first break down the softness in SSS:
U.S. - SSS were down 2.2%. However, there was a 1.3% negative impact from trading days when comparing YOY results (i.e., there was one less Saturday and one less Sunday than the same period ended October 2011). So adjusted for the negative trading day impact, U.S. SSS were down less than 1%.
Europe - SSS were also down 2.2%. However, there was a negative trading day impact of 2.3%. So, SSS in Europe were actually flat.
APMEA - SSS were down 2.4%. However, there was a negative trading day impact of 3.4%. So, SSS in APMEA were actually up 1%.
Adjusting for the negative trading impact in the month, SSS figures don't look all that bad.
Long-term McDonald's investors know that this isn't the first time that soft SSS growth has led to a modest decline in earnings. This is just McDonald's being McDonald's. As shown in the chart below, earnings fell slightly during the past recession in 2008-2009: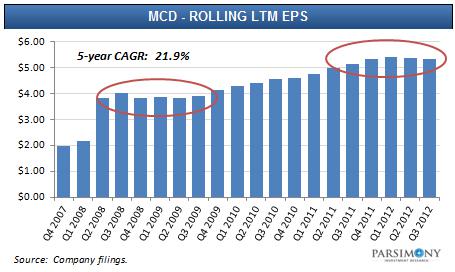 That said, this was the exact time you should have been adding to your position. If you would have purchased the stock the last time LTM earnings declined, your cost basis would probably be in the low $40s (adjusted for dividends):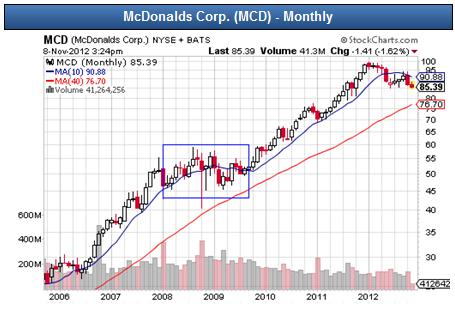 McDonald's Is Still A Great Dividend Growth Stock
Despite the slight earnings dip back in 2009, McDonald's continued to increase its dividend for shareholders (see table below):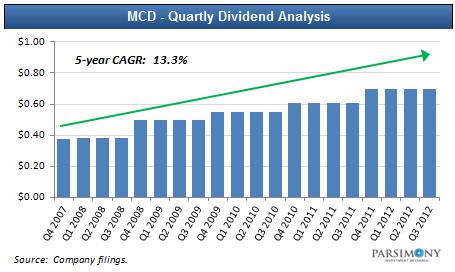 Let's call a spade a spade here. McDonald's is still a great dividend growth stock, and we recommend that investors utilize this dip to add to their long-term positions. The company has raised its dividend every year since it starting paying one back in 1976 -- including a recent 10% hike back in September -- and we don't expect McDonald's to break that trend anytime soon.
Disclosure: I am long MCD. I wrote this article myself, and it expresses my own opinions. I am not receiving compensation for it (other than from Seeking Alpha). I have no business relationship with any company whose stock is mentioned in this article.