Becton Dickinson (NYSE:BDX) has just exceeded projections after the company completed the strategic acquisition of Sirigen Group Limited, a large developer of unique polymer dyes. BDX is a compelling dividend opportunity, as the stock has been increasing its dividend the past 40 years and now yields a fair 2.29%. In my personal blog I explain in this post that it is essential to analyze how predictable are both earnings and dividends from the stock.
The acquisition is expected to increase the value of Becton Dickinson through a continuous pace of new technologies relevant to diagnostics. As the leading provider of medical products for medication delivery, blood collection and diagnostic testing in the United States, the firm was able to reaffirm its position as the leader in the industry following the successful acquisition of Sirigen, which financial analysts expect to be dilutive to FY 2012 earnings per share by about $0.01. Through the acquisition, the company can now take full advantage of the world-renowned polymer technology that Sirigen had just introduced to the market prior to Becton Dickinson's great strategic buy. The trends in Becton Dickinson's growth for the past quarters show how it capitalizes on such acquisitions to penetrate more non-US markets and take advantage of the rising demands for medical supplies outside the United States.
In its third quarter report, Becton Dickinson disclosed third quarter revenues of $1.981 billion, reporting a 1.5 % growth from its last year third quarter revenues. Revenue and earnings growth rates demonstrated how the strategies of the firm ran in correspondence with its projections for the quarter. Most of its earnings for the said quarter resulted from the definitive agreement that it had signed the previous quarter concerning selling its Discovery Labware unit. The sale of Discovery Labware did not only bring in revenues to Becton Dickinson but also curtailed its operating costs because of its suspended operations. The offshoot of the agreed sale of the unit is expected to echo in the performance of Becton Dickinson in the stock exchange for the rest of this fiscal year.
The wide array of medical supplies marketed by the firm to over 50 countries worldwide allows it to establish its footing in the world market, reach out to more consumers and generate more sales. For the segment results component of its most recent disclosure, Becton Dickinson reported that its Preanalytical Systems are the major drivers of its growth, with sales particularly strongest in the women's health and cancer platform. Because of its continuous expansion, Becton Dickinson today operates in over 50 countries and has over 20,000 associates around the world. Strong sales of its products, specifically syringes, needles, blood collection devices and surgical instruments continue to become apparent in its stock exchange disclosures. Its strong sales are all the more heightened by its profitable acquisitions of some of the leading global medical technology companies in the world and its predator approach in capitalizing on new medical technologies.
Becton's indirect competitors are Covidien (COV), Hologic (NASDAQ:HOLX) and Teleflex (NYSE:TFX). Becton stock went up just 2% year to date while Covidien shares rose 24%, Hologic 14% and Teleflex 10% YTD. This reflects that BDX stock performance almost matched the earnings growth that BDX reported in 2012.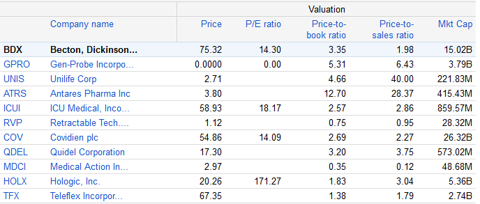 I find interesting that prominent investor Pzena Investment Management initiated a position last quarter. Becton, Dickinson is a world leader in safety needle products. Health-care providers in the U.S. seek to reduce hospital acquired infections, thereby necessitating the use of these safety-needle products. As Becton has a quasi-monopoly in some products such as syringes or needles, they can sell them at premium prices. This has worked in BDX's favor as its gross margin improved from the mid-40% level to above-50% level.
I also recommend the stock because next year results will be positively affected by new products that BDX is currently introducing. For example, in 2013 it plans to bring to market a number of products which leverage its know how in molecular diagnostics and cytology. Recently BDX started commercializing its shortest needle for insulin syringes, named BD Nexiva Diffusics Closed IV Catheter System. In the third quarter of fiscal 2012, the company commercialized BD Max MRSA for detection of virus and the BD FacJazz Cell Sorting System. What I find most attractive is that BDX will operationalize its CD4 analyzer for small- and mid-size laboratories across the globe in 2013. I think those product introductions will create annual revenue growth of 6% over the next three years.
Disclosure: I have no positions in any stocks mentioned, but may initiate a long position in BDX over the next 72 hours. I wrote this article myself, and it expresses my own opinions. I am not receiving compensation for it (other than from Seeking Alpha). I have no business relationship with any company whose stock is mentioned in this article.