As noted in our recent articles, we've been trying to find dividend stocks with high options yields and strong earnings growth. This seems to be the case with LP newcomer Rentech Nitrogen Partners, LP, (NYSE:RNF), an agricultural chemical firm which went public in November of 2011. We've added RNF to the Materials section of our High Dividend Stocks By Sector Tables, due to its 8%-plus dividend yield.
RNF's yield has attracted much investor interest this year, sending the stock up over 135%. Although Materials stocks aren't normally defensive, (RNF fell over 23% during the Spring Pullback), RNF's summer momentum has carried right through the fall, helping it to buck the Fall Pullback:

Dividends: RNF has paid 3 quarterly distributions since its November 2011 IPO: $1.06 in May, $1.17 in August, and it just went ex-dividend for $.85 in November, for a total of $3.08 in 2012. Management expects its distributions to increase in 2013 and 2014, thanks to its recent acquisition of Texas-based Agrifos, an ammonium sulfate producer, and its current 2012 expansion and planned 2013 expansion of its urea and ammonia production facilities in its East Dubuque, Illinois plant: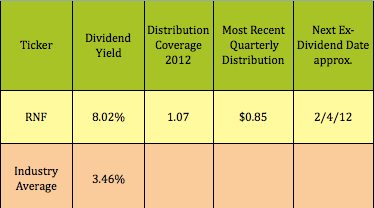 High Options Yields: Given the market's current malaise over US fiscal issues and European debt resolution, you may want to hedge your bet on this high flyer, via selling Cash Secured Put options.
This 6-month trade expires in April 2013, with a put that outpays RNF's quarterly $.85 dividend by over 4 times, and achieves a break-even that's 11.90% below RNF's current price/share. You'd essentially be getting paid $380.00 for every put contract you sell. Your broker will reserve $3750.00 in your account for each $37.50 put that you sell.
Two outcomes - Assigned vs. Static: At expiration, if RNF is below the $37.50 strike price, you'll be assigned/sold 100 shares of RNF at $37.50, per put contract sold. However, your net cost is only $33.70, thanks to the $3.80 put premium you received. Static: If RNF isn't below the $37.50 strike price, your broker will release your $3750.00 Cash Reserve per put contract sold.
(You can find over 30 high yield trades in our Cash Secured Puts Table.)

Although RNF's Covered Call yields aren't as high as its Put yields, this April $40.00 call still pays over twice the amount of RNF's $.85 quarterly dividend. In addition, the $40.00 strike allows for a $1.75 potential assigned price gain, that's larger than the $.85 dividend. So, if your shares get assigned before the ex-dividend date, you'd still gain more than if you just bought and collected the one dividend.
The catch is that this is a relatively short-term approach, based upon a comparison of only collecting one quarterly dividend, vs. buying the stock and holding it for its ongoing distribution income stream, which will most likely increase, along with its business.
You can see more info on this and over 30 other high yield trades, in our Covered Calls Table):

Earnings: One of RNF's big advantages is that its customers are all within 200 miles of its plant, which eliminates freight costs and bottlenecks. Another positive factor has been the price decline in natural gas, which RNF uses in its manufacturing processes. Add in the effects of the big 2012 drought, with its strong positive effects upon demand and pricing, and you have a pretty good case for continued growth:

One caveat though, is that, in its earnings release today, RNF warned of a bi-annual production shutdown at its East Dubuque facility scheduled during the fall of 2013: "The turnaround is anticipated to take up to four weeks, which is longer than the typical 18 to 25 days, due to the fact that the final tie-ins for the ammonia production capacity expansion will occur during the 2013 turnaround to minimize plant downtime. During the turnaround, the plant's ammonia and UAN units will be off-line and therefore ammonia and UAN production and sales volumes during 2013 are expected to be lower than in 2012."
Will higher prices offset this lower volume projection? Maybe not in 2013, but thanks to its acquisition and expansions, RNF looks poised to grow its earnings substantially beyond 2013, which calls into question the conservative 12% 5-year Earnings Growth rate that analysts have currently assigned it. RNF just blew away its quarterly earnings and sales from Q3 2011, and also had strong growth for the 12-month periods ending in September 2011 and 2012. (RNF is converting its fiscal year to a calendar year in 2012):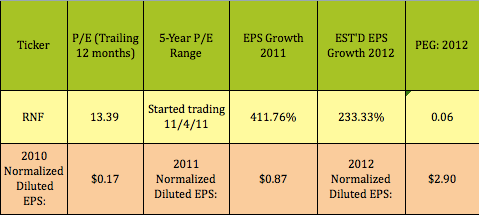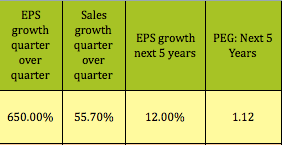 Financials: Strong management and margin ratios so far for this LP, which has a lower debt load than industry averages: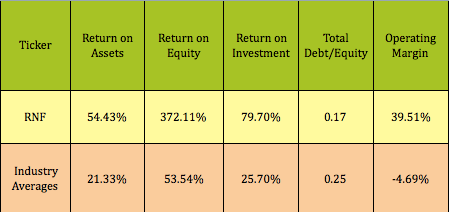 Company Profile:
Rentech Nitrogen Partners, L.P. is a pure-play fertilizer company formed by Rentech, Inc. as a publicly traded master limited partnership. We own two fertilizer production facilities, one located in East Dubuque, Il and the other in Pasadena, TX.
Rentech Nitrogen East Dubuque can produce up to 830 tons of ammonia per day and there's an expansion project underway to increase ammonia capacity to approximately 1,022 tons per day. The facility has the flexibility to vary product mix significantly, which permits us to upgrade our ammonia production into varying amounts of UAN, nitric acid and liquid and granulated urea each season, depending on market demand, pricing and storage availability.
Rentech Nitrogen Pasadena is the third largest producer of ammonium sulfate fertilizer in North America, and the largest producer in North America of synthetic granulated ammonium sulfate. The plant's other products include ammonium thiosulfate and sulfuric acid. The Pasadena facility currently produces 1,750 tons per day of ammonium sulfate and we plan to expand production to 2,100 tons per day by the second half of 2014. (Source: Rentech website)
Disclosure: Author was long RNF shares and short RNF puts at the time of this writing.
Disclaimer: This article is written for informational purposes only and isn't intended as investment advice.
Disclosure: I am long RNF. I wrote this article myself, and it expresses my own opinions. I am not receiving compensation for it (other than from Seeking Alpha). I have no business relationship with any company whose stock is mentioned in this article.
Additional disclosure: I'm also long RNF, via being short RNF put options.