AutoNavi (NASDAQ:AMAP) will report Q3 earnings on November 15th.
The Street expects:
Revenue: $40.4 million
EPS: $0.23 per share
Q4 revenue guide: $40.8 million
Heading into the earnings, investors should focus on AutoNavi's mobile, LBS, and user growth due to the continued decline in ASP in the in-dash navigation segment.
In Q2, AutoNavi saw its in-dash navigation segment revenue grew 9% y/y due to a shift in product mix from the high-end to mid-end auto market. In the near future, I expect more mid-end and even low-end automakers to incorporate in-dash navigation devices into their models, which will likely cause further ASP decline.
To offset the weakness in the in-dash navigation segment, AutoNavi needs to ramp up its mobile/LBS segment. As of Q2, AutoNavi's total mobile app users reached 65 million, of which 36 million are monthly active users, which translates to a 55% monthly engagement level.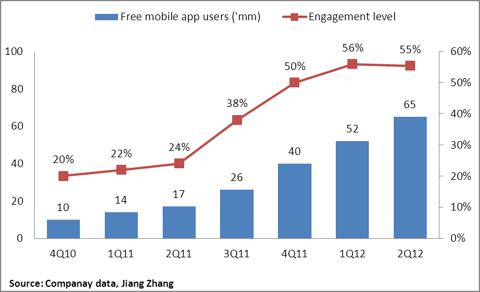 According to Analysis International, AutoNavi leads the mobile map and mobile navigation market with 25.7% and 26.2% market share in terms of users as of Q2.
In my view, AutoNavi's leading position in mobile maps and navigation allows the company to become one of few clear leaders in the nascent mobile internet space. The company operates in an industry with high barriers to entry, has a proven track record of delivering superior digital map content to its customers, and commands strong brand equity among the users. In addition, the current valuation makes AutoNavi an attractive takeout target for larger internet players that are looking to establish an edge in mobile internet.
Three potential acquirers are Tencent, Baidu (NASDAQ:BIDU), and Qihoo (NYSE:QIHU), because these companies all lack clear leadership in mobile internet and mobile monetization.
By acquiring AutoNavi, these companies can:
Establish a strong presence in mobile devices. I note that AutoNavi is preinstalled in models from over 30 handset OEMs, including Apple (NASDAQ:AAPL) and Samsung
Create stronger user stickiness for their search engines by embedding the engines into the map application so users can search for local businesses, places of interest, etc. (This is especially attractive to Qihoo and Tencent, which are both looking to scale their search services, whereas Baidu could use AutoNavi to strengthen its position in mobile traffic and map)
Explore new mobile monetization methods (eg. Pay-for-call)
Recommendation: I remain Overweight On AutoNavi and maintain my price target of $18 per share. Please see my prior report titled "AMAP: Undervalued Digital Map Leader; Initiated With Overweight And $18 Target."
Disclosure: I have no positions in any stocks mentioned, and no plans to initiate any positions within the next 72 hours. I wrote this article myself, and it expresses my own opinions. I am not receiving compensation for it (other than from Seeking Alpha). I have no business relationship with any company whose stock is mentioned in this article.