Putting a value on some companies is a relatively straightforward task. In a mature industry where there are multiple competitors, it can be relatively easy to determine if a company is over-valued or under-valued. For example, let's take the auto industry. There are a relatively small number of players and they produce similar products. A casual investor can look at the numbers and understand why the market is willing to pay a premium for Toyota over Ford. There are also industry analysts that understand the competitive landscape very well and can provide research on the various companies to help make sense of the numbers.
There are other industries that are more challenging. The social media market is still a relatively new industry. It is clear that Facebook (NASDAQ:FB) is the king of the hill in terms of market leadership, but how does one determine if the stock is worth buying? There are a flurry of analysts and investors out there that think they have the answer but based on the botched IPO of Facebook, it is clear that many of these people had no idea and were simply caught up in the hype.
There are now a new set of metrics that investors need to understand in order to make an intelligent decision. You can see this from the 3Q 2012 investor presentation from Facebook. The presentation starts with graphs of MAUs, DAUs and Mobile MAUs. These acronyms stand for Monthly Active Users, Daily Active Users and Mobile Monthly Active Users. The names are fairly self explanatory and they are one important piece of the puzzle in determining an appropriate valuation for the company.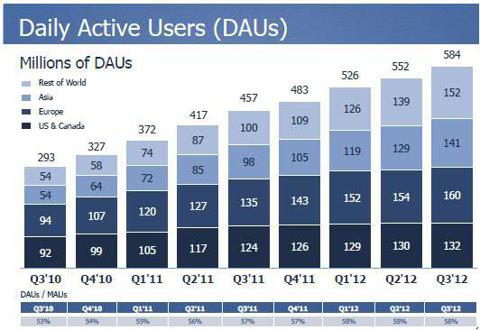 Active Users represent the number of people who log in to Facebook on a regular basis to check out what their family and friends are doing. Since the vast majority of revenue that Facebook receives is through advertising, the more people using the service, the higher the chance that someone will click an advertisement which allows Facebook to charge more to the companies doing the advertising.
The graphs of Active Users also show the geographical breakdown of where the users are located. You can see that user growth in North America and Europe is slowing significantly (dare I say plateau?). Growth in Asia and the Rest of World is still growing at a strong pace but this too will not last forever and growth will moderate over time. The simple fact is that Facebook has over one billion MAUs and to have 1/7th of the world's population using Facebook on a monthly basis means that growth will have to moderate soon. It is amazing that Facebook has captured such a large portion of the world population but it still has some work to do in figuring out how to make money off of this huge user base.
Mobile MAUs are worth noting here. Mobile is an important market for any online entity as more and more people are spending their time accessing the web via mobile phones and tablets. The days of sitting at home using a PC to access the web have been declining recently. The problem with mobile is that the screens are smaller and it is harder to cram advertisements onto the viewable area without detracting from the overall experience. Investors have been demanding that Facebook figure out a way to make this work so that the company can take advantage of the mobile trend.
Now that we have a sense of how Facebook's user base is growing and where they are located, how does this relate to revenue? Luckily Facebook also provides another metric called ARPU or Average Revenue Per User. These numbers are quite valuable in that the worldwide ARPU is about $1.29 in Q3 2012. This is not consistent across geographies though. For example, Facebook makes $3.40 per user in North America and only $0.58 per user in Asia. This is a wide discrepancy and considering that most of the user growth is coming in areas of low APRU, this may be a concern. As the Facebook advertising platform evolves, there is opportunity to grow the ARPU across all areas of the world, but there is no guarantee that this will happen and when trying to value the company it is best not to make rosy growth assumptions.
The net income trend is also a concern. According to the same investor presentation, Facebook was profitable back in Q3 2010, then maintained a relatively steady net income level but has recently regressed into two quarterly losses. Granted, these losses are largely due to share-based compensation expenses and these should decrease and stabilize over time, but the trend is still a concern.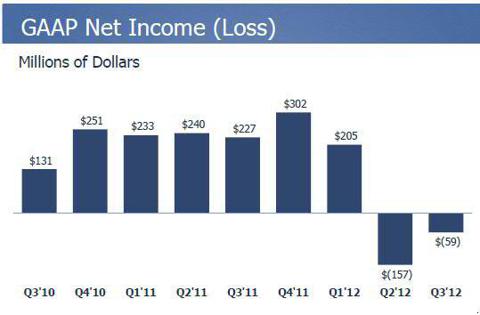 Now, let's return back to the original question: Is Facebook over-valued? To answer this, we need to use the fundamental data to determine the intrinsic value of the company. We don't have a lot of historical data, industry knowledge or competitive comparisons to help guide this calculation so we will use some assumptions.
Assumption 1: The company will be able to return to a net income of about $1.2 billion per year once the shared-based IPO compensation works its way out of the system (or about $0.55/share)
Assumption 2: A conservative rate of earnings growth for the next 5 years of 20% per year
This leads to an estimated value per share of $14.43. This is about 32% less than the current share price of $21.19 (as of November 6, 2012).
Summary
Even though Facebook has fallen significantly from its IPO price of $38.00, there is still a lot of optimism built into the share price. The North American user base, which generates the highest revenue, is stabilizing and the areas with the highest user growth are currently generating the lowest rate of revenue. In order for the estimated company value to rise, Facebook would need to improve mobile revenue, generate higher ARPU in growth markets and find further ways to optimize revenue for stable markets. There is not enough evidence that the company is able to achieve these lofty goals and the market is already assuming that they will. Any investment in Facebook is not recommended at the current level.
Disclosure: I have no positions in any stocks mentioned, and no plans to initiate any positions within the next 72 hours. I wrote this article myself, and it expresses my own opinions. I am not receiving compensation for it. I have no business relationship with any company whose stock is mentioned in this article.