In early April 2012, I recommended Carbo Ceramics (NYSE:CRR) as a play on the natural gas sector for an 'environmentalist.' The rationale was that natural gas drillers, as well as their hydraulic fracturing service providers, may be subject to environmental liability from "fracking" contamination. As a supplier of advanced proppants used in the fracturing process, I argued that Carbo Ceramics could benefit from natural gas sector growth drivers, but could sidestep legal liability if things went wrong in the gas field.
Even if this rationale is correct, it does not mean that Carbo Ceramics is insulated from the ups and downs of natural gas prices. In the seven months since, shares of Carbo Ceramics have declined 27% and set a new 52-week low of $60.33 in late October 2012, driven largely by the shrinkage of natural gas prices and the accompanying slowdown in natural gas drilling. The story is told easily in the price graph below, which depicts the long, slow slide of CRR shares over the last year (blue line) against United States Natural Gas ETF (NYSEARCA:UNG), the green line. The two largest suppliers of pressure pumping services - where ceramic proppants are used - are Halliburton Energy Services (NYSE:HAL) and Schlumberger Ltd. (NYSE:SLB). If we cluttered up the graph with lines for their shares, we would see that stock prices for both have trailed off, but the size and diversity of their addressable markets have spared them the 'natural gas undertow' that has taken down CRR.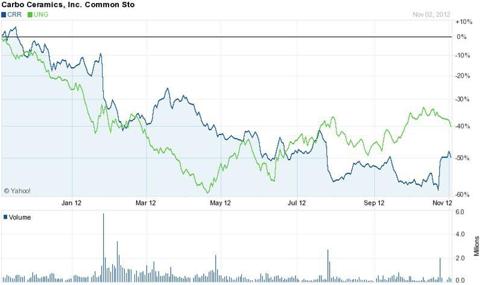 Mind you, Carbo Ceramics has delivered better than expected sales and earnings in recent periods. Sales in the twelve months ending September 2012 totaled $650.0 million compared to $625.7 in the year 2011. Gross profit margin is running near record highs - 40.3% in the most recently reported twelve months ending September 2012. In the same period, conversion of sales to operating cash remained near record levels at 20.4%. Yet earnings per share appears to have slipped - $5.16 in the trailing twelve months compared to $5.61 in the year 2011. Year-over-year comparisons in the most recently reported quarter were not favorable, spooking the dozen or so analysts publishing research on CRR. They have trimmed earnings estimates to an average of $4.65 for the year 2012 from $5.03 per share three months ago. Likewise, the 2013 earnings per share consensus estimate has dropped to $4.49 from $5.33 three months ago.
Carbo Ceramics Results
| | | | | | |
| --- | --- | --- | --- | --- | --- |
| | 2008 | 2009 | 2010 | 2011 | TTM |
| Sales, Mln | $387.8 | $341.9 | $473.1 | $625.7 | $650.0 |
| Gross Margin | 32.9% | 35.2% | 36.9% | 31.6% | 27.4% |
| Operating Margin | 22.5% | 23.2% | 25.3% | 31.6% | 27.4% |
| Net Income Mln | $110.3 | $52.8 | $78.7 | $130.1 | $118.6 |
| | | | | | |
| EPS | $2.51 | $2.28 | $3.40 | $5.61 | $5.16 |
| | | | | | |
| Operating Cash Flow, Mln | $79.8 | $22.1 | $91.8 | $111.4 | $132.7 |
| Cash Conversion Rate | 20.6% | 6.5% | 19.4% | 17.8% | 20.4% |
Source: Company Reports, Crystal Equity Research
There has also been a whiff of competitive pressure on Carbo Ceramics. I had noted in my earlier article that the company's lead in advanced proppants could erode as existing competitors catch up technologically and new competitors come into the proppant and pressure pumping services market. It appears China-based suppliers released an abundance of low-priced ceramic proppants in the U.S. market. Proppant sales prices have declined between 8% and 10%. The company can compete on price with its CARBO-Bond RCS, a resin-coated sand-based proppant, which management claims is capturing some market share back from its China competitors.
However, it is the Carbo Ceramics high-end ceramic proppants that are appealing. The company has five different ceramic proppant products aimed at a variety of deep, medium and special situation oil and gas fields. I am still impressed with Carbo Ceramics' technological lead as the company continues to invest in new product innovations. For example, management has recently described, but not revealed details, on a new production process in the development stage. The process is expected increase strength and improve conductivity of the Company's ceramic proppants - the key features drillers need in their gas wells.
From a valuation standpoint, there appears to be little relief in sight for Carbo Ceramics. After a few inquiries, I found that the number of natural gas drilling rigs is still climbing, but proppant sales are down worldwide. Apparently, in the U.S., market drillers are still going strong in the Eagle Ford area, while holding back on new drilling in the Bakken and Marcellus shale formations. This is because the formations in the Eagle Ford area yield crude oil-like liquids. With crude oil prices holding above $100 per barrel, drillers are motivated to bring any possible supplies to the crude oil market. Since the gas comes up along with the ersatz crude oil, these drillers continue to dump natural gas into an already saturated market.
Despite the downward spiral in natural gas prices, I remain interested in CRR as an alternative play on the natural gas market. Natural gas prices are not likely to remain at historic low levels in U.S., where the supplies are presently flush but remain trapped in the North America pipeline network. Distribution bottlenecks are more likely than not to get worked out and natural gas supply and pricing will adjust. At the price level near its 52-week low, the stock presents an opportunity for contrarian investors.
Neither the author of the Small Cap Strategist web log, Crystal Equity Research nor its affiliates have a beneficial interest in the companies mentioned herein.
Disclosure: I have no positions in any stocks mentioned, and no plans to initiate any positions within the next 72 hours. I wrote this article myself, and it expresses my own opinions. I am not receiving compensation for it (other than from Seeking Alpha). I have no business relationship with any company whose stock is mentioned in this article.