Stocks To Trade

Today, we are looking at an earnings trade in Baidu (NASDAQ:BIDU), longs in SPDR Gold Shares (NYSEARCA:GLD) and AutoZone (NYSE:AZO), and shorts in iShares FTSE China 25 (NYSEARCA:FXI) and Google (NASDAQ:GOOG).
For an earnings trade, we are looking at Baidu today. The company is looking quite anemic right now due to its latest earnings, as well as weakness that is starting to appear in the Chinese markets. The latest round of earnings for BIDU were not strong. The company showed declining margins, which has to be due to increased competition for Qihoo (NYSE:QIHU). Further, the company's forward expectations are coming down, which is causing money to flow out of the stock. The rock solid moat that the company had as the No. 1 search engine in China is dwindling, and we believe it will continue to lose valuation as more competition comes online. Further, the company lost some key technical levels like the 50-day and 20-day MA, and with the market showing a lot of weakness, we do not see a lot of potential for BIDU to rally. The stock lacks any catalyst, and we like it for a bear call spread moving forward. It has seen strong resistance at 115, which is the area we like for a bear call spread.
Trade: BIDU, Dec22, 115/120 Bear Call Spread
Max Gain: 18%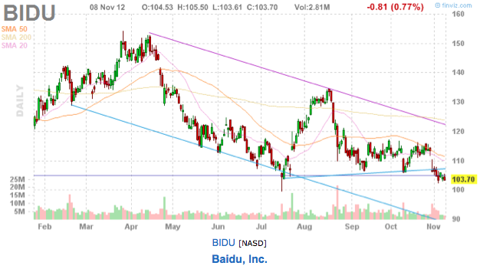 For longs, we like the looks of SPDR Gold and AutoZone. We like the looks of gold because of the play of safety that gold has as well as the fact that "free money" may be back on the table. With fears brewing about a fiscal cliff after Obama's election, gold has become a safe haven play once again. Further, more free money in the form of bailouts/bond buying/QE are on the way. The solution for Europe, in the near term, is going to be more can kicking and continuing to provide liquidity to broke nations like Greece and Spain. As long as that strategy is in play, gold is in play. Further, GLD is showing strength, breaking its 20-day MA, and we believe a break of 50-day MA will allow for GLD to break higher.
AZO has also been looking quite strong. Auto parts companies had a weak summer, but the latest round of results from companies like Advance Auto Parts (NYSE:AAP) show a rebound. The company has earnings coming up at the beginning of December, which are expected to show 15% growth in earnings and 5% growth in revenue. We believe those earnings will act as a catalyst. Further, the stock has held 350 all year, and we believe that will continue to be a place of strength, even on weak earnings. We like the 350/340 bull put spread on AZO. Additionally, Advance Auto Parts will potentially be acquired by AZO before the end of the year, which is a solid catalyst as well.
Equity Trade: GLD, Long
Breakout Point: Break of 50-Day MA
Options Trade: AZO, Dec22, 150/140 Bull Put Spread
Max Gain: 14%
For shorts, we like the looks of FTSE China and Google. China appears to be starting to look toppy after a recent bout of strength, and we believe the stock could be rolling over. China is getting some of the effects of the problems in Europe and the U.S. right now, but the country's latest strength was on some decent results. Economically, China's weakness is not over. The natural cycles of a nation-state in strong growth will go through dips, and we believe that China will continue this trend for several more months. FXI recently broke its 20-day MA and is headed towards 36. That level was the breakout point two months ago, and if FXI breaks that level, we are liking a short. China has an important Communist leadership party coming up right now, and we would watch that for economic signals. Break of 36 is big support.
Another short we like is Google. The tech industry is seeing a lot of weakness, especially in comparison to the general market. GOOG has been hit by the recent market movement lower, and it's starting to lose technical support. GOOG broke 680 support, and then 660 today. With the latest round of earnings showing some weakness, the company really does not have a catalyst to get it going again without an upturn in the general market. We see the 720 line as a strong resistance line, which is above the 50-day MA. We like that level for a bear call spread, as GOOG seems to be very technically weak.
Stock Trade: FXI, Short
Breakout point: Break of 36.00
Options Trade: GOOG, Dec22, 720/735 Bear Call Spread
Max Gain: 9%
Tomorrow's Outlook:
Thursday was a follow through day for the market to the downside, and there is really no end in sight to weakness until either Greece or Spain gets a bailout or progress is made on the fiscal cliff. The market is truly looking quite weak right now, and has lost key support at the 200-day MA on the Dow Jones. The S&P 500 failed the 200-day MA as well. Things are not looking good. We saw about 50% follow through on the market's downside, which could mean tomorrow could spell some relief. Overall, though, the market is fearful and has lost confidence. We need some confidence to return to reverse the trend.
Our Moves/Holdings:
We had a pretty solid day in the market. We were able to exit our bear call spread in SPY from two portfolios for a 16% and a 14% gain.We hit our target in our bear call spread in Salesforce (NYSE:CRM) for a 12% gain. We added a pair trade in Fidelity (NYSE:FNF) long and Symantec (NASDAQ:SYMC). We added a bear call spread in Direxion Financial (NYSEARCA:FAS) and bull put spread in Phillips 66 (NYSE:PSX).
We have the following positions:
In our Short-Term Equity Portfolio, we are long Fidelity National and Visa (NYSE:V). We are short Symantec, UPS (NYSE:UPS), Fastenal (NASDAQ:FAST) and CSX (NYSE:CSX).
In our Options Portfolio, we are long PulteGroup (NYSE:PHM), Whirlpool (NYSE:WHR), Capital One Financial (NYSE:COF), Intuitive Surgical (NASDAQ:ISRG), Discover (NYSE:DFS) and Starbucks (NASDAQ:SBUX). We are short SPDR S&P 500 (NYSEARCA:SPY) and Baidu.
In our Earnings Alpha Portfolio, we are long Phillips 66, Discover Financial and Michael Kors (NYSE:KORS). We are short SPDR S&P, Salesforce.com and Direxion Financial.
In our Goldman Sachs Up/Down Paper Portfolio, we are long CSX.
Charts courtesy of finviz.com.
Disclosure: I have no positions in any stocks mentioned, and no plans to initiate any positions within the next 72 hours.
Business relationship disclosure: The Oxen Group is a team of analysts. This article was written by David Ristau, one of our writers. We did not receive compensation for this article (other than from Seeking Alpha), and we have no business relationship with any company whose stock is mentioned in this article.