World Wrestling Entertainment (NYSE:WWE) stock is trading around $8 versus its 52-week range of $7.44-$10.80, down 20% in the past 1-year. The stock yields 6%. As of June 29th, 2012, the major institutional holders of the stock are Intrepid Capital Management (10%), Royce & Associates (9.6%), Renaissance Technologies (6%), Vanguard Group (5%), and Clearbridge Advisors (3.8%). Additionally, Vince McMahon (CEO) currently owns 39,722,641 shares of WWE's Class B stock (convertible to class A shares). McMahon owns 36,915,261 shares directly and another 2,807,380 through a trust.
Positive fundamentals of the company are: World Wrestling has ample liquidity in the form of $147 million in cash & short-term investments on its balance sheet. Also the company has zero long-term debt.
The company has returned cash to shareholders in the form of dividends. Management paid cash dividends of $26,845 and $38,879 for the nine months ended September 30, 2012 and September 30, 2011, respectively.
Risks associated with investing in the company are: Revenue visibility remains low. Live Entertainment and TV was up 1% in Q3-2012, but it is still too early to determine its long-term impact on the company. Live Entertainment and TV represents 76% of the company's total revenues.
In November, when the company announced Q3-2012 earnings, company raised FY2012 guidance, but largely due to the reduction of costs, and not top line growth.
On a valuation basis, the stock currently trades at a EV/EBITDA multiple of about 7 times, versus its average range of 6-14 times.
Although there are pros and cons to the company's fundamentals, investors should look for better visibility in revenues before adding the name to their portfolio.
The chart below compares share performance of World Wrestling Entertainment, and the S&P 500 over the past year.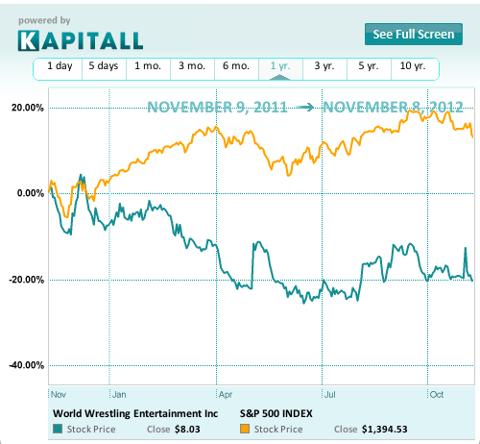 Tool provided by Kapitall.
Disclosure: I have no positions in any stocks mentioned, and no plans to initiate any positions within the next 72 hours.
Business relationship disclosure: Business relationship disclosure: Kapitall is a team of analysts. This article was written by Sabina Bhatia, one of our writers. We did not receive compensation for this article (other than from Seeking Alpha), and we have no business relationship with any company whose stock is mentioned in this article.